This season has been one for the ages, if not the record books…and, unfortunately, not in a good way.
Let's not forget, at the quarter point of this 2014-15 NHL season, the Toronto Maple Leafs were 16th overall in the NHL with an 11-8-2 record and a +5 goal differential. At the time, the Leafs trailed Boston for the first wildcard spot by just three points. Furthermore, Toronto had two games in hand on the Bruins. That date was November 26th, 2014.
Fast-forward to the present day team; the Maple Leafs have spiralled into a free-fall, plummeting towards a top-five pick in the upcoming 2015 NHL Draft Lottery.
We rarely see any of those same traits the semi-succesful team once displayed. Goal scoring, both primary and secondary, has all but dissipated. The team's goal differential has plummeted to -44. Turnover in personnel, on and off ice.
A hypothetical roller-coaster, but the turbulence and instability probably felt all too real for players within that Maple Leafs locker room.
There's a saying that "figures never lie, but liars do figure". While we may not be able to conclusively answer why it all went wrong, when it comes to analyzing the debacle that is the current Maple Leafs season, here are four damning figures that might help provide some explanation.
Four Damning Stats
    1. Win-Loss Record After Carlyle
There is a definite distinction in the season.
With Carlyle at the helm, the Maple Leafs were 21-16-3 over a span of 40 games.
Since Peter Horachek took over behind the bench, the Toronto Maple Leafs are a woeful 6-25-3.
Sometimes coaching changes work, sometimes they don't: #Leafs since firing Carlyle 6-24-3 #Senators since firing MacLean 25-13-6 #TMLtalk

— Roger Lajoie (@TheRog590) March 22, 2015
Adding insult to embarrassment, provincial rivals Ottawa have had a total revival since their mid-season coaching change.
    2. Phil Kessel's Even-Strength Production
Phil Kessel is a streaky player, but this is just ridiculous. It's astonishing. It's almost unbelievable. But it is the truth, and it is a big part of why the Maple Leafs have taken such a dramatic tumble since early January.
Four points. Three goals. One assist. A total of four measly points over the past 34 games during five-on-five play.
It's even a bit odd to see the teams that Kessel scored those four points against. Ottawa, Edmonton, Arizona and Vancouver.
Not a single team in the top-ten of the NHL standings. None of those four teams with a reputation for being a bruising, punishing team to play against.
The goal in Vancouver, the best of the four, came via a penalty-shot.
When the going got tough, Phil slid into the shadows. Kessel has made it clear that the Toronto Maple Leafs failures this season shouldn't be blamed on a lack of effort.
Phil Kessel just now: "No one's not trying… If you're saying that (some Leafs aren't giving full effort) you're lost."

— Dave Feschuk (@dfeschuk) March 20, 2015
Sure Phil, I'll take your word on that one. But when looking at Kessel's lack of even-strength production, it sure seems like Phil has been picking his spots. Especially when you consider that before the Leafs fired Carlyle, Kessel tallied 26 even-strength points in 40 games.
    3. Toronto's Road Record
It's truly amazing the depths of futility that the Toronto Maple Leafs have reached this season.
Forget about the record-setting 11-game losing streak for just a moment and consider this: the Maple Leafs didn't win a road game in the calendar year of 2015 until March.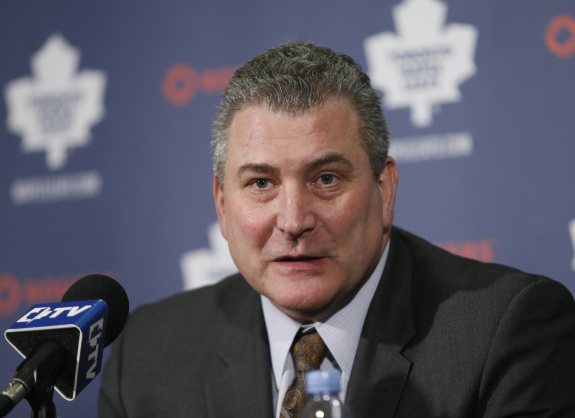 The Maple Leafs away record this season is 8-25-5, and that includes a historic 16-game road losing streak between January 2nd and March 1st.
Toronto has just three road games remaining. If they can't win another game away from the ACC, the 2014-15 Leafs will have posted the fewest road wins by a Maple Leafs team since the 1990-91 group.
Astonishingly, even in the 48-game shortened season of 2012-2013, the Maple Leafs still managed more road wins in fewer games, finishing 13-8-3 in 24 road games.
    4. The Drop in Demand
One of the most fundamental concepts of economics is supply and demand. Right now, the demand for anything Maple Leafs is at an all-time low.
This past Saturday night and for the first time since 1972, a Toronto Maple Leafs regular-season game was not the lead broadcast on CBC for Hockey Night In Canada. Supply, but little-to-no demand.
Forget about the cheap seats you can find on the secondary market, because the ticket sales department must be feeling the heat. The Toronto Maple Leafs themselves are putting single-seats on sale for 50% off.
#SelfieSeats are back! Say hi to the Sharks with 50% off single seat tix. #TMLtalk

TICKETS → http://t.co/UasyHJnJx2 pic.twitter.com/CxhlCEtLUf

— Toronto Maple Leafs (@MapleLeafs) March 19, 2015
That diminishing demand has finally translated to a dip in attendance at the rink. With an official attendance of 18,366 announced for the Leafs-Wild game earlier this week, it marks the lowest recorded attendance figure since the Maple Leafs moved into the ACC.
Here's a glimpse inside the ACC from the Leafs-Wild game. The picture was snapped around the five-minute mark of the second period.
ICYMI: Monday night's Leafs game didn't sell out. Are fans finally staying home? http://t.co/EHmUXaD1pa pic.twitter.com/HcQy4wKN10

— Rob Del Mundo (@Rob_DelMundo) March 24, 2015
Lots of empty seats. Too much supply. Not nearly enough demand.
Figures never lie.