Last spring, at the season ending press conference, I asked University of North Dakota head coach Dave Hakstol if playing in the National Collegiate Hockey Conference prepared his team for the NCAA hockey tournament.
"Obviously everything prepares you," Hakstol said. "We played in a lot of close, tight games. There's a ton of parity throughout the country. Strong league schedule – tough league games – good opponents, they prepare you along the way."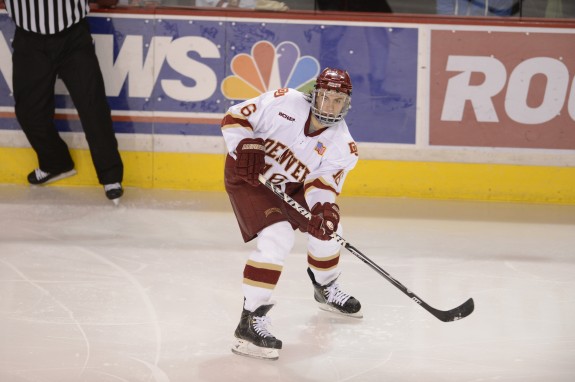 There are no nights off
Fast forward to this season, coach Hakstol hasn't changed his tune. The NCHC is still a very tough league and the conference schedule is a meat grinder. There are no nights off. At the 2015 Frozen Faceoff, coach Hakstol's team had two off nights and UND left with 0-2 record.
"I looked at it (Pairwise Rankings) this morning, I don't do a lot of studying of it, but six teams in the top nine of the Pairwise (Rankings)," Hakstol said. "We were a little bit off our games this weekend and we got beat twice.
"We got beat by two pretty good teams. I thought Denver played really well today. They played with a ton of speed and made a lot of plays. That shouldn't be a surprise to anybody. Six teams of top nine teams in the country are in our league. That's a lot of quality."
The Quality of the league; it's high-end
Coach Hakstol isn't the only coach that enjoys coaching in the NCHC. Denver Pioneers head coach Jim Montgomery appreciates playing in the tough NCHC. The grind of the league prepares his team for the NCAA hockey tournament.
"It's just the quality of the league; it's high-end," Montgomery said. "We're well-prepared, to go into the NCAA tournament and have success.
Montgomery continued, "Again, it prepares you. You become a lot mentally tougher. You have to play in a lot of different types of games, behind and ahead. When you play in a conference where the balance isn't as great like the NCHC, you lead a lot of times and you get in bad habits and you think you're winning and playing great but parts of your game is slipping."
After reading Montgomery and Hakstol's comments, it would appear that these two head coaches enjoy coaching in the NCHC and don't have any regrets about leaving the WCHA. Neither should the fans.