The University of North Dakota hockey team has completed the 2013-14 season. Going into the offseason, there's a lot to be positive about. Even though their season ended in the semifinal game of the Frozen Four, the future is very bright. With the players that they have, and with the players coming in, UND should be even better during the 2014-15 season.
On Wednesday, the UND hockey team held its final press conference of the season. UND head coach Dave Hakstol was upbeat as he reflected on the 2013-14 season.
"We're really proud of the effort of our team, from start to finish, all the way through to our final game," Hakstol said. "We're really disappointed that we didn't have the opportunity to play in the national championship game, to go and compete with Union (for a national title).  That was our goal, nothing short of that. That being said, I think we've always been proud of this group of guys, their work ethic, and their effort to become a good team."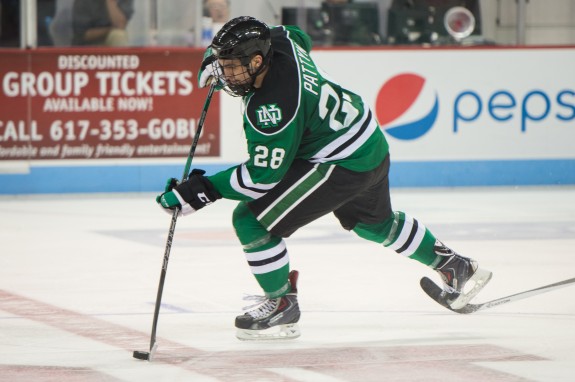 Hakstol credits players for turning season around
The UND hockey team started the season with a subpar 4-7-2 record. Things weren't going well, and the season could have gotten away from them, but it didn't. UND righted the ship and went on a 21-7-1 run. The head coach gave credit to the players in the dressing room for turning their season around.
"I think there were enough players in the locker room that weren't going to let that happen," Hakstol said. "You have to have a little luck along the way. Some things have to go your way, to help you dig out of where we were. It starts with the players in the locker room.   There was an awful lot of want in this group."
"Everyone pegs November 29th – look at the Saturday night game, we were probably fortunate to win that game. We won it by a hair. We got out of that game with a win. It gave us a little breath of fresh air.  We were able to build on that."
One day at a time
The theme of this season has been one game at a time. One day at a time. During the season, coach Hakstol kept his team focused on the present. That seems to be the theme moving forward.
"Our mentality right away from Friday afternoon on, once we had 12-24 hours to digest things, was let's start working forward," Hakstol said.  "I think this is a strength of this core group. We're going to lose some members of that core group, but we're also going to add in some young, talented, character players that will help us next year."
"Really it's simple, work forward; take advantage of the next day. For us, that means getting a little bit of rest here, over the next week to 10 days. (We're) working to improve ourselves, over the summer, one day at a time."
Hakstol was asked if the grind of the NCHC season helped prepare this team for the NCAA tourney.
"Obviously everything prepares you," Hakstol said. "We played in a lot of close, tight games. There's a ton of parity throughout the country. Strong league schedule – tough league games – good opponents, they prepare you along the way."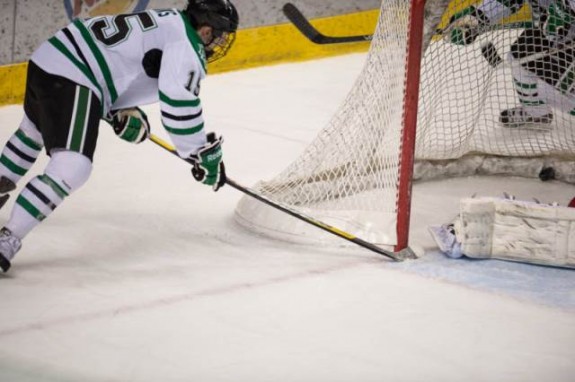 UND 's core players coming back
UND received some good news this week.  Goalie Zane Gothberg, defenseman Jordan Schmaltz and forward Michael Parks will all be returning for the 2014-15 season.
The UND hockey team is waiting for one final player to make his decision. Redshirt sophomore forward Rocco Grimaldi is in the process of making his decision and will inform the team in the near future of his intentions. Regardless of what Grimaldi does, the future is very bright for the UND hockey team.