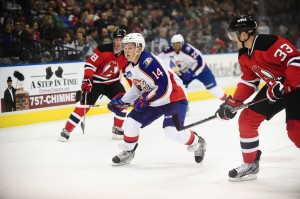 As playoffs loom the Norfolk Admirals and the Hershey Bears are in a dogfight for the eighth seed in the Eastern Conference which is the final position as both clubs are tied with 86 points. With the Bears in town for two games the Admirals are already in playoff mode.
With the call-up of John Gibson to Anaheim, Norfolk looked to AHL veteran Brad Thiessen to propel Anaheim's top development club to a playoff berth. Thiessen was red hot before returning to Scope helping his team pick up points in all three games on the road last weekend.
The Admirals got a little defensive help from the Ducks as they assigned D-Man Mark Fistric to Norfolk on a long-term conditioning stint a few days ago.
                        Pre Game Thoughts With The Voice of the Admirals Pete Michaud
"The playoffs begin tonight. That's the way both teams are looking at this series. This is a playoff series. As much as you put into tonight and Friday it's a fifty-fifty shot it'll come down to Saturday. The Admirals know they have a tougher shot opponent in Binghamton Saturday and they'll be on the road. Hershey is home with Adirondack. Even though the Admirals have the advantage here at home, they maybe feeling a little more pressure. It doesn't get any bigger."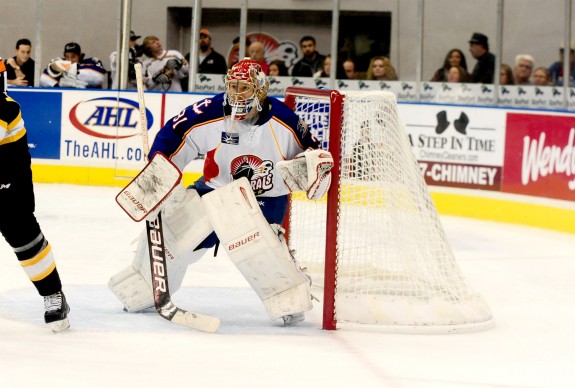 Philipp Grubauer Vs. Brad Thiessen
Norfolk's Thiessen came into Wednesday's game sporting a 6-6-2 record with a G.A.A of 2.29 in 16 games played. Minding the other net Hershey's Grubauer entered play with a record of 13-11-2 and a GAA of 2.57 in 26 games played.
Grubauer, a 22-year-old, is a highly ranked prospect by the Bears parent team the Washington Capitals as the 2010 draft pick has 16 NHL games to his credit all with Washington.
Thiessen is a rock at the AHL level piling up over a hundred career wins and an impressive 2.42 GAA spanning 165 games. Thiessen added depth to the goaltending position when Norfolk inked him to a Standard Players Contract on November 28th.
                                                          Norfolk Scoring
Josh Manson- Assists: Chris Wagner, Nic Kerdiles
Emerson Etem-PPG Assists: William Karlsson, Andre Petersson
Matt Bailey- Assists: Chris Wagner, Nic Kerdiles
Max Friberg PPG-Assists: Emerson Etem
William Karlsson EN: Unassisted
 Hershey Scoring
Chandler Stephenson- Assists: Curt Schilling, Kris Newbury
Michael Latta- Assists: Nicolas Deschamps, Nate Schmidt
Nicolas Deschamps-Assists: Chay Genoway
Post Game Quotes From Head Coach Trent Yawney
"It had a playoff feel no question about it. The ice was just put in so the puck was bouncing. I don't think it was a real clean game by any means, but at the same time I thought the guys played really hard and did a lot of good things out there."
"He (Thiessen) has a history of playing well at this time of year. He's played well for us all year. His M.O. has been playing the good hockey at this time. You've got to have it this time of year and he is providing it for us so we're fortunate to have him"
" I thought Mark Fistric was a man out there. He's a big strong man and he is trying to find his game after an injury, but it's tough and I think it was good to have him back there. He's a big steady guy who can defend and can be strong on guys and against that team we need that."
Kevin Gagne Post Game
"Right now it's taking it one game at a time. We have our fate in our own hands and that's what we wanted. We went out on the road and got as many points as we could and now we have our own fate and now we have to go out there and keep what we've been successful doing and try to win the last two."
 Norfolk's Forward Lines
Etem-Karlsson-Petersson
Kerdiles-Bailey-Wagner
Laganiere-Steckel-Friberg
Gagne-Kurtz-Stortini
Norfolk's D-Pairings
Exelby-Manson
Fistric-Eminger
Blacker-Yonkman
 This and That
Josh Manson potted his first goal in his seventh game as a pro.
Nic Kerdiles collected his second point as a pro on Manson's goal.
Norfolk outshot Hershey 32-22.
Hershey was 0 for 5 on the Power Play while Norfolk was 2 for 4 with the man advantage.
Brad Thiessen improved his record to 7-6-2 while Philipp Grubauer recorded his 12th loss of the year.
Follow Ted on Twitter @Bauerhockeydude