This is part 2 of the Sharks Kings preview. How else can I justify doing yet another article on this rivalry that will only get better with what promises to be another war.
Check out Part 1 on why the Sharks will win here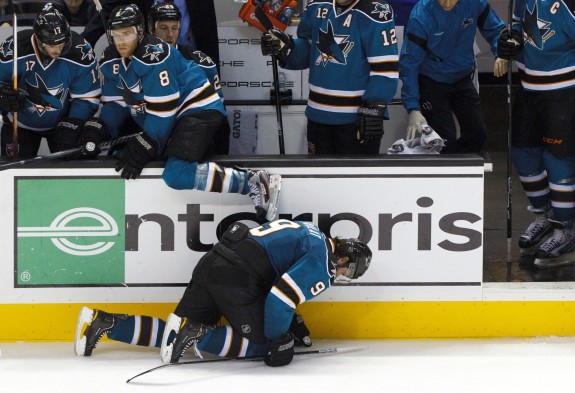 Sharks Kings Preview: Team Teal's Troubles
The Sharks always look good going into the postseason. I honestly cannot remember the last time they limped in on the last day of the season. Maybe 2005-06 when they only earned 99 points. But if history has taught us anything, San Jose regular seasons have little bearing on how they do in Spring.
They Haven't Won at Staples Center in a Long Time
April 5th, 2012. Over two years ago was the last time that San Jose won a meaningful game in Los Angeles. There must be something in the… air… down in LA. The Sharks just can't get their act together in the Staples Center. While they do have home ice advantage this time around, it now becomes a pressure point. If the Sharks lose at SAP Center, they must break a two year habit. Even if they don't lose at SAP Center, do they really want to risk another seven game series against a team like Los Angeles? This is a hard hitting and trying team, by the seventh game, it could be anybody's series.
Antti Niemi is Rattled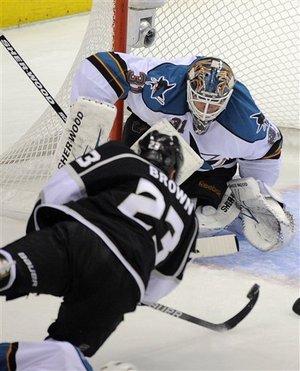 Goalies win Stanley Cups (or at least get you there, cough Tuukka Rask cough). Strong goaltending is what earned the Kings their first ever Stanley Cup. Right now, the Sharks have a goalie controversy. And not a good one where both are playing so well that the coach just can't decide. Down the stretch Niemi was benched and pulled on more nights than he would like to admit. He gave up 13 goals in five games in the month of April. His rebound control has been just plain poor. However, his best night in April happened against the Kings. So, maybe he can build some confidence off of that.
The Top Line Has Struggled
Joe Thornton hasn't scored a goal in almost a month. While that isn't that big of a deal because Jumbo doesn't shoot the puck even if his life depended on it, his assists have slowed as well. His seven assists since March 20th are well below his standards. And his season plus/minus of +20 in that same stretch is hampered in the negative side. Brent Burns has not been much better either. A -2 since March 22nd and only 9 points. For a top line, these numbers are just not enough. Joe Pavelski has not been able to recreate his chemistry with the captain and the top line hasn't been at their best in a long time. Hopefully, the return of Tomas Hertl can ignite the top line and resume making the magic they found at the beginning of the season.
History is Hard to Ignore
What Sharks Kings preview would this be if we didn't talk about how disappointing the Sharks are in the playoffs? For a team that has had so much success in their short history, the Sharks have never won a Western Conference Final. They haven't even come within one win of it. Their best result was a 4-2 series loss to the Calgary Flames in 2004. I guarantee that every member of the Sharks has a little voice in their head saying "Don't choke" or "Not again." The longer this streak of early exits gets, the harder it will be to shake it. To any Sharks players reading this (you should be prepping, not reading), do your best to avoid the media. Because at this point, failure is expected, not feared. Let's all hope that this year really is the year.
Kenneth is a graduate of the University of San Francisco in Politics and Chemistry. But his passion in life has always been hockey. He has played since he was four and even coached a few teams. Kenneth writes for the San Jose Sharks at thehockeywriters.com