Daniel Briere announced his retirement earlier this week, bringing an end to an, at times, great career. It's those other times that are disconcerting, including a one-year, 25-point stint with the Montreal Canadiens back in 2013-14 (before being traded to the Colorado Avalanche a season ago).
Briere joined the Canadiens back in 2013 after being bought out of his eight-year, $52-million deal by the Philadelphia Flyers. Signed in the summer of 2007, that deal actually would have run out this offseason. So congratulations of one sort are in order, at least. Former-Flyers general manager Paul Holmgren's salary-cap circumvention was only kind of blatant.
The buy-out also lends some crazy credence to then-Habs GM Bob Gainey's reported six-year $42-million offer that Briere supposedly turned down (only to return to his home province to play for the Habs in 2013, once interest in his services had dwindled down to… well, essentially the Habs).
Joking aside, he actually had apparently talked to 16 teams, but who really knows how many of them had offered the injury-prone, then-36-year-old similar terms relative to the two-year, $8-million deal he ultimately signed with the Habs?
Had Briere actually accepted the first deal, based on his decent production in Philadelphia (for a few of the years of the deal, anyway), it all might not have turned into such a quagmire, "it" of course in reference to the last two "seasons" in Briere's career… and ironically Gainey's last few years as Canadiens GM.
Gainey vs. Briere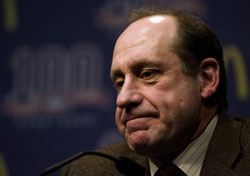 Remember, that was the offseason when Gainey loaded up on such talent as Roman Hamrlik, Tom Kostopoulos, and Bryan Smolinski. Take note of that last name in particular, not for any of his NHL accomplishments (there weren't many, unfortunately), but his position.
Smolinski, a right-handed center, signed with the Habs on July 2, 2007. Briere, also a right-handed center, signed with the Flyers a day earlier.
It's not exactly insane to think Gainey would not have signed the former had he been able to ink Briere. Granted, no one in their right mind probably would have suspected he would have reached out at all to Smolinski, who tended to fly under the radar as a serviceable, but unspectacular NHLer over the course of his career.
In any case, the point is in Gainey's mind (presumably) he needed a center and Briere, based on the 218 points in 260 games over the first four years of his Flyers deal, would have been it. That "four years"part is key for the simple reason that Scott "Voldemort" Gomez was acquired by the Habs just two years into Briere's deal.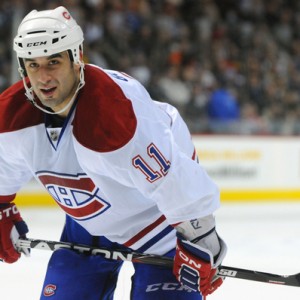 With me so far? You can probably guess where this is headed.
The summer of 2007, despite the lack of flashy free-agent signings on the part of Gainey was a pretty special one. That draft, the Habs ended up picking four eventual NHLers in Yannick Weber (#73), P.K. Subban (#43), Max Pacioretty (#22) and Montreal's first pick that year?
Defenseman Ryan McDonagh (#12). Who is now an elite left-handed shooting defenseman, one of whom the Habs sorely need. Who is now a member of the New York Rangers. Who was traded by Gainey along with Chris Higgins, Doug Janik and Pavel Valentenko for Michael Busto, Tom Pyatt and one Scott Gomez.
I of course say "one" for added effect… and because he's essentially become a unit of measurement. For example, how many Scott Gomezes do the Habs currently have, you might ask. One: Alexei Emelin.
You catch the drift.
Sure, there might have come a point in time when the Habs may have had to use a compliance buyout on Briere. Considering his production only began to seriously decline in the year leading up to the 2012-13 lockout, at which point the hypothetical six-year deal would have run out, it's unlikely. But they likely wouldn't have had to use one on Gomez. And they would likely still have McDonagh (and one of the best defensive corps in the league as a result).
Montreal Canadiens vs. Philadelphia Flyers
That's the truly sad part here. It's not the end of Briere's career. That should be celebrated (his career… not the end of it, to be clear). It's also not the fact that in 2007-08 the Canadiens won the Eastern Conference and were legitimate Stanley Cup contenders.
Sure, that's depressing, especially considering they got eliminated in Round 2 against Briere's Flyers, a series in which he scored two game-winning goals (to go with 16 total points in 17 playoff games). However, the main thing is the Briere debacle from nearly a decade ago set in motion a series of events from which the franchise, now potentially a Stanley Cup contender again, is still recovering.
No one is saying that Briere signing back in 2007 would have been the precursor to a championship soon thereafter. There are way too many variables in play to even consider it a realistic possibility. What is a realistic assumption however is had Briere signed back then, he wouldn't have signed in 2013, unnecessarily prolonging his career by two extra years.
Briere vs. Himself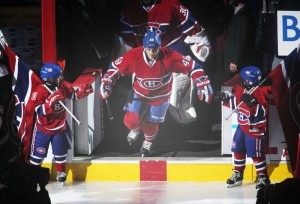 If you believe him from way back then, after signing his two-year, $8-million deal with the Habs, joining the Canadiens was almost like a bucket-list item he had to check off.
"Growing up, I watched the Canadiens," he told the Montreal Gazette. "I wanted to be one of them, and now I have the chance to be… My heart was with the Canadiens even back then [in 2007]. But this time around I feel it's good timing."
Ironically, for a player who will go down as one of the all-time-best clutch scorers with 116 points in 124 playoff games, Briere's timing was actually pretty off.
From a quality-of-play perspective, he undeniably should have retired once his contract was bought out. However, he wanted to go out on his terms. No one can truly blame him for that. It's unfortunate he couldn't go out on his terms as a Canadien.
It just wasn't in the cards. None of it apparently was.