Previous Previews: Joe Thornton, Joe Pavelski, Joel Ward, Patrick Marleau, Logan Couture, Tomas Hertl, Chris Tierney, Matt Nieto
The ninth installment of Sharks Previews & Predictions will take a look at Tommy Wingels. The American forward is a solid second- or third-line skater that plays both smart and physical. He battles along the boards and isn't afraid to block shots or drop the gloves when needed. In the words of one of my colleagues: "He is a coach's dream."
Previous Performance
2014-15 Player Card Statistics
Games Played: 75
Goals: 15
Assists: 21
Points: 36
Plus/Minus: -7
2014-15 Advanced Statistics
Corsi-For: 48.6%
Goals-For: 43.5%
PDO: 98.6
Season Summary
Like his fellow countryman, Matt Nieto, Wingels had a strange year statistically. Despite maintaining similar point production from the previous season, No. 57 suffered a significant drop in plus/minus and goals-for percentage. His plus/minus rating fell 18 points, from plus-11 to minus-7, while his goals-for percentage took a 7.8 percent hit.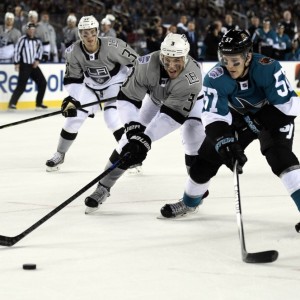 These numbers are especially peculiar due to the winger's defensive prowess. Wingels is consistently one of San Jose's best two-way players, and is a vital part of the Sharks' penalty-kill unit. This leads me to believe that his goals-against struggles stemmed from issues elsewhere in the lineup.
The Illinois native had the misfortune of playing with a below-average defensive group and either the night-and-day James Sheppard or the snake-bitten Patrick Marleau. When compared with the lineup he had in 2013-14, which featured the likes of Dan Boyle and Martin Havlat, it is easy to see why his defensive numbers seemed to drop so much last year.
He wasn't as unlucky as Nieto, but Wingels was cursed by his surroundings, which caused his underlying numbers to plummet, despite putting up nearly 40 points. Next year will be better.
Projected Performance
2015-16 Projected Statistics
Games Played: 75+
Goals: 20
Assists: 22
Points: 42
Plus/Minus: +4
2015-16 Projected Advanced Statistics
Corsi-For: 51.2%
Goals-For: 52.3%
PDO: 100.6
Prediction Reasoning
As I have mentioned before, San Jose's improved lineup will help Wingels bolster his statistics. A better group on the blue line will lead to less goals being scored, which, in turn, will strengthen the winger's goals-for percentage and plus/minus rating.
Being centered by set-up man Chris Tierney, and playing opposite of either Nieto or Tomas Hertl on the third line will help him break the 40-point mark for the first time in his career. Not only that, but Tierney's passing abilities will allow Wingels to hit the 20-goal mark. While this is an optimistic prediction, it is not at all far-fetched.
His corsi numbers will also return to above the 50 percent mark.
Wingels will continue to be one of the most physical Sharks and one of the most defensively minded players on the roster. He will suffocate players in his own zone and wear opponents down by hitting hard and battling along the boards, thus doing everything a third-line man is supposed to do.
In addition to his five-on-five play, he will remain a staple on San Jose's penalty-kill unit alongside Logan Couture. Together, they will not only stop shooters, but create some opportunities shorthanded, as well. Next year, we should see many more goals like this: