Over the course of August, THW's daily Sharks reporter Andrew Bensch will be previewing and predicting the season ahead for each San Jose player. Thus far the series has previewed Joe Thornton, Joe Pavelski, Joel Ward and Patrick Marleau. Today's column takes a look at Logan Couture.
2014-15 Player Card Stats:
Goals: 27
Assists: 40
Points: 67
Plus/Minus: -6
Face off percentage: 48.2
2014-15 Advanced stats:
Goals-for percentage: 47.4%
Corsi-for percentage: 50.5%
PDO: 99.3
Logan Couture had a career year points wise in 2014-15 with 67 but it was his worst defensive year of his career. His goals-for percentage dropped nearly 14% from 2013-14, a drastic drop in even-strength performance. His PDO is pretty close to average so it wasn't necessarily unlucky save percentage or shooting percentage. Although playing a lot with Marleau and his -17 rating didn't help. Couture was certainly better when playing away from his usual linemate. Marleau and Couture will probably remain a pair this upcoming season but as noted in Marleau's preview, No. 12 is bound for a bounce back year. Marleau's improved production will help Couture's numbers as will better play from the third member on the line. Last season it was a revolving door between Matt Nieto, Tommy Wingels and Tomas Hertl. The latter of which should start the year on that line and has expectations for a bounce back year as well.
Couture has been a terrific shut-down center most of his career but it will be interesting to see how he is used this season. Last year was a big disappointment at five aside but it was disappointing for the entire team. Couture can usually be described as a solid two-way player, that is until last season. Perhaps with the emergence of Chris Tierney, maybe they move Couture to the wing on a shut-down line with Joe Thornton and Joe Pavelski? It would be putting a lot of eggs in one basket, but Hertl, Tierney and Ward as a second line with Nieto, Marleau and Wingels as a third line would still be three capable scoring lines. The Sharks have often been top heavy in recent years but first year head coach Peter DeBoer has some new-found depth to work with this season.
2015-16 Outlook: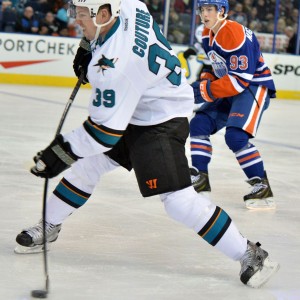 2015-16 Player Card Stats:
Goals: 31
Assists: 35
Points: 66
Plus/Minus: 11
Face off percentage: 50.1
2015-16 Advanced Stats:
Goals-for percentage: 54.5
Corsi-for percentage: 53.6
PDO: 100.3
Couture's numbers will bounce back towards his normal solid defensive stats but won't be nearly as gaudy as the 61.1% goals-for from 2013-14. He will score a few more goals but his assists will come down just a bit. Playing with Marleau and Hertl or Marleau and Ward should make for a strong line this season, along with an improved blue line and goaltending behind them. Couture will also rebound in the face-off circle where he is a career 50.9 percent. Last season he had a significant down year but career of nearly 51 percent means he's due for a better year. Sharks fans can expect another mid-60s point season from Couture and better overall numbers with the deeper team around him. Last year's defensive funk was nothing but a blip on an otherwise solid track record of strong two-way play.
Andrew has been credentialed to cover the Sharks since 2010 and the 49ers since 2012. He graduated with his BA in Broadcast Electronic Communication Arts in 2013 from San Francisco State University.