Just how good is Sergei Bobrovsky? Statistically it is very hard to judge the Columbus Blue Jackets goalie simply because of how the players in front of him performed last season. The Russian managed 30 wins, 2 shutouts, and a .918 Save % while playing in front of one of the worst defensive teams in the NHL. We know that Bobrovsky is good, but how does he compare to the rest of the league in 2015-16?
The Numbers
Last season thirteen netminders had more wins than Bobrovsky, but the majority of them, such as the Penguins Marc-Andre Fleury, Capitals Braden Holtby, and the Lightning's Ben Bishop played behind more successful teams. In support of Bobrovsky, only a handful of regulars had a Corsi For % over 50, while many of the regulars struggled. Jack Johnson's 5-on-5 CF% was 46.7, David Savard 46.0, Ryan Johansen 46.2, Nick Foligno 49.1, and Cam Atkinson 46.4 when Bobrovsky was in net. If the team is having trouble possessing the puck in such dramatic fashion, they are putting way too much pressure on their goalie.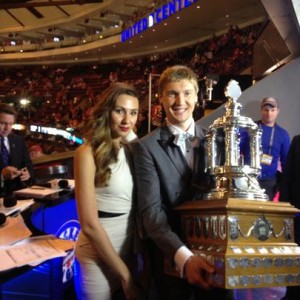 In 2013-14 while playing with a more solid, healthier team in front of him he had a better statistical showing. His Save % was .923, while getting 32 wins, and 5 shutouts.
Comparing Bobrovsky's salary cap hit to other "elite" netminders, the 26-year-old goalie comes in at $7.4 million, with a 33-year-old Lundqvist at $8.5 million, league leading Carey Price with $6.5 million, and 25-year-old Braden Holtby at $6.1 million. Bobrovsky isn't exactly a bargain, but in the end he is worth the price.
Top-10
If I were to make a top-ten goalie ranking for the 2015-16 season, it would look something like this.
#1. Carey Price
#2. Pekka Rinne
#3. Henrik Lundqvist
#4. Sergei Bobrovsky
#5. Jonathan Quick
#6. Tuukka Rask
#7. Braden Holtby
#8. Cory Schneider
#9. Ben Bishop
#10. Marc-Andre Fleury
At lot of people may think that I have Bobrovsky too high, but with a few more improvements to the roster, and less injuries to key players, he should be poised at another shot at a Vezina Trophy.
Parting Shots
In doing some research on the trade that sent Bobrovsky to Columbus from Philadelphia, I saw a lot of writers, fans, and even Flyers brass commenting on how their team is better off after moving Bobrovsky. Steve Mason has been solid for Philly, and apparently there were some contract concerns, but Flyers nation saying that they were better after the deal feels like the Red Sox trying to convince themselves that it was a good idea to trade Babe Ruth.
Until next time.