Over the course of August, THW's daily Sharks reporter Andrew Bensch will be previewing and predicting the season ahead for each San Jose player. First up was Joe Thornton. Today's column takes a look at his likely linemate, Joel Ward.
2014-15 Player Card Stats: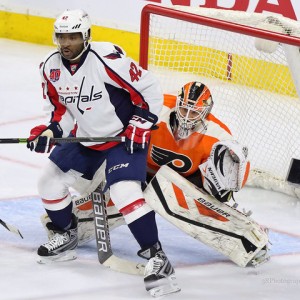 Goals: 19
Assists: 15
Points: 34
Plus/Minus: -4 
2014-15 Advanced Stats:
Goals-for percentage: 46.4
Corsi-for percentage: 50.2
PDO: 98.9
2015-16 Outlook:
In his last year with the Washington Capitals, Ward's Corsi-for percentage went up 3 percent from 47.2 to 50.2, but his goals-for percentage fell from 54 to 46.4. It is an extremely odd to significantly improve in the possession game but fall mightily in the production (goals are what counts) game. Certainly some of this can be equated to going from the third luckiest Capitals forward with a 102.5 PDO in 2013-14, to the most unlucky forward in 2014-15 with a 98.9 PDO. In the two seasons prior with Washington, Ward turned in identical awesome goals-for percentages (58.3). That is a terrific mark, and is more typical of what Sharks fans can expect from the rugged winger.
Ward is known as a no-nonsense, smart two-way player who provides a physical presence and a complementary scoring touch. In the playoffs last season, Ward skated alongside the Capitals' two best players in Nicklas Backstrom and Alex Ovechkin and he didn't disappoint. Ward finished the playoffs with three goals and nine points in 14 games to lead the team. His performance has myself and many other Sharks pundits expecting head coach Peter DeBoer to open the season with Ward playing on the top line with Joe Thornton and Joe Pavelski.
Assuming that is where Ward plays the majority of his first season in teal, he is likely to have a year closer to his normal standards defensively. He will be playing shut-down minutes alongside the Joes but Thornton and Pavelski are likewise strong two-way players. These three have a chance at being one of the best lines in hockey. With Thornton passing him the puck and Pavelski burying some of his passes, look for Ward to have a really nice year with San Jose.
2015-16 Predictions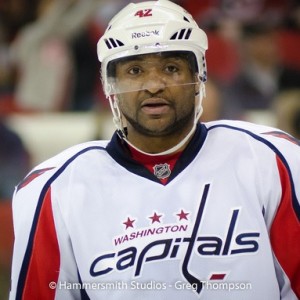 2015-16 Player Card Stats:
Goals: 22
Assists: 19
Points: 41
Plus/minus: 9
2015-16 Advanced Stats:
Goals-for percentage: 55.5
Corsi-for percentage: 54.2
PDO: 101.3
Ward won't set a career high in goals playing with Thornton, but he will break the 20-goal mark for just the second time in his career. The 34-year old will play a major role on special teams, on the second power-play unit and likely part of the second most used forward pair while shorthanded. Ward will epitomize the popular term "glue-guy." By that I mean he will prove his worth by being versatile, smart and extremely hardworking. Ward plays a similar all-out style the way Raffi Torres does or former Shark Mark Smith used to do for a number of years. He plays that high tempo, in-your-face physical style that coaches and fans love.
Andrew has been credentialed to cover the Sharks since 2010 and the 49ers since 2012. He graduated with his BA in Broadcast Electronic Communication Arts in 2013 from San Francisco State University.