Over the course of August, THW's daily Sharks reporter Andrew Bensch will be previewing and predicting the season ahead for each San Jose player. First up is Joe Thornton.
2014-15 Player Card Stats:
Goals: 16
Assists: 49
Points: 65
Plus/Minus: -4
Face off percentage: 58
2014-15 Advanced Stats:
Goals-for percentage: 48.2
Corsi-for percentage: 58.4
PDO: 97.3
2015-16 Outlook:
Despite going through the summer of hell in 2014 culminating in the removal of his captaincy before the season, Joe Thornton remained an elite offensive machine in 2014-15. His possession numbers were among the best of the best, he was an irreplaceable presence on the Sharks' sixth ranked power play and, while his even-strength numbers took a hit, his relatively low PDO helps explain the lack of his normal five aside dominance on the score sheet. Sharks shooters delivered an extremely poor 6.73 shooting percentage with Thornton on the ice last year; that number is usually above eight, sometimes above nine.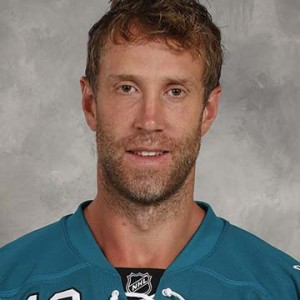 With the team around Thornton improving this offseason, there is a much more positive buzz around the club. General manager Doug Wilson has done a 180 in terms of his expectations for the team this season. Last year, Wilson was saying his team wasn't good enough but this summer he has been nothing but positive. Thornton is not only a safe bet to reap the benefits of this new-found team confidence, but one of Wilson's free-agent additions is likely to score some goals next to No. 19.
While we don't know at this exact moment what first year Sharks head coach Peter DeBoer has in mind for forward lines, it is a good bet to see Thornton play the vast majority of the season alongside Joel Ward and his usual running mate Joe Pavelski. Last year, Thornton and Pavelski had a disappointing mixed bag of left wingers that didn't produce. Matt Nieto, Tomas Hertl and Melker Karlsson all took their lumps finding the back of the net for long stretches. Having Ward in the mix gives the Sharks a much more well rounded, physical veteran to create space for the Joes. Ward is a better finisher than Karlsson and Nieto and he will provide the sandpaper on the Sharks' top line. With Ward and better luck, the Sharks will score on a significantly higher percentage of their shots with Thornton on the ice this season than last.
2015-16 Predictions:
2015-16 Player Card Stats:
Goals: 14
Assists: 58
Points: 72
Plus/Minus: 15
Face off percentage: 56.9
2015-16 Advanced Stats:
Goals-for percentage: 54.5
Corsi-for percentage: 56.8
PDO: 100.5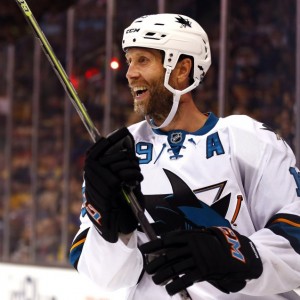 The Sharks will be deeper and better in 2015-16 than a year ago, but Thornton and Pavelski will take an even heavier load of defensive minutes with Patrick Marleau having taken a step back last season. With the increase in shut-down duties, Thornton's Corsi-for and goals-for won't be quite as good as they were in 2013-14 when he spent a large portion of the year crushing opponents with Pavelski and Brent Burns on his wings. That said, Thornton's possession numbers will continue to be elite and the goals-for percentage will rebound nicely into the mid-50s. Thornton will see much more of the bounces go his way with Ward on his wing, a better blue line behind him and likely better goaltending than the .905 save percentage he experienced on the ice last season.
Thornton may be 36-years old this season but he will remain the same Jumbo Joe he has always been. Speed has never been his game, and his passing skills are still at a world-class level. Father Time still has a long ways to go to catch up to Big Joe. He will continue to facilitate a lethal power-play unit, dominate the face-off circle and play a strong two-way game.
Andrew has been credentialed to cover the Sharks since 2010 and the 49ers since 2012. He graduated with his BA in Broadcast Electronic Communication Arts in 2013 from San Francisco State University.