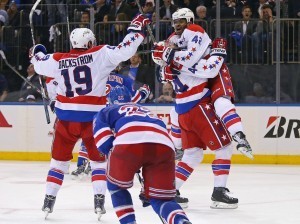 What a difference a year makes, eh? Around this time last offseason, San Jose Sharks general manager Doug Wilson was using the term "rebuild" and making comments like "we're not close enough to where other teams are at."
Flash forward a year later and after missing the playoffs for the first time in 12 years, the Sharks brass is coming out guns-a-blazing, as the saying goes. They have acquired highly regarded players in each of their three biggest areas of need this offseason.
Despite previously never making a big-time unrestricted free-agent signing as GM, Wilson has now acquired two of the biggest names available. On July 1, he signed former long-time New Jersey Devils and Pittsburgh Penguins defenseman Paul Martin to shore up the Sharks' top-four defense. And on Friday afternoon Wilson signed former Nashville Predators and Washington Capitals winger Joel Ward to a three-year deal. According to CSN Bay Area's Kevin Kurz, Ward's AAV (average annual value) will come in at a very fair $3.275 million.
Going into this offseason the Sharks had three main areas of need to address: top-four defense was the biggest hole, then goaltending and a scoring winger. The Sharks have filled all three holes with three highly regarded players.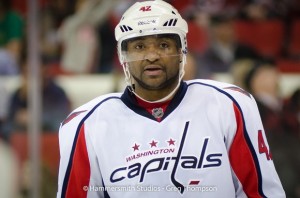 While giving up a first round pick to acquire goaltender Martin Jones was a costly price, he brings more potential than arguably all of the other goaltenders on the market this offseason. Adding Martin and Ward to the mix now gives the Sharks a lineup that looks solid from top-to-bottom. San Jose fans should be very excited about what is to come. They should be buzzing about their club and the opportunity to win a Stanley Cup while their window remains open.
Ward With the Joes?
Ward gives the Sharks a likely upgrade to Melker Karlsson on San Jose's top line with Joe Thornton and Joe Pavelski. He isn't a prototypical top-six talent, but is a sandpaper-type winger that can put the puck in the back of the net. The past two seasons he has scored 19 and 24 goals. The 34-year old has experience playing alongside high-end talent, playing with Nicklas Backstrom and Alexander Ovechkin this past season with Washington.  In the playoffs this past year, those three were all over the ice. Ward scored three goals and added six assists for nine points in 14 playoff games. Outside of Justin Williams, aka Mr. Game 7, Ward has one of the best playoff reputations in the league. It is difficult not to absolutely love this signing if you call yourself a Sharks fan.
If you were to compare Ward to anybody already on the Sharks roster, it would be Tommy Wingels. Ward is likewise a quick, right-handed skating winger that plays a strong, physical, two-way game. With Ward added to the roster, the Sharks top-12 forwards look pretty set. Lines will change throughout a season (and yours truly would prefer some different combinations) but going into training camp, it is easy to project a forward corps looking like the following: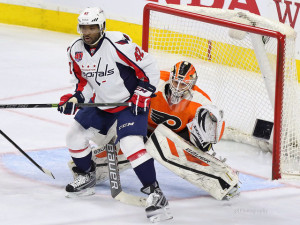 Joel Ward—Joe Thornton—Joe Pavelski
Patrick Marleau—Logan Couture—Tomas Hertl
Matt Nieto—Chris Tierney—-Tommy Wingels
Barclay Goodrow—Ben Smith—Melker  Karlsson
These are four quality lines that can all play effective minutes. Ward with the Joes should be excellent, and the second and third lines played well down the stretch last season, particularly the third line. Not to mention if any injuries occur, or if Raffi Torres comes back from the dead, then Torres, Nikolay Goldobin, and Joonas Donskoi are all highly talented forwards that can fill in nicely. Goldobin and Donskoi hopefully will start the year now lighting up the AHL with the new San Jose Barracuda.
Blue Line
Defensively, the Sharks' blue line looks rock solid as well, assuming Brent Burns settles in defensively and the usually reliable Justin Braun bounces back. Pretty easy to bounce back playing with Marc-Edouard Vlasic.
Marc-Edouard Vlasic—Justin Braun
Paul Martin—Brent Burns
Brenden Dillon—Matt Tennyson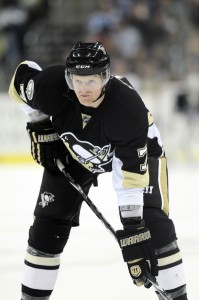 If any major injury occurs, the Sharks finally have some depth on their blue line to recover. Dillon has top-four potential but is slated on the third pair, and Martin can play top pair if Vlasic goes down. Not to mention 2013 first round pick Mirco Mueller, who likely was rushed into the league last year, can jump up from the AHL at a moment's notice.
Between the pipes, it is hard not to like the potential of Jones and Alex Stalock. The Sharks look well equipped to get back into the postseason and make some significant noise when they get there.