This July 4th weekend will go down in history for the Columbus Blue Jackets.
It's the weekend that Brandon Saad came to Columbus. On Friday, Saad agreed to a six-year contract worth a reported $36 million. According to multiple reports, Saad gets $4 million this season. That increases with each passing year.
As great a signing as this is, there are several questions that remain. The answers to these questions will determine how next season will go. We will attempt to answer these questions for you.
Will Blue Jackets Add A Defender?
This is the most popular question asked amongst Blue Jackets fans these days. The team made it known earlier in the offseason that they were in the market for a defenseman. With Saad now under contract, and Matt Calvert yet to sign, will the team still chase a defenseman, whether it's through free agency or trade?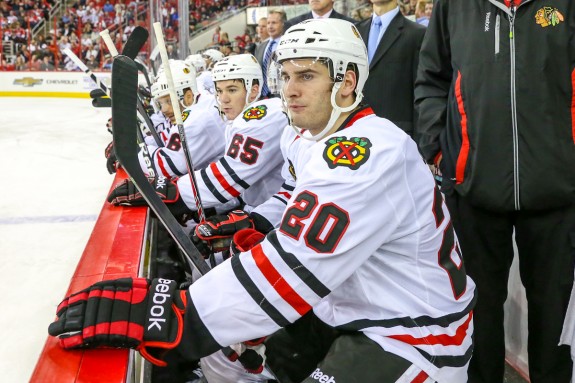 This could go either way.
On one hand, the team went out of their way to make it known that they are looking for a defenseman. If they're willing to include a former first-round pick in a trade offer, they're serious about their pursuit.
As it stands, the team has not made any moves on their blue line. The reality is, they don't have to. But if the opportunity presents itself that will help improve the team, then a move will happen.
The Blue Jackets have eight defensemen currently on the roster . This makes free agency the less likely route. Why add a body when there are already enough bodies? Plus, the salary cap is now in play. The Blue Jackets have approximately $6 million left in cap space after signing Saad. The Blue Jackets are looking for a top pairing defenseman. Cody Franson is arguably the best remaining free agent available. His cap hit will fall outside of what Columbus can now afford.
Trade is the more likely scenario. The Blue Jackets have plenty of assets on hand. Several reports indicated the Blues tried to shop Kevin Shattenkirk. According to Darren Dreger, Shattenkirk isn't going anywhere. Columbus likely pursues Shattenkirk otherwise.
Blues say Shattenkirk is not moving. Not in play. As you were.

— Darren Dreger (@DarrenDreger) July 2, 2015
The bottom line is this. Either the Blue Jackets will stand pat with who they already have, or they'll acquire a defenseman via trade if the fit is there. I just don't see how a free agent helps the team at this time.
Where Will Zach Werenski Play?
The prevailing belief is that Werenski will play at Michigan this season. I'm not sure about this yet. With Mike Reilly now signed in Minnesota, the Blue Jackets could approach Werenski about the possibility of playing in juniors instead. The London Knights own his rights.
If the Blue Jackets think Werenski could play in the NHL next season, the team might prefer that he play in London. This isn't an easy decision for Werenski if he has to choose. London projects as one of the top OHL teams next season. He loves Michigan. But going to London could fast track him to the NHL. Stay tuned on this one. Don't be surprised if Werenski plays for London this season.
The Impact of Milano & Bjorkstrand?
The Blue Jackets have a good problem on their hands. They have incredible forward depth. With good summers and training camp, both Milano and Bjorkstrand could challenge for a roster spot. Take a look at how the Blue Jackets lines could look come October:
Saad – Johansen – Atkinson
Foligno – Dubinsky – Jenner
Hartnell – Wennberg – Clarkson
Calvert – Campbell – Bourque/Boll
Milano and Bjorkstrand will have every opportunity to make the roster. If this happens, someone will get bumped. But who though? Management is on record as saying that there's nobody safe.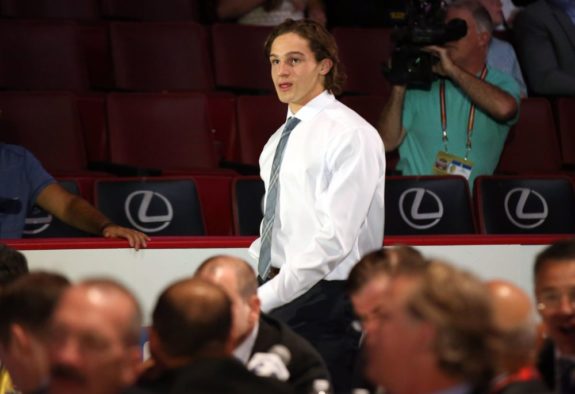 I think Milano and Bjorkstrand will start with Lake Erie. Then if an injury happens, they'll get their chance in Columbus. If they make the roster, then moves could happen.
It's truly an exciting time for Columbus, full of anticipation and hope. They could have more moves up their sleeve. What will the team look like in September at training camp? This summer will help us answer those questions.