Hockey fans, especially those of Boston and Montreal, have a lot to be excited about, given that this year's Bridgestone Winter Classic will show off one of the best rivalries in all of sports. With the official announcement from the NHL, fans have naturally begun brainstorming for future Winter Classics – Who should play, where they should be, etc.
Well, it's summer! Relax, and don't think too hard, because we've done the thinking for you. We've come up with four big Winter Classic ideas that the NHL should consider for the future … Someone point Bettman this way!
1. Battle of the Keystone State – Pittsburgh Penguins vs Philadelphia Flyers
The Battle of the Keystone State makes sense for so many reasons that it's kind of hard to believe that we won't see it happening in the coming years. First and foremost, Pittsburgh and Philly have a pretty intense rivalry, which would set the stage for an intense outdoor game. On top of that, both teams will celebrate their 50th anniversary in 2017, since they were two of the six teams that joined the league in the NHL's original expansion in 1967. If that doesn't scream for some New Year's Day celebration, then I don't know what does.
To make the rivalry even more intense, a game at Penn State's Beaver Stadium would be a neutral site, which means that Flyers and Penguins fans could really duke it out (not literally, hopefully) on even ground, without either side having "home-field advantage."
Need more convincing? According to Broad Street Hockey, Philadelphia Flyers team executive Shawn Tilger spoke to season ticket holders at a town-hall meeting earlier this year, and said that the team has gotten the ball rolling already with the NHL.
All things considered, there's plenty of reasons to believe that you could see a Winter Classic in Pennsylvania in 2017.
Potential location: Beaver Stadium (Penn State football stadium)
2. Stars of Old and New – Dallas Stars vs Minnesota Wild
If you're relatively new to hockey, this one may seem a bit strange to you. Why would Dallas, located all the way down in Texas, see any need to play Minnesota, way up in the north? A look into hockey history makes things a bit more interesting.
Before the Dallas Stars or the Minnesota Wild existed, there lived this team up in the Gopher State called the Minnesota North Stars. The North Stars, who were founded as a part of the 1967 expansion, stayed in Minnesota until the 1993-1994 season, when they underwent some severe financial difficulties. It was then that the franchise relocated to, you guessed it, Dallas, Texas.
A few years later, Minnesota hockey fans were given a second chance, when the Minnesota Wild took the ice in 2001. Even today, some Minnesota fans feel that the Stars turned their backs on the fans up north, so an outdoor game to settle the score could produce a lot of hype.
 Potential location: TCF Bank Stadium (University of Minnesota Golden Gophers football stadium)
3. Central Showdown – Nashville Predators vs St. Louis Blues
First things first: The St. Louis Blues are in need of an outdoor hockey game. As our own Mike Poepping wrote previously, there are plenty of reasons why the Gateway City should receive a Winter Classic in the coming years.
For one, St. Louis has stood the test of time as a hockey market. The Blues have been in town since the league's original expansion in 1967, and despite having yet to win a Stanley Cup (making it the oldest team without a Cup), the team has a strong fan base, and has been especially good of late (in the regular season, at least).
On top of that, St. Louis has a picturesque outdoor hockey location at Busch Stadium, home of the St. Louis Cardinals baseball team.
It appears the idea may become reality at some point down the road, as Blues owner Tom Stillman has even said that he's actively pursuing an outdoor game, according to St. Louis Blues' beat writer Jeremy Rutherford.
Potential location: Busch Stadium
Stillman: "We are actively pursuing an outdoor game." #stlblues

— Jeremy Rutherford (@jprutherford) January 22, 2015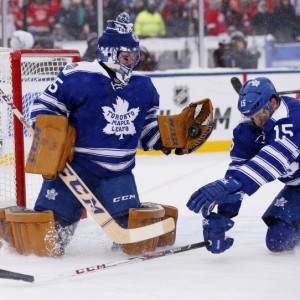 4.  Canadian Classic- Montreal Canadiens vs Toronto Maple Leafs
While the NHL has seemed to be interested in keeping the Winter Classic in the United States, a move just north of the border to Toronto makes sense for plenty of reasons.
For one, a battle between the Leafs and the Canadiens, two of Canada's most cherished hockey teams (and two Original Six rivals at that) would be nothing short of epic on the outdoor stage.
On top of that, Toronto has a perfect venue for the occasion in the Rogers Centre, home of the Toronto Blue Jays. The Rogers Centre has a retractable roof, so the stadium could open up its sky doors and let the glory that is outdoor hockey pour into the stadium, with the beautiful backdrop of the CN Tower watching over the battle.
How majestic.
Potential location: Rogers Centre
*Bonus* Expansion Classic – Las Vegas vs Quebec City
With the NHL expanding to Las Vegas and Quebec City, what better way to welcome the two new teams than with an outdoor hockey game? Perhaps giving either team a Winter Classic would be a bit premature, however, a Stadium Series game would be a cool way to draw new fans from each city to support their new teams.
Cam is a Broadcast Journalism student at the University of Maryland. He's the Boston Bruins Beat Writer at The Hockey Writers, and is an avid college hockey fan. Find him on Twitter @CamHasbrouck!