Take a walk over to a nearby window. Open it up if you can, or just put your ear to it and listen.
Do you hear that?
*crickets*
That's the sound of Marc-Andre Fleury's critics as the new season draws near. He is coming off one of his best years as a pro; where he boasted 34 wins, a save percentage of .920 (2nd best of his career), and a whopping 10 shutouts.
Digging Deeper
Fleury's stats have generally always been decent, but last year was one of his elite years.  He had 36 QS (Quality Starts – Starts where a player's save percentage is greater than that year's league average) for a .563 quality start percentage. In layman's terms, Fleury was better than average more often than he was below average.
Out of the 64 games he started, only six of his starts qualified as RBS (Really Bad Starts – Starts with a save percentage lower than 85%). That's is the lowest number of his career, excluding the shutout season where he had 5 RBS over only 31 starts that season.
Another statistic, GSAA (Goals Saved Above Average – Save % and shots faced versus the league average for the same number of shots faced)  Fleury scored a 10.28, the 2nd highest mark of his career. He was saving the puck above average by a wide margin.
Finally, there is GPS (Goalie Point Share – an estimated number of points contributed by a player due to his performance in goal). By this statistic, Fleury contributed 12.2 points towards the Penguins standings total of 98 simply through his stellar play.
Fleury And The Other Guys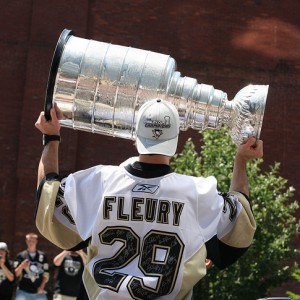 If "The Flower" ever wanted to form a band, the above title would make an apt choice.  He's the only goaltender currently on the roster and in the system that is right now worthy of an NHL No. 1 goaltender spot.  His backup, Jeff Zatkoff, will be an able puck-stopper this season, but at 28 – only 2 years Fleury's junior – he is not going to threaten, or even push, Fleury.
In the system, guys like Matt Murray and Tristan Jarry may one day be able to challenge Fleury, but that time is not now.  Jarry is basically untested at the AHL level and Murray just completed a stellar season in Wilkes-Barre. Let's see him do it again before we crown him Fleury's heir-apparent.
All this amounts to a deafening silence when it comes to criticism of Fleury, and he has earned a much-deserved respite from the hate. Fleury's job is quite safe, and rightly so – at least for now.
Unrelated:
One of these names is not like the other:
Fleury
Murray
Jarry
Zatkoff
Related:
Marc-Andre Fleury: The Most Undervalued Goalie in the NHL
Mike Bales and the Resurgence of Marc-Andre Fleury
Here is some video of Fleury's interview at the new UPMC Lemieux Sports Complex out in Cranberry, PA.