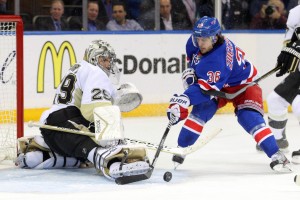 For many Pittsburgh Penguins fans, the bitter taste of the 2013 Eastern Conference Final sweep at the hands of the Boston Bruins is a distant, repressed memory. The most recent season pushed that calamity even further into the rearview mirror thanks to the exceptional performance of goaltender Marc-Andre Fleury.
His dismal play in the 2013 postseason, where he only played five games and allowed 17 goals to finish with .883 save percentage despite recording in 26 save shutout in the first of his five games, was to largely to blame for most fans.  Calls for trades ensued and faith in the 2003 first overall draft pick seemed to be lost.
A new goalie coach and a renewed spirit
Rather than cut their losses, the Penguins decided to stick with Fleury. In the process, however, longstanding goaltending coach Gilles Meloche resigned (though some speculate that he was forced out of his role in return for a scouting position). Shortly thereafter, in August 2013, former NHL goalie Mike Bales replaced Meloche, having quickly ascended the Penguins' goalie coach hierarchy. He had been hired in 2011 as the goaltender development coach and had helped promising prospect Jeff Zatkoff establish himself as a goalie with legitimate NHL potential. He also was instrumental in the drafting of both Matt Murray and Tristan Jarry, seen by many as the goalies of the Penguins' future.
The impact for the previously volatile Fleury was felt almost immediately. Under Meloche, Fleury would have a stretch of 10 games where his save percentage would hover between 93 and 95 percent, followed by another 10 games where his percentage would drop to between 85 and 87 percent. The extreme fluctuation experienced during the postseason was simply a microcosm of what Fleury had experienced throughout the regular season.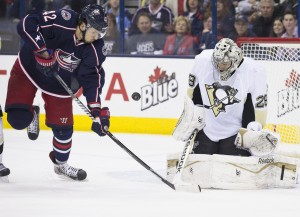 Under Bales, however, Fleury's save percentage spread markedly compacted, typically falling between 90 and 92 percent but trending upwards. He has posted two of the best seasons, post seasons included, of his 11 year NHL career. During Bales first season as goaltending coach, Fleury tallied a career high-tying five shutouts and a .915 save percentage during the regular season before earning two shutouts and .915 save percentage in the playoffs, both of which were his second-best results at the time.
The 2014-2015 season brought an even more substantial increase in Fleury's netminding prowess. His ten shutouts led the league and his .920 save percentage was a career-best for any season in he which played more than 50 games. His 2.32 goals against average also tied a career-high.  He was eventually named the team's MVP for his stellar season. And just as the year before, Fleury's playoffs were equally as solid.
Although the Penguins were eliminated in five games, Fleury was integral to keeping every game decision to a margin of one goal. He had a .927 save percentage, which became his second-best career mark, and only had a 2.12 goals against average, light years better than 4.63 or 3.52 averages from the 2012 and 2013 post seasons.
How did they do it?
Bales' alterations to Fleury's play style have ranged from adjusting how he plays the posts to encouraging him to make on-the-fly changes to his depth into the crease, depending on the situation. Fleury also has appeared to rely less on his exceptional reflexes and improve his technical abilities. "He's continued to tweak and make small adjustments here and there," Bales told USA TODAY Sports in February, "(and) he has had a little more time to process stuff from last year and it has become more natural for him."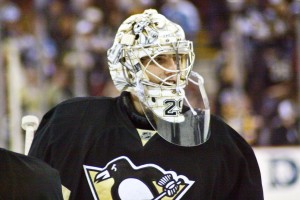 There is no question that Bales has played a major role in reestablishing Fleury as a top-tier goaltender and rebuilding the fans' faith in the player they have affectionately dubbed "Flower." Many were outraged when the Penguins resigned the goalie to a four-year, $23 million contract extension, with some in the media going so far as to dub the move "terrible," but his improved play has shown that it was a smart decision.
There is no way to predict how much further Fleury can elevate his game as he continues to work with Bales, but Pittsburgh fans should feel confident in the pairs' ability to provide a solid backstop to the Penguins' defense. A bumpy road remains for the team, but thankfully, goaltending will not be cause of it.