Even though the roster of the Montreal Canadiens is, for all intents and purposes, complete—minus Alex Galchenyuk—it doesn't mean it can't use a little tinkering.
Of course, in an ideal world, names like Sidney Crosby and Alexander Ovechkin would be wearing Habs jerseys as we speak. However, a little thing called the salary cap prevents that from happening (in addition to no-trade clauses and presumable logical reasoning on the parts of the GMs of the Pittsburgh Penguins and Washington Capitals).
It's that same salary cap that sometimes forces GMs to make hard decisions. Where once teams like the Habs and, to a larger extent, the New York Rangers could afford to hand money out as if it were oxygen, they instead have to be more careful with cash or be prepared to live with the bad contracts they sign.
Impressively, Canadiens GM Marc Bergevin has become something of a master at mitigating one-time bad decisions. For example, he was recently able to offload the $2.5-million-per-year contract of energy-forward Brandon Prust.
It's not that Prust was a detriment to the team (not all the time, anyway). It's that, due to his age and dwindling offensive production, his contract was just better served taking up some other poor schlub's cap space.
Here are five other players the Habs would ideally be able to lose for one reason or another ahead of the 2015-16 season.
5. Jarred Tinordi
The Canadiens may not want to trade defenseman Jarred Tinordi. If they don't want to lose him for nothing, they might have to, though.
Now 23 and no longer waiver-exempt, Tinordi has yet to catch on with the Canadiens despite having been a first-round pick. It could be the end of the road for him as a Hab if he isn't poised to make the team out of training camp.
Tinordi technically doesn't actually need to have a great training camp, to be clear. The Habs themselves need him to, or, more accurately, they need him to give them a reason to keep him, because he'll have no trouble finding another home. Arguably a one-time bargaining chip, he's far too attractive of an asset not to be claimed were he to ever be put on waivers.
Trading him might be the lesser of two evils.
4. Tomas Plekanec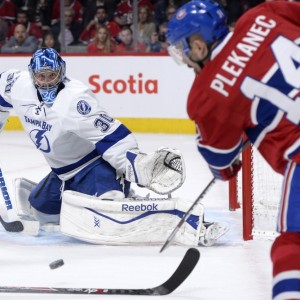 There is no denying Tomas Plekanec is a valued member of the Montreal Canadiens. By the same token, it's hard to deny the cold, hard facts, i.e., that he's going to be 33, entering the final year of his contract, and may not be worth re-signing at his current salary next season (at least not for the same six-year term as his previous deal).
Even though his offense and to a lesser and lesser extent his defense will be missed, maybe it would be worthwhile to trade him now and at least get something in exchange.
3. Tom Gilbert
Defenseman Tom Gilbert is almost a victim of circumstance. After signing with the Habs last offseason, he's now seemingly caught in limbo between shiny, newer defensive signee Jeff Petry and the affordable Greg Pateryn, all of whom are right-handed shots (and behind P.K. Subban on the depth chart).
Of course, had he panned out as projected, essentially as an older Petry with slightly less upside, he might not be in the mess he now finds himself: expendable and eating up $2.8 million in valuable cap space.
2. David Desharnais
Considering David Desharnais' production, the terms of his contract are quite justifiable.
He's essentially good for 50 points a season and his $3.5 million salary isn't exactly exorbitant. However, it's all the time he plays on the No. 1 line that is the problem, with approximately 800 minutes spent centering Max Pacioretty during the regular season. The next-highest player? Plekanec with approximately 330 minutes, according to data compiled by the University of New Brunswick's faculty of computer science.
All that prime ice time and he still ranks 40th among the league's top centers in terms of point production, meaning he really shouldn't be a No. 1. For the record, Plekanec meanwhile finished at No. 25.
Considering Bergevin publically opined Galchenyuk may never become a center at his postseason press conference, when he drafted him specifically to fill that need, it makes one think: What has Desharnais got that Galchenyuk doesn't? Incriminating photos of Bergevin? The only way to find out for sure is to call his bluff and trade him.
1. Alexei Emelin
Maybe it's that defenseman Alexei Emelin was given too much, in the form of his $4.1-million salary-cap hit, too soon. More likely? He was given too much when he was rehabilitating a bad knee (torn ligament after running into then-Boston Bruins forward Milan Lucic) back at the start of the 2013-14 season. He just hasn't been as mobile since.
Oh, he's continually relied upon by head coach Michel Therrien for his physical play, and at least that aspect of his game has stayed the same (204 hits this past season). However, when your defensive awareness suffers as a result (or was never there to begin with), that strength to his game becomes a weakness to the team real quick.
Since you can only hit a player (legally) when he has the puck, Emelin's style of play is outdated and better suited for a past non-puck-possession-centric era. There's always going to be time for a big hit. It's just not every time you're out on the ice.
Now, as a result of Bergevin's lack of foresight here, giving an injured player a huge contract, the Habs are paying an admittedly serviceable bottom-pairing defenseman as if he were a top-four. Hopefully, he works his magic and gets him on another team soon. The return really doesn't matter, just as long as it's a team outside the division. After all, getting hit by Emelin still hurts. Not as much as his contract, but still…