Montreal Canadiens general manager Marc Bergevin had little new to offer at his post-mortem press conference.
In short, he pretty much confirmed what everyone already knows in regard to how he feels on a variety of hot topics, including how re-signing free-agent defenseman Jeff Petry this offseason will be a priority. Only, based on the team's performance this past season, it would be a mistake to make it the top one.
Petry Fits In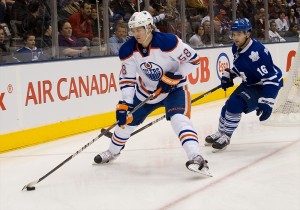 There's no debating that by the end of the playoffs the mobile Petry had become an invaluable member of a defense corps comprising a slow-footed Alexei Emelin, a slow-footed and aging Andrei Markov, and a, well, a Tom Gilbert.
With Norris Memorial Trophy-nominee P.K. Subban and Petry both shooting right, Petry served as a fixture on the team's second defense pairing, a steadying presence who could generally be relied upon to move the puck up and out of the zone and contribute the odd point all the while.
His 10 points in 31 as a Canadien (including 12 in the playoffs) would put him on pace for 26 over the course of a full season. That would have ranked as the third-most among defensemen on the team, prompting the logical conclusion that in future seasons he could serve as a viable option on the power play… as beleaguered a special teams unit as it is.
Power Outage
Therein lies the team's main problem, a power play that ranked 23rd in the league in the regular season (16.5%) and went 2 for 36 during the playoffs and largely derailed Montreal's hopes of a second-consecutive Eastern Conference Final appearance.
More generally speaking, though, it was an inherent inability to score goals—in all situations and not just on the man advantage—that has the Habs at home right now instead of in New York to face the Rangers. That's why re-signing Petry is all nice and good, but should be relatively secondary to improving the 20th-ranked offense in the league that scored the least amount of goals in the regular season among all playoff teams.
The most curious part is the Habs don't seem to lack depth. For the first time since 2007-08, when Montreal scored the second-most goals in the league (257), the Habs had four different 20-goal scorers (Max Pacioretty, Tomas Plekanec, Brendan Gallagher, and Alex Galchenyuk). And, yet, this year? Overall? Over 40 less with 214, 13 of which were empty-netters.
So, under the assumption that a lack of talent is not the issue here (as it shouldn't be; the Habs have in-their-primes Subban and Pacioretty and Carey Price in net), it makes one wonder why the Habs were in such dire need of goals all season and postseason long. That's of course with notable exception to Game 4 against Tampa, when they scored six. See? They can score. They just don't consistently.
No Easy Answers
Resigning Petry won't really help in that regard. Nor will really reaching out to any other unrestricted free agents, this year in particular when the top offensive players available will be overpriced defenseman Mike Green and a 40-year-old Martin St. Louis on the serious decline, who would likely be content staying near his home in Connecticut.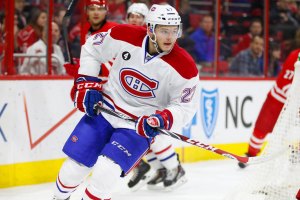 As a result, Montreal's fix will likely have to come internally. They have their share of other, restricted free agents to re-sign, including Torrey Mitchell, Nathan Beaulieu, Michael Bournival, and Alex Galchenyuk, inking the latter of whom might actually prove to be more important than getting Petry under a new contract when all is said and done.
Of course, if we're to believe Bergevin, it may very well not be, with him saying "I can't tell when or if he'll be a center," referencing poor defensive play when he was tried out earlier at the position, as he preps for negotiations this spring and summer.
But everyone knows better. Hopefully Bergevin does too, especially in regard to the elephant in the room that he addressed as well: "I have no reason to make any changes when it comes to our coaching staff. They are doing great work. Michel Therrien is doing exceptional work. I'm disappointed anyone would think otherwise."
There's that word again, "disappointed," a variant of which Therrien unwisely made use of in his post-Game 6 press conference the other day.
Therrien: "I felt that physically and mentally we were drained. It's disappointing but I guess those things happen." #HabsIO

— Dave Stubbs (@Dave_Stubbs) May 13, 2015
Yes, we get it. You're disappointed. Everyone's disappointed. Everyone has reason to be. But there is a bright side to Bergevin's, well, why not? "Disappointing" quote in regard to the performance of his coaching staff.
Getting Through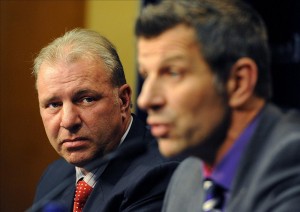 Bergevin saying so outrageously his coaches "are doing great work" flies in the face of the obviously horrible power play. So horrible is it in fact that Bergevin, being a smart guy, certainly smart enough to know two goals in 36 postseason opportunities isn't actually at all "great," has to at least realize that at least one assistant, Dan Lacroix for example, could stand to improve at the very least, start looking for another position at the not-so-very least.
Under the assumption Bergevin is simply playing his cards close to his vest at this point, maybe, hopefully, he realizes that re-signing Petry alone won't help out a horrible power-play the prized defenseman, let's be honest, had a hand in not clicking. And, if he realizes that, maybe he also realizes that, while coveted No. 1 centers are hard to come by, the Habs have one waiting for his chance to be given a proper chance in Galchenyuk.
Maybe he also realizes that Therrien's defense-first approach is wasting the talents of players like Subban, Pacioretty, and Lars Eller.
No one is suggesting Therrien be fired this summer. He has essentially coached the Canadiens to three straight 100-point seasons. However, to borrow from a Bergevin quote pertaining to Eller of all people last offseason, "There are coaches that get you in and coaches that get you through."
He should probably strongly reassess that statement. That should be his top priority this summer, along with assessing his options for next summer if the Habs suffer through another "disappointing" elimination game in the playoffs, regardless of the round.
Like all other general managers, Bergevin has his share of priorities this summer, and Petry is a big one, just not the biggest. Elephants are bigger. They are also hard to move if they don't want to. As the saying goes, they can also be "white," with hanging onto one too long being extremely costly relative to its usefulness.