The Toronto Maple Leafs and Montreal Canadiens don't get together for trades very often. If you need proof, there has not been a trade between the two teams since July 3, 2009. That is when the Leafs acquired Mikhail Grabovski in exchange for then-prospect Greg Pateryn and a second-round pick in 2010.
Which makes the suggestion made by Matt Larkin of The Hockey News a little strange. Larkin himself doesn't even believe the deal would happen, even going as far as saying it's a "fat chance." However, he also calls it a smart idea for both teams.
He suggests, using the Rick Nash trade in 2012 as a template, that the Leafs start off by asking for a big return in Alex Galchenyuk and the Habs 2015 first round pick which is 26th overall. Sure it's a high price, but as Larkin points out, only Alex Ovechkin, Steven Stamkos and Corey Perry have more goals than Kessel this decade. Considering Montreal's trouble with scoring goals, acquiring a player like Kessel might be prudent. The Habs would probably have to send P.A. Parenteau and his $4 million cap hit to help off-set Kessel's.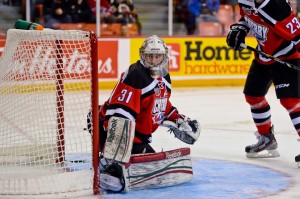 Now, if the Canadiens balk at that deal, Larkin suggests asking for center Jacob De La Rose, goaltending prospect Zach Fucale and the 26th overall pick, along with Parenteau. Now, this deal doesn't look too bad either. Right now, De La Rose is nothing more than a energy player, but could develop to be more in a few years.
Fucale would be the real get. I don't think Montreal drafted Fucale to be a back-up and I don't think Carey Price will be giving up the net anytime soon. The question would then be: What would the Leafs do with their goaltending? After all, they already have Jonathan Bernier, James Reimer, Antoine Bibeau, Christopher Gibson and Garret Sparks on their goaltending depth chart.
The 26th overall pick would be nice to have just based on the depth of the 2015 Draft. Also, if the Leafs were to acquire that pick, they could package it with the 24th pick to move up in the draft, probably into the 10-19 range. If they add another player into that deal, maybe even into the top ten.
Will this deal happen? Probably not, but it sure would be interesting if it did. If you were the Leafs, which of the deals would you make? Would you make it at all?