It remains to be seen if the Montreal Canadiens will be among the main player-movers and roster-shakers this offseason. In theory, though, there's no shortage of players they'd be targeting. There's also a lot of valuable assets they can trade in exchange, should they be willing. Here are the top five Montreal Canadiens bargaining chips, in terms of return value:
5) Draft Picks
The Canadiens have five picks at the 2015 NHL Entry Draft: 26th, 87th, 131st, 177th, 207th, each of which could in theory be made available in a trade. While the 26th pick isn't so high that it could be traded away alone for anything of significant value, it did yield highly touted prospect Nikita Scherbak last season.
Washington Capitals forward Evgeny Kuznetsov, Buffalo Sabres forward Tyler Ennis, Pittsburgh Penguins forward David Perron, and New Jersey Devils goalie Cory Schneider are all former 26th-overall picks, so there is still value to be had at that point in the draft. It's just a question of whether potential trade partners will see it that way.
4) Jarred Tinordi
While multiple top-end prospects in the Canadiens farm system can likely be had for the right price, there are few the Habs would likely want to get rid of as much as Tinordi.
No, it's not like the Canadiens are actively begging other clubs to take the behemoth 6'6", 225-pound of their hands—although, if they were, they'd probably be leading with that exact line. However, Tinordi is in his mid-20s and it's gotten to the point where a fair amount of players drafted after him in 2010 are making their marks on their respective teams.
That includes second-rounders Christian Thomas (New York Rangers) and Devante Smith-Pelly (Anaheim Ducks), both of whom will never be confused for star wingers but have still made a relatively good impression on head coach Michel Therrien. Know who else was drafted in 2010? Brendan Gallagher four rounds and 125 picks after Tinordi (fifth, and 147th overall).
Look at it this way: 2010 third-round pick Michael Bournival (Colorado Avalanche) has played in over twice as many NHL games as Tinordi and he's only "hoping" for a new contract offer from general manager Marc Bergevin.
Tinordi will be a restricted free agent as well and there's little reason Montreal wouldn't retain the hulking asset, but it remains to be seen if there's an actual future for him with the Canadiens. If not, it's essentially now or never to package him in a deal or risk him forever being labelled a bust.
3) Greg Pateryn/Alexei Emelin
Assuming Montreal will be going after and successfully signing Jeff Petry, one of the team's then-top seven d-men could be made available (not including Tinordi). Granted, the Habs could go with their current top seven defenseman out of training camp, but it might be infinitely better to find a trade partner for, say, Alexei Emelin and take his $4.1-million cap hit off the books.
Emelin led Montreal with 204 hits this regular season (Smith-Pelly had 205 with both Montreal and Anaheim), ranking 34th in the league in that category. So, he has his own particular set of skills by which most other teams might be taken. Unfortunately for Montreal, good hockey sense and foot speed are not among them.
Upstart 24-year-old Pateryn meanwhile has established himself as a legitimate bottom-pairing option. He's also a restricted free agent, but there's nothing to suggest he won't be back with Montreal next season, assuming of course other teams haven't taken notice of his underrated play. He's also quite capable of lowering the boom on opponents as well, fyi.
Gun to Bergevin's head, he would probably prefer to trade Pateryn given the choice. He's a right-handed defenseman and Emelin is a lefty, the latter being more in line with the Habs' specific needs for a potential third-pairing defenseman (to play with Tom Gilbert).
Therrien probably also has more faith in the big Russian's game, for whatever other reason than him having been with the team since 2011-12. Nevertheless, if a team comes calling, Bergevin should not hesitate to unload him (or convince him to waive his no-trade clause and then unload him). If the Habs get an actually useful asset in exchange? Power to him.
2) Tomas Plekanec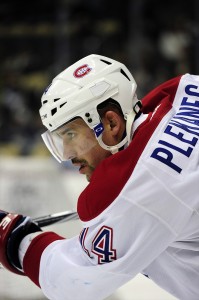 Tomas Plekanec is another player with a no-trade clause, and it's arguably more of a problem in his case because he will be an unrestricted free agent at next season's end. So, the Habs in theory wouldn't be able to trade him and make room for Alex Galchenyuk up the middle ahead of schedule, even if they wanted to. Assuming they can't convince him to be traded, they would risk losing him next summer for nothing.
It's a shame, because Plekanec probably has a lot of value on the open market as a dominant third-line center on a Stanley Cup-contending team. The problem is this is the second consecutive season the Habs have made it to the second round of the playoffs (third last season) and Plekanec is currently being deployed as the team's top gun.
If the Habs are serious about contending (which is up for debate), they need to address the situation sooner rather than later or risk their window in which Max Pacioretty, P.K. Subban, and Carey Price are in their primes closing.
Montreal doesn't need to trade Plekanec. He's a great two-way forward and there's no indication Montreal won't be making the playoffs again. However, as that top center? He hasn't proven himself capable of rising to the occasion in that specific role in the playoffs consistently. As a result, he should make way for Galchenyuk or just get out of the way.
The sooner the better. This offseason hopefully, so as not to not disrupt lineup chemistry in the middle of next season.
1) Lars Eller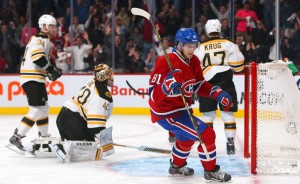 Lars Eller has gotten a bad reputation for… some reason. However, his critics tend to forget that as a third-line center he still potted 15 goals, which is nothing to scoff at. Supposedly-elite second-line-center Ryan Kesler, who to this day is being lauded by analysts as one of the main reasons the Ducks are where they are in the playoffs, got only 20.
Eller's 15 goals and 27 points are in line with (better than) the totals of fellow, much-more esteemed bottom-six-type centers Brian Boyle of the Tampa Bay Lightning, Andrew Shaw of the Chicago Blackhawks, Mikael Backlund of the Calgary Flames, and Trevor Lewis of the Los Angeles Kings, for just a few examples.
When you're getting less power-play time per game (0:28) than Devante Smith-Pelly (0:38) and, amazingly, Jiri Sekac (0:39), you're not going to score a lot. One can actually argue that Eller's point total is a testament to his skill. Scoring 15 goals when buried in a defensive role with a revolving door of wingers with which you can never grow accustomed isn't easy.
Eller has said he sees himself as a top 6 player who can make a difference. He's 26, entering his prime, has a cost-effective deal, can play defensively, and is a former first-round pick. If Therrien and/or Bergevin meanwhile don't see him as one, I'm sure they won't find a shortage of teams who do and would be willing to take him off their hands for something reasonable in exchange.
Montreal may not want to lose Eller, but, like him or inexplicably hate him, he's a valuable trade chip that might come in handy should the Habs be looking to upgrade their roster.