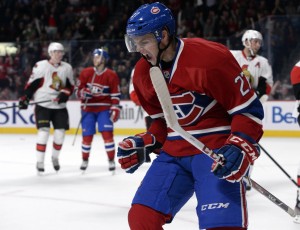 While there are no doubt free agents the Montreal Canadiens are currently targeting, few if any would perfectly fill the team's dire need for top-line offense. That isn't to suggest inherent organizational dysfunction, only that there aren't really any players available who fit that description… and not just via free agency.
For one example, legitimate no. 1 centers are about as common as oases in deserts, especially to the Canadiens. They're extremely rare, and, even if you think you may have landed one like Alex Galchenyuk, it might just be your eyes or general manager Marc Bergevin playing tricks on you.
A lack of top-end talent on the free-agent market is not all bad though. With the Canadiens having used up $58.775 million of the estimated $71.5-million salary cap for next year, funds would be tight anyway, meaning a trade would be likelier. Of course, "likelier" is a loose term here as other teams aren't exactly itching to give away franchise players.
Keeping that in mind, here are five semi-realistically "available" players the Habs would love to fill a hole in their lineup, in increasing order of likelihood of a deal actually getting done.
5) Joe Thornton (C)
While things aren't exactly peachy keen in San Jose, one has to believe if the Sharks were actually going to part with 6'4", 220-pound Jumbo Joe Thornton they would have by now.
He's undeniably been through the ringer, having gotten called out by general manager Doug Wilson, having had his captaincy stripped from him, and, oh, yeah, having been on the losing end of a 3-0 series comeback against one of his team's biggest rivals. And that was all in the past year.
Wilson promised changes last offseason after the first-round loss to the Los Angeles Kings, and, yet Thornton remains a Shark. It could be for myriad reasons, but one stands out the most: his no-movement clause.
While Thornton, were he available, would no doubt fill a void, the inevitable question would be for how long. He's the playmaking center that would push Max Pacioretty over the 40-goal plateau and beyond. Just look what he did for Jonathan Cheechoo. But that was literally a decade ago. Thornton is, logically, a decade older as well.
Add in a long albeit exaggerated history of not performing in the playoffs and one has to wonder, especially after this particular postseason, why Montreal would be interested in the first place… you know, aside from David Desharnais.
4) Phil Kessel (RW)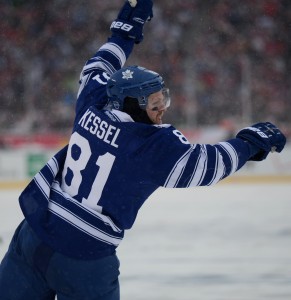 Whereas things are bad in San Jose, at least it's not being referred to as "that nut house" by at least one league executive.
That would be Toronto, where the Maple Leafs, with one playoff appearance in the last decade are looking to clean house—prior to Mike Babcock signing on anyway—with players like captain Dion Phaneuf and resident chipmunk lookalike* Phil Kessel set to be moved. At least one media outlet believes the Habs should make a play for the latter.
Kessel isn't exactly a generational talent like Thornton arguably was in his heyday. But he is a legitimate top-line player, one who plays a position at which the Canadiens are severely lacking on the depth chart.
Of course, there are many reasons why this wouldn't happen. For one, his $8 million cap hit would likely cause the team's salary structure to implode upon itself. For another, the Leafs are in the Atlantic like Montreal and likely wouldn't want to trade a game-breaking talent like Kessel (of 2012-14) to a division rival, least of all the Canadiens.
Lastly, armed with a no-trade clause, Kessel can always decide to pull a Josh Gorges—not block a shot… he only blocks those by accident. He can refuse to be traded to the Habs.
Montreal no doubt needs a Phil Kessel, but the Phil Kessel? I'm not even sure Phil Kessel knows where he's stashed away these days. Maybe where all the nuts are.
*On the Canadiens, it would be Desharnais.
3) Nail Yakupov (LW/RW)
While the chances are good that Bergevin is simply posturing when he says, "I can't tell when or if [Alex Galchenyuk]'ll be a center," there's a remote chance he means it, in which case maybe all Galchenyuk might need is the right winger to convince the disillusioned GM. In Galchenyuk's specific case, there's no winger more right than Edmonton Oiler Nail Yakupov.
The two were linemates together with the Sarnia Sting in junior, feeding off each other's skills to the point of being selected first and third overall in 2012 and making the jump directly to the NHL. While there is an argument to be made that Yakupov could have probably benefited from some seasoning in the American Hockey League, there is no denying his talent or his potential. A change of scenery might do him wonders.
Of course, seeing as the Oilers wasted little time re-signing him, avoiding a potential offer sheet in the process, it's not as if he's being dangled as available. However, he's likely much more available than Jordan Eberle, who finished off the season on the highest of high notes (which, on the Oilers, amounts to only a 'C' overall).
The team's leading scorer had 63 points in 81 regular-season games, but scored 12 goals and 22 assists in the final 33 games. When was the last time a team traded away a 25-year-old player capable of that kind of scoring, with four years left on his contract?
Yakupov would no doubt cost a pretty penny because of his pedigree. There's no way Edmonton trades away Eberle for even 10 cents (10 times as much) on the dollar. Considering Yakupov's high ceiling and relationship with Galchenyuk, why bother even trying to go that route to acquire Eberle instead anyway?
2) Ryan O'Reilly (C)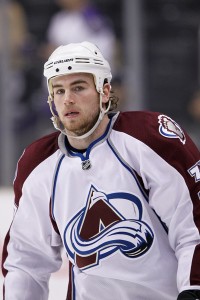 Set to become an unrestricted free agent in 2016, Ryan O'Reilly will be among the top prizes next summer. That's saying something, when Eric Staal, Anze Kopitar, and Dustin Byfuglien are each also schedule for unrestricted free agency.
Granted, that something is all those players are likely to be locked up by their respective teams way before next July rolls around (with possible exception to Staal, who just missed making this list). But the thing is O'Reilly may realistically not be.
Ever since his contract dispute with the Avalanche and subsequent offer-sheet signing with the Calgary Flames after the 2013 lockout, the general sense has been he and Colorado have been strange bedfellows.
He's no doubt incredibly valuable to his team, having scored 64 points (28 goals) in 2013-14 and 55 points (17 goals) this past season as one of the team's defensive leaders at forward at only 24 years of age. But one can't help but wonder (hope) he's looking for another opportunity elsewhere. He already has once.
And know who else will be a UFA? Tomas Plekanec, with a cap hit that almost cancels out O'Reilly's. That opportunity could be in Montreal. Maybe even earlier than next summer.
1) Patrick Sharp (LW/RW)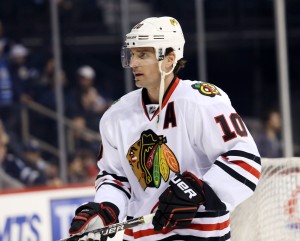 Chicago Blackhawks forward Patrick Sharp isn't the ideal player for which to trade, but the circumstances surrounding his potential acquisition are.
Sharp is 33, coming off a relatively disappointing 43-point season (after scoring 78 last year), and would hypothetically and unjustifiably become Montreal's highest-paid forward in any possible trade scenario, when in reality he's probably an above-average second-line forward at this stage of his career.
However, there is little doubt he would be able to help Montreal. And the Blackhawks have well over $60 million in salary-cap space tied up with just over half their team signed.
Needless to say, they're going to have to jettison some cargo at some point. Considering Bergevin's past ties to the Blackhawks (assistant GM, among other titles), the logical conclusion is all he would have to do is make a phone call then a reasonable offer involving a few key prospects, and Sharp would conceivably end up a Canadien.
He's not the sexiest Blackhawk who will be available. That might be restricted free agent Brandon Saad. But, again, considering Bergevin's past ties to the Blackhawks and the unlikelihood he would screw his former team with an offer sheet, that hypothetical acquisition's probably best saved for your dreams…
Unfortunately like several others on this list.