Everyone knows Montreal Canadiens general manager Marc Bergevin has made re-signing unrestricted-free-agent-defenseman Jeff Petry a priority. However, no one really does if a deal will get done or not.
With the 2015-16 salary cap projected to increase to $71.5 million (from $69 million), the Habs having filled $58.775 million of cap space so far, and several restricted free agents to still get under contract, here are five UFA targets/alternatives for the Canadiens to pursue:
5) Mike Green (D)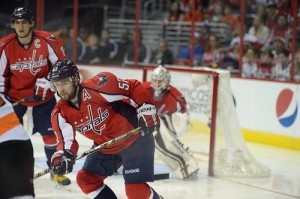 Obviously, Petry would be Bergevin's top choice based on how well he moves the puck, has already proven to be a good fit, and might end up being a relatively inexpensive option compared to Mike Green, who made $6.25 million this last season (Petry made $3.075 million)
However, Green might actually end up being Plan B for most teams based on the decline in his point production in recent years (from 76 in 2009-10 to 45 in 2014-15) and his well-documented lack of defensive awareness.
Both Petry and Green shoot right. So if a second-pairing power-play quarterback behind P.K. Subban is what the Habs are in the market for, either one might be what the doctor ordered, assuming the price is right.
4) Michael Frolik (RW)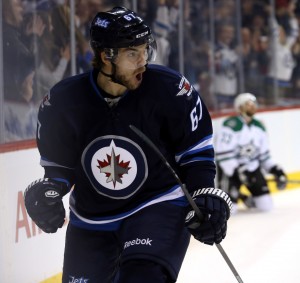 A former top-10 pick (2006 NHL Entry Draft), Michael Frolik went from being an afterthought on the Chicago Blackhawks to a legitimate secondary scoring option on the Winnipeg Jets, with two straight 42-point seasons.
The Canadiens are in the market for a right-winger to play alongside Max Pacioretty and his center du jour on the first line. While Frolik, who plays all forward positions, isn't a top line player (having never hit 50 points in his career), neither is Brendan Gallagher, all due respect to him and what he brings to the table.
That's in short (no reference to the 5'9" Gallagher intended) Montreal's problem, a lack of depth on the right side that also comprises Pierre-Alexandre Parenteau, Devante Smith-Pelly, and Dale Weise.
Not one of those names stands out as a consistent offensive threat, with possible exception to Parenteau, who has yet to really mesh with head coach Therrien, who tends to value hard work. In sharp contrast, Frolik has proven capable of fitting in anywhere in the lineup, making him a potential great fit overall.
3) Christian Ehrhoff (D)
While signing Pittsburgh Penguins defenseman Christian Ehrhoff would have a few drawbacks relative to getting either Petry or Green under contract, he's far from a bad option.
Ehrhoff shoots left, will be 33, and is coming off an injury-riddled season, during which he scored just three goals (14 points) in 49 games. However, Ehrhoff is capable of producing so much more (50 points in 2010-11) with a defensive side to his game that Green might lack.
He also just made $4 million last season after being bought out by the Buffalo Sabres, meaning he could theoretically be signed on the cheap. If Bergevin is in a betting mood in regard to Ehrhoff's health, the German rearguard could end up being a steal.
2) Chris Stewart (RW)
Whereas you pretty much know what you're going to get with Frolik, you don't really with Chris Stewart. It's a roll of the dice as to whether you'd be getting the power forward who once put up 64 points with the Colorado Avalanche in 2009-10 or who scored just 30 two seasons later with the St. Louis Blues.
His true value is probably somewhere in between. Coincidentally, in 2010-11 with both teams, he put up 53 points. What's interesting is those 53 points came in just 62 games, during which he scored 28 goals. So, despite his reputation, it's not like he's only had the one good season in his career. He's had several and is capable of delivering some more.
He's do doubt had his ups and downs, but he brings size (6'2", 228 lbs) and offensive potential that cannot be ignored. Considering he's coming off a "down" (two points in eight playoff games, preceded by 36 regular-season ones), the Habs wouldn't have to shell out much more than his current $4.2 million salary for a potential new top-line right-winger.
1) Justin Williams (RW)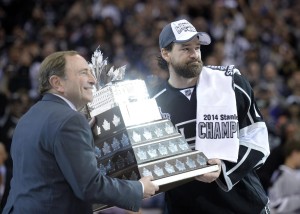 Consider him a younger, bigger, healthier, and more effective version of Daniel Briere.
When Briere was signed in the summer of 2013, the Canadiens had just come off an embarrassing five-game defeat at the hands of the Ottawa Senators in the first round of the playoffs, during which they scored just nine goals.
Briere brought along with him a history of scoring in the playoffs, and, despite all of his drawbacks, he delivered seven points in 16 playoff games last season. That's not all that bad, seeing as Subban just led the team with eight (in 12 games).
Williams isn't the star he might once have been. He has not cracked the 60-point plateau since 2006-07. He does however bring with him a similar knack for playoff scoring, most recently having won the Conn Smythe Trophy in 2014 with 25 points in 26 games. With another disappointing playoffs scoring-wise in the books for the Habs, it makes sense to reach out.
He is also 33 going on 34. When Briere started off the 2013-14 season with the Habs, he was 36. It should also be pointed out Briere was signed by Bergevin for $4 million per year. Williams made just over $3 million last year. Granted, he'll probably end up asking for more this time around, but if he delivers even slightly more than Briere did last spring (and the Canadiens end up going slightly further) it would be well worth it.