The Montreal Canadiens already have elite players at every position, but criminally little has been made of their depth beyond Carey Price, Max Pacioretty, and P.K. Subban.
Sure, there can stand to be improvement in a few areas, but, generally speaking, general manager Marc Bergevin has done an admirable job filling the holes in the lineup this past summer.
Consider this: The Canadiens have the undisputed best goalie in the world in Price backed up by an underrated goalie in Dustin Tokarski.
There's no doubt the bad goals Tokarski let in this past year left a little something to be desired, but say what you will. He was still 6-6-4 with an average .910 save percentage and essentially did the job he had to do, all for a cost-effective $562,500 cap hit.
You can't really ask for more out a backup unless you're looking to trade him away and repeat the whole process all over again. It's either that or you're secretly hoping he's pushing the No. 1 guy to be better.
Since the goaltending market is so thin it's practically anorexic and Price's job is about as secure as a bank vault, Montreal's situation in net is unlikely and unnecessary to change until next year, when Tokarski's current deal runs out. Only then will current St. John's IceCaps goalie Mike Condon likely challenge for the spot.
At the end of the day, goaltending is just one example of many where the Canadiens can't realistically get better barring a significant increase in payroll, which they can't afford with just a projected $2.9 million in cap space remaining.
That being said, there are always a few bad apples in the bunch, however.
Top-Line Center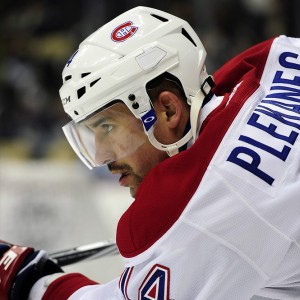 Should Tomas Plekanec be deployed as the team's No. 1 center this coming season, the Habs could do a lot worse. Unfortunately, that is literally true, with David Desharnais being just as likely, if not more so, based on ice time last year, to get that coveted spot alongside Max Pacioretty.
There are 30 teams in the league and as a result, in theory, 30 No. 1 centers. Plekanec placed 25th among centers last year in terms of sheer point production with 60 (just behind Anze Kopitar, an undisputed top center in his own right). Desharnais meanwhile placed 15 spots—essentially half a separate league—lower.
So, Plekanec, up until his contract runs out next summer, is a decent short-term stop-gap measure. No, he may not be the prototypical big, skilled guy every team thinks they need. That is Alex Galchenyuk (6'2", 205 lbs), who could be vying for his shot as the top-line pivot as we speak.
From a sheer practicality standpoint, though, that may not be the best move. Shifting him to center might compromise the depth at left-wing (which is another position where they can't upgrade, with Pacioretty, and Galchenyuk both signed to great deals, complemented by a bevy of competent and cheap bottom-six talent).
In any case, with Plekanec, Desharnais, Lars Eller, Torrey Mitchell, Brian Flynn, and Galchenyuk all able to play down the middle, the Habs, for all their misconceived shortcomings at center, are better off than many other teams.
No. 2 Defenseman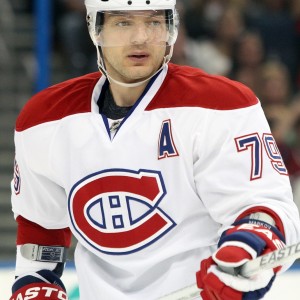 If Andrei Markov's playoffs are any indication, the Canadiens could potentially be in trouble at the No. 2 defenseman position.
That's not just due his lackluster play (which may or may not have been due to injury). It's also because there's a steep drop-off in terms of skill between him and the next-best left-handed defenseman on the roster, which is arguably Nathan Beaulieu.
Beaulieu has developed more and more into an everyday NHL defenseman since last summer, but "everyday NHL defenseman" is to a No. 2 kind of like what… why not, what a refillable lead pencil is to a No. 2. It's not as durable and liable to break under the pressure. And when I say "the pressure" I of course mean any pressure whatsoever. Those things suck.
That's not even taking into account the fact head coach Michel Therrien would probably sooner replace Markov with Alexei Emelin should something happen… which would present a whole other set of problems. He's already broken.
Meanwhile, whereas Markov has been a steadying presence on the blue line for the Canadiens for the better part of the last decade and a half, he's been sharpened nearly as much as he can. And he's got only so much time left before his lead starts to dull, leaving just that useless rubber eraser, if it hasn't happened already.
The good news is Markov played very well for his soon-to-be 37 years last regular season, which is reason to be hopeful the summer rest will help to reinvigorate him and help the Canadiens to squeeze a little more blood out of what once was the rock of the team's defensive corps.
No. 5 Defenseman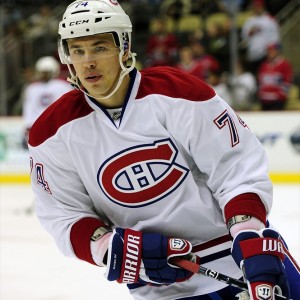 In Emelin's defense, he's a decent bottom-pairing defenseman. He's just being paid as if he's a top-four one (and deployed as one too). His contract is pretty much the worst the Canadiens are saddled with currently.
Considering his right-handed counterparts, Tom Gilbert and Greg Pateryn, have cap hits $1.3 million and $3.1 million lower respectively, it stands to reason better alternatives exist. One example would be 23-year-old Jarred Tinordi. His cap hit is almost as low as Pateryn's.
With Tinordi no longer being waiver-exempt, the Habs face a tough decision. Keeping him in the fold is no longer as simple as burying him in the minors in favor of higher-priced talent.
In spite of Emelin's physical prowess, maybe even because of it, he has turned into a liability on the ice. Now, he's become one off it as well, no-trade clause and all. It's ironic (or just plain sad) the Canadiens might end up having to trade away another player just to honor it.
All that being said, the point is the Habs have a viable succession plan for that specific hole in their lineup right in their organization currently. It's just a matter of recognizing that fact (and finding some way to ideally unload Emelin's deal).
In fact, all things considered, the situation isn't so dire that Emelin's pulling the team down with him. As alluded to earlier, there's little reason Emelin can't be legitimately relied upon this coming season, as long as it's on the third pairing.
Similarly, if the only other positions at which Montreal can upgrade are being filled by a defensively responsible forward coming off a 60-point season and a wily veteran on the back-end who just enjoyed the third-highest points total in his career… well, let's just say the Canadiens may not be stacked top to bottom. But they are in good shape.