You know that joke about how the Toronto Maple Leafs start to fall in the standings every autumn? Well, it works with pieces falling into place for the Montreal Canadiens too. It's not as funny, mind you. But it does hold as true, especially for this edition of the team, which is expected to seriously contend for the Stanley Cup.
Summer Lovin'
What general manager Marc Bergevin has accomplished this summer is nothing short of impressive. When he re-signed Alex Galchenyuk this past week, he essentially wrapped up all he set out to do (or rather had to do) this summer.
Not only did he re-sign all the team's free agents (minus Manny Malhotra, Sergei Gonchar, Mike Weaver, Bryan Allen, and Drayson Bowman), but he added a few new, presumably key components in Zack Kassian and Alexander Semin, each of whom could in theory improve what had been the team's biggest positional weakness as well as the struggling power play.
Both notably came at a total cost slightly higher than the departing Brandon Prust… or the space created care of P.A. Parenteau's buyout ($4 million minus $1.33 million).
Kassian is of course a welcome addition due to his size and hands, Semin due to his bloodthirsty command for space on the ice. I mean, say what you want about that slap fight vs. Marc Staal, but Semin did win, didn't he (which makes one wonder how Staal hasn't yet been laughed out of the league)?
Well-Deserved Break for Bergevin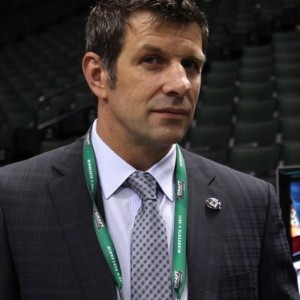 In any case, Bergevin has earned a well-deserved break after getting all this done, before the start of August no less. His roster is for all intents and purposes complete (and improved, at least on paper), with approximately $2.9 million left in cap space (depending on who ends up making the 23-man roster) for a rainy day.
There really is little else for him to do, unless you consider trading away Alexei Emelin doable, and his no-trade clause might have something to say about that… that is if his non-tradable contract as a whole doesn't open its mouth first.
No, his work is not yet complete. The offense is still unproven and there are no guarantees the power play is fixed. Considering it's essentially what cost the Habs the Presidents' Trophy last regular season (and helped get them eliminated), it's imperative that stay Bergevin's top priority regardless of his tinkering to improve it. However, there's little to nothing he can do that he hasn't done already until training camp at the earliest.
More likely perhaps, it will have to wait until well into the start of the season to be sufficiently re-assessed, including assistant coach Dan Lacroix's second kick at the can at improving it and whether or not Bergevin unfortunately needs to pull a Perry Pearn.
Montreal Canadiens: Legitimate Contenders?
The simple fact of the matter is a coaching change may be in order for the Canadiens to reach their full potential. After three straight embarrassing elimination games during the playoffs, it's clear something is preventing this team—despite possessing elite players in the primes of their respective careers at each position—from taking it to the next level.
The good news is that, thanks to three straight 100-point seasons with head coach Michel Therrien behind the bench—that next level is undeniably legitimately contending for the Stanley Cup.
The better news is Bergevin has made this team better this summer. Now it's in the hands of other people—be they the coaches or players he's signed—to prove they belong. While Bergevin has done his job this summer—and a great job it has undeniably been—it's still not over. It won't be until championship banner No. 25 hangs from the rafters.