Ever since the New York Islanders made their last appearance in the Stanley Cup Finals in 1984, their loyal fan base has experienced their fair share of suffering and heartbreak. Luckily for them, it finally looks like the fortunes of the blue and orange are changing. This past season the Islanders finished the regular season with 101 points which was good enough for third place in the Metropolitan Division and fifth place in the Eastern Conference. Unfortunately, New York could not make it out of the first round, losing to the Capitals in seven games but hopes optimistic feelings towards the Islanders' future remain. Expectations have not been this high for the Isles in quite some time so I felt that it was only right to give you my five bold predictions for 2015-2016 season.
 John Tavares Will Win the Art Ross Trophy
Six seasons into his career, Tavares has not only become the most valuable player on the Islanders, he has transformed into one of the best players in the NHL. Tavares finished the 2014-2015 regular season with 86 points, one point behind Art Ross winner Jamie Benn. It can be argued that it may be difficult for his goal total to get any higher than last season's 38. However, it is very possible that Tavares's assist numbers increase due to improvements made by his young and promising teammates. I predict that the Islanders' captain will score between 36 and 40 goals, and reach an assist total somewhere between 55 and 60. At the age of 24, Tavares is just entering the prime of his career, and the 2015-2016 season should turn out to be his best so far.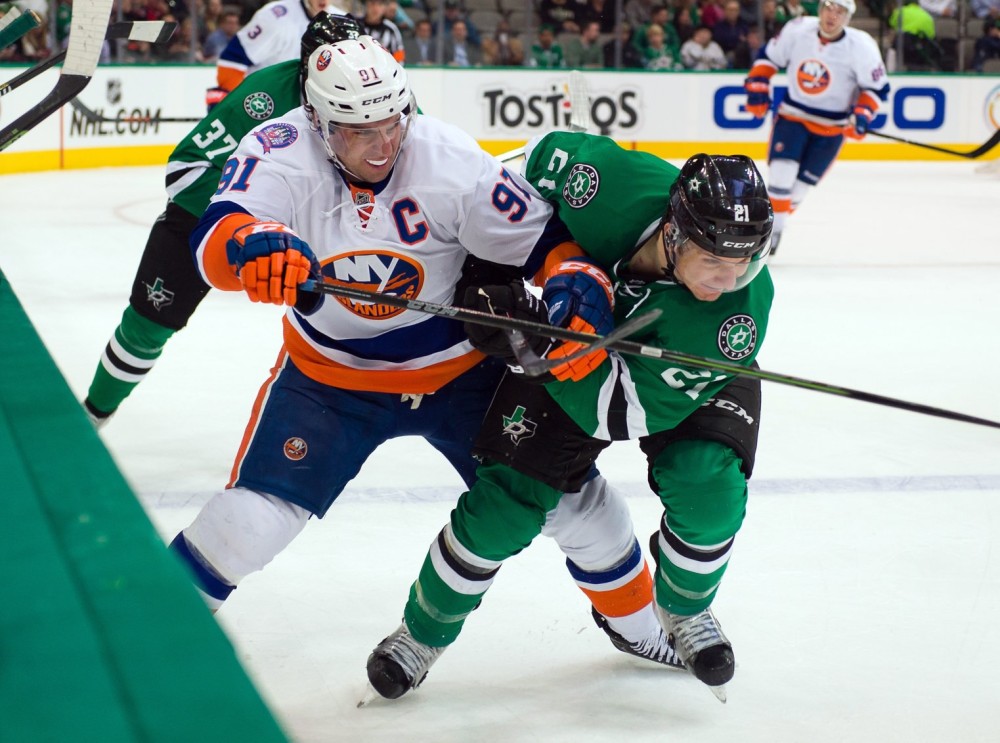 Jaroslav Halak Will Win Over 40 Games
When it comes to looking at the amount of wins a goaltender is able to acquire in a single season, one must not only look at the goalie's individual performance but also take into account how the rest of the team played. Halak has played consistently well during his nine years in the NHL and everyone can expect the same level of play from him this coming season. Last season Halak went 38-17-4 in 59 games played. With the acquisition of backup netminder Thomas Greiss, we can expect the amount of games Halak plays to stay about the same. However, the amount of contests he will win will increase. There is no denying that the New York Islanders are going to be a more talented hockey team this season. The roster has seen very few changes this offseason but the young players on the roster have developed and in turn will provide more in 2015-2016. Due to the improved play from his supporting cast, Halak will win over 40 games this season.
Kyle Okposo Will Be Traded By November 1st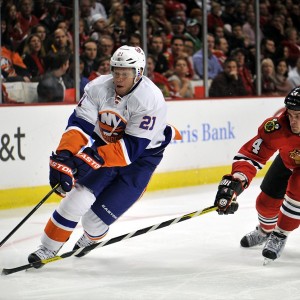 Unfortunately for the Islanders, Okposo will become an unrestricted free agent next summer and will look to score that highly coveted big contract. Many speculate that his next deal could be similar to that of Bobby Ryan which is not good news for New York. Over the next seven years the Ottawa Senators owe Ryan over $50M, and the Islanders do not have that kind of money to commit to one player at this point and time. Garth Snow must already be thinking about the unlikelihood of Okposo returning to the blue and orange. As the 2015-2016 season gets closer, Snow will start to make inquiries on which teams may have interest in making a deal for the 27-year-old winger. The Islanders are going to want to trade Okposo early so it does not mess up any team chemistry at a critical point in the season. For this reason, I predict that Snow will deal him by the time they play the Buffalo Sabres on November 1st.
Islanders Finish 2nd in Metropolitan
The Metropolitan division could be the most talented division in the league. There are at least five playoff-worthy teams (Islanders, Capitals, Rangers, Blue Jackets, Penguins), and the Isles are going to have their work cut out for them this season. With that being said, there is no reason the Islanders cannot be considered contenders for the division title. I believe they will fall just short behind the Washington Capitals who were able to make some serious improvements to an already dangerous roster. The Rangers have taken some steps in the wrong direction this offseason and I am predicting that the Penguins are not going to live up to expectations. The Columbus Blue Jackets have all the weapons necessary to be a threat but they failed to stay healthy all last season. Who's to say that it will not happen again? At the end of the regular season New York should have somewhere between 104 and 108 points, and be ready to make a deep run in the playoffs.
Islanders Will Play in Eastern Conference Finals
As mentioned earlier, there are plenty of reasons for Islanders' fans to be full of high hopes this season. Of course it is always difficult to not let pessimism rule the day when you are so used to your team disappointing. I am here to advise Isles' fans to be excited and dream big. After years of patience waiting for the young team to develop, it is now the Islanders' time. The team is gaining more postseason experience as a unit and they will most certainly make it out of the first round next spring. I predict that New York will compete in the Eastern Conference Finals against the Tampa Bay Lightning. Whether or not they could win a seven-game series against Stamkos and the gang is unknown but the Islanders will sure give them a run for their money.
The New York Islanders might not be ready to hoist Lord Stanley's cup in summer 2016, but they will still provide the hockey world with plenty to hoot and holler about.