Apparently, in today's NHL three goals and six points are worth a salary-cap-hit difference of over $3 million, and, after re-signing Alex Galchenyuk to a two-year, $5.6 million deal on Thursday, that suits the Montreal Canadiens just fine.
Why So Saad?
The Columbus Blue Jackets essentially bent over backwards—somehow mooning Ryan Johansen in the process—to trade for and then re-sign restricted free agent Brandon Saad (23 goals, 29 assists) to a six-year, $36-million deal earlier this summer. In sharp comparison, the Canadiens and their own RFA in Galchenyuk (20 goals, 26 assists) settled for two years and $5.6 million total.
Granted, it's a bit like comparing apples and oranges an insane contract extension, I suppose. That's in part because different teams have different ways of doing things. Montreal has set a precedent (it intends on keeping) that it won't give young stars too much term and money too soon. Doing otherwise might breed a culture of entitlement later on or, in the case of Columbus and Johansen, potential resentment…
"Know that guy we just gave up an arm and a leg for who was drafted the year after you? Who's scored 20 less goals in his career? Who plays the wing, whereas you play the much tougher center position on a weaker team? Yeah, about that whole refusing to show you the money thing from last summer… We'll show it to you, only on his bank account statement. It turns out we also gave up a few brain cells to get him too."
Galchenyuk vs. Subban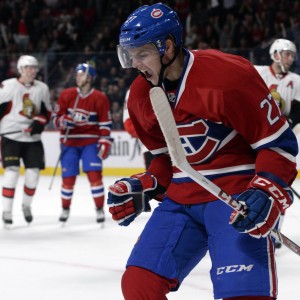 Yes, there is always a chance that this all may backfire on the Canadiens, in the sense that it kind of already has with P.K. Subban. However, Canadiens general manager Marc Bergevin doesn't need you to cry him a river.
Sure, the Habs might be better off now had they signed Subban to that long-term deal he was seeking back in 2013 (before he won one Norris Memorial Trophy and got nominated for another). But, hey, how many perennial Norris candidates do you know with cap hits below $6.5 million? Whose deals don't extend into next millennium care of shameless CBA circumvention… Duncan Keith?
The fact is Subban earned his current eight-year, $72-million deal (as much as anyone can earn that kind of money, anyway) and Galchenyuk has a chance to do the same. So, while comparing Saad and Galchenyuk's deals might be a tad more complicated than argued above due to the differences in term, it all boils down to one simple notion: everyone in Montreal wins with this bridge deal.
Galchenyuk gets two years to prove he's worth elite money instead of going long-term and potentially losing out on millions. Bergevin gets more much-needed cap space with which to work right now. Fans get a more complete team. Brendan Gallagher gets to be his usual pest self and make "poor" jokes at Galchenyuk's expense for the next little while. Max Pacioretty… well, Max Pacioretty will probably just keep to himself so as not to bring everyone down.
Bergevin Does It Again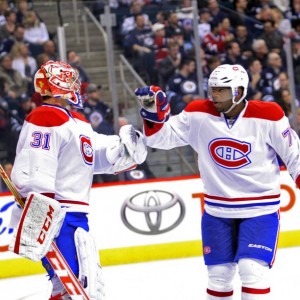 There's every good reason to believe that the Habs will come out on top in the long run as well, here. It's true Subban surprised most everyone by developing into the elite defenseman he is today after two modestly successful 35-point-plus seasons from 2010-12. Everyone knew he was good when he held out at the start of the lockout-shortened season, but this good?
Really, what are the chances of the exact same thing happening again? It was referred to as a (pleasant) surprise the first time around for a reason. For Galchenyuk to make the Habs seriously regret giving him this current deal, he's going to have to take his game not just to the next level, but near Sidney Crosby's level, in which case he would be worth paying through the teeth and building the team around.
Otherwise, yeah, he'll get his raise in two years when he becomes a RFA again, but it won't be all that handicapping of an amount. Whatever happens, Bergevin has done it again, sticking to his game plan, all the while maintaining some semblance of a hierarchical pay structure. In spite of inflation, Galchenyuk is even making less than Bergevin's Norris-winning defenseman did during his bridge deal, further cementing the sentiment Bergevin knows what he's doing.
Granted, Subban will unjustifiably start making $4 million more than Hart Memorial and Vezina-winner Carey Price starting in 2016-17 (next season, they'll each be making $7 million), but no one said Bergevin was perfect. He's not. Mistakes happen. This contract isn't one of them, though.