To a certain degree, predicting the terms of a given NHL player's contract is a fool's errand, but Montreal Canadiens forward Alex Galchenyuk isn't just any player. He's the only roster player general manager Marc Bergevin has left to sign during a summer largely lacking in Canadiens news.
Idle speculation would be all Habs fans have at this point (aside from the ever-diminishing hope Bergevin will sign a marquee free agent—considering they're all gone, chances are good it's not going to happen). So, no there's not much. That is, were it not for past history, which can offer at least an indication as to how negotiations between the two sides will turn out.
Here are the top five comparable contracts to consider:
5. Brendan Gallagher (Montreal Canadiens)
Brendan Gallagher and Galchenyuk came into the league together back in 2013. So, it stands to reason they might end up signing similar contracts, especially with Gallagher re-signing earlier this year, for six years for $22.5 million. However, Gallagher takes the No. 5 for the very simple reason that, even though he has scored 12 more points total (16 more goals), Galchenyuk has the higher ceiling.
Bergevin set a precedent with the short-term P.K. Subban bridge deal a few years ago that no one, no matter how valuable they are to the team, was above one. Gallagher is a notable exception here, though.
With Gallagher, based on his super-pest style of play, what you see now is probably what you're going get at the end of the deal when he's 29, barring injury (which is a serious concern): A player who does his job without question, a coach's dream essentially, who's good for 20 goals a year. If Galchenyuk pans out the way he was initially projected to, as a No. 1 center with size, he should be good for way more once he hits his prime.
As a result, it's in the Canadiens' best short-term interest to sign Galchenyuk to that infamous bridge deal. Because, if they don't and decide to sign him to a deal of similar length to Gallagher's, he'll logically be looking for way more money per year. Considering it's also in his best long-term interest, one would think his and Gallagher's contracts will really only be similar in regard to the first few letters in their signatures.
4. Ryan Johansen (Columbus Blue Jackets)
Columbus Blue Jackets forward Ryan Johansen was in a similar position last summer as Galchenyuk is in now.
Johansen, who was taken one spot later than Galchenyuk (No. 4 vs. No 3) in 2010, two years earlier, had gotten in a contract dispute with the Blue Jackets. They insisted he should prove he's worth big money over the course of a bridge deal instead of capitalize financially on his breakout 63-point 2013-14 season right away.
Granted, Galchenyuk has yet to break out in a similar capacity (and negotiations don't seem to have gotten quite as heated with the Canadiens), but Johansen serves as proof that a team holding most of the leverage can successfully wear down a star player and get him to sign a reasonable deal ($12 million over three years, with the salary being just $3 million for each of the first two).
So, the Blue Jackets successfully set a precedent here, much like the Habs did with Subban back in 2013. Of course, by trading for and then signing restricted free agent Brandon Saad to his current six-year, $36 million contract they've essentially just given the finger to Johansen (who has more career points and goals) and ruined whatever credibility in negotiations they may have had moving forward. So, maybe not the best example here…
3. P.K. Subban (Montreal Canadiens)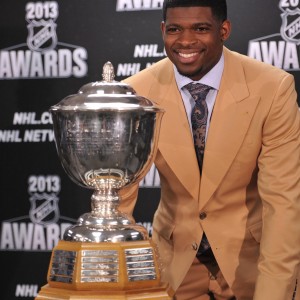 Bergevin need not necessarily point to Johansen during negotiations with Galchenyuk anyway. Wrong team. Slightly different circumstances. Where he can point to, as alluded to earlier, is two-time Norris Memorial Trophy nominee P.K. Subban as proof that a bridge deal can work out for all parties involved.
In retrospect, sure, the Habs may have preferred not to have to pay Subban the $72 million over eight years he's currently making, and that would not have been made possible without the two-year, $5.75 million bridge deal he signed immediately after his entry-level contract. But, really, how did Bergevin lose?
First, he saved face by signing Subban to that two-year deal after Subban decided to sit out a few games to start the season. Second, he set a precedent that, as long as he's GM, no one's getting signed to an exorbitant second contract. Third, he presumably earned the trust of everyone in the lockerroom by proving he was a man of his word after ultimately showing Subban the money once he delivered and won the Norris. And, oh, yeah, fourth, he's got a Norris-caliber player on the roster for potentially the length of his prime.
Some loser. We should all be so lucky.
Galchenyuk has no guarantees he'll get a similar contract. But he does know beyond a shadow of a doubt that if he signs a bridge deal and then has incredible success over its course, he'll get that payday he's seeking.
No, he may not make Subban money, because, let's face it: Subban is more valuable to the team at this point than Galchenyuk projects to be based on his career up to now. But anything can happen. It's all up to him, though.
2. Nail Yakupov (Edmonton Oilers)
Galchenyuk and Edmonton Oilers forward Nail Yakupov will be linked to one another over the course of their respective NHL careers. They were drafted the same year, early in the first round (Yakupov at No. 1 in 2012), and were linemates in junior.
They also have similar stats, with Galchenyuk having scored 16 more points (104 total, the most of any player drafted that year). They have the same amount of goals. Finally, they also came to the end of their entry-level contracts at the same time, with Yakupov signing a cost-effective two-year, $5 million deal earlier this year.
The only conceivable reason Galchenyuk may demand more is the general consensus that Yakupov has been a disappointment up to now. However, if you believed Bergevin during his post-season press conference, so has Galchenyuk. Many didn't though and instead took his comments that Galchenyuk may never become a center with a huge grain of salt ahead of negotiations between the two sides.
1. Mika Zibanejad (Ottawa Senators)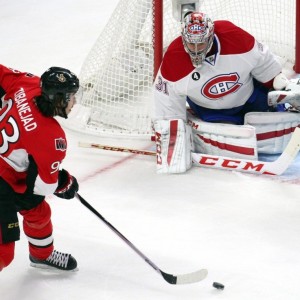 Despite being taken in 2011 (No. 6) and making his debut a year before Galchenyuk, Ottawa Senators forward Mika Zibanejad has followed a similar career path. He may have played nine games in 2011-12, but his entry-level deal only kicked in in 2013.
After scoring 20 goals and 26 assists in 80 games this past season (exactly as Galchenyuk did), Zibanejad re-signed for two years and $5.25 million total. The only thing that might allow Galchenyuk to command a bit more is how he's been slightly more productive in his career, with four more points scored. Being a third-overall pick, he arguably has the bigger pedigree as well. He also has higher Corsi-for and points-per-60-minutes percentages.
As a result, even if the stats say Zibanejad is more defensively aware (with fewer offensive zone starts relative to defensive zone ones), players who score more tend to get paid more. So, Zibanejad's deal is likely only close to what fans can expect Galchenyuk to sign.
All in all Galchenyuk probably won't make as much as Gallagher or Johansen per year. He might very well make more than Yakupov and Zibanejad. And, while, Subban was probably more valuable to the team back in 2013 before he signed his current deal than Galchenyuk is now, the two-year, $5.75 million figure looks about right, with inflation taken into consideration.
Needless to say, there would be worse things in the world than Galchenyuk following in his developmental (and financial) footsteps.