Despite the off-season changes made by rival teams, when it comes down to it the Montreal Canadiens will really only be competing against themselves this coming 2015-16 NHL season.
It's not that the Canadiens haven't improved this off-season. It's instead about by how much, as, after finishing second in 2014-15, they're essentially betting a potential Presidents' Trophy on Zack Kassian improving drastically upon P.A. Parenteau's production—when he scored six less points last year.
The Off-Season Thus Far
Parenteau scored eight goals and 22 points during his one season in Montreal. Last year with the Vancouver Canucks, Kassian had 16 total points, including 10 goals. Many don't really expect that uptick in goal production the Canadiens might get from Kassian to improve Montreal's anaemic offense on its own. Not when they gave up Brandon Prust's four markers to get him (and a fifth-round pick).
Those have essentially been Montreal's only major moves this summer, buying out Parenteau and trading Prust. Montreal also signed depth defenseman Mark Barberio to a two-way deal as well as several other players likely destined for the American Hockey League, but, for all intents and purposes, relative to last season, Montreal only gained Kassian.
It Doesn't Look Good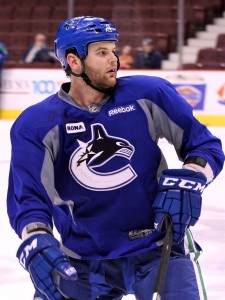 The optics of general manager Marc Bergevin's lack of activity this summer aren't exactly good. They're not horrible either. Sure, it would have been nice to see him not come away empty-handed this free agency (at least so far). However, when reports indicate he may have been in on now-Boston Bruins forward and glorified third-liner Matt Beleskey, that fact may actually prompt a sigh of relief. And one might actually prefer things stay as they are, with the top forwards still available being Alexander Semin, Eric Fehr and Brad Boyes.
There's little doubt any of those three can help the Habs, but cost-effectively deliver as much offense as, say, a young prospect in the system in their place in the lineup? When one has to additionally take into account the opportunity cost of foregoing one year of experience earned by said prospect by inking someone new… it would probably serve Bergevin's long-term outlook better to not tempt fate by acting out of desperation.
He should instead reserve judgment in regard to his situation for training camp for when an NHL-ready prospect or two might step up and earn a spot on the team. The same philosophy, to look internally for help, can be applied in more ways than just the one.
Power Outage or General Lack of Offense?
The popular theory is Montreal can't score goals. The truth is they just can't score a lot of them.
They were ranked 20th in the league with 2.61 goals per game (in comparison, the Tampa Bay Lightning was first with 3.16). The Canadiens nevertheless ranked 16th in even-strength goals with 167, which may be far from impressive. It's also undeniably average.
It's their power play that really hurt them with a pitiful 23rd-ranked 16.5% (40 goals compared to 70 by the No. 1 Detroit Red Wings). In the playoffs, it sunk them (5.6% or two goals). If the Habs had been as average with the man advantage as they had been at even strength, they would have scored approximately five more goals this past spring (using a median power-play percentage of 18.6%). They got outscored by the Lightning by four.
Granted, 2.5 of those five goals in theory would have been scored against Ottawa, but the point remains that a barely-working power play could have drastically altered Montreal's fate. In the regular season, the difference would have been more pronounced.
Assuming they had managed a median power play percentage of 18.8% during the regular season, they would have scored approximately six more goals in their 243 opportunities. The first-place New York Rangers finished with 113 points relative to the Canadiens' 110.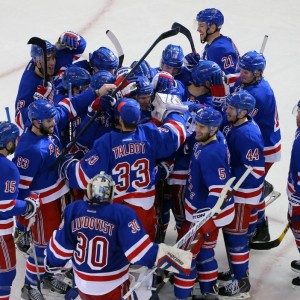 That's your Presidents' Trophy right there. Two measly victories (since the 2004-05 lockout, excluding the 48-game 2013 season, an average of 116 points has won it, fyi). And, after finishing second in the league, that's the only way the Habs will show empirical improvement, by becoming the best regular-season team in the league.
Some might say that's not realistic based on their lack of moves this past off-season, but look at it this way:
The Canadiens improved their offense by acquiring Kassian. They might also get an influx of some kind by the prospect or prospects that make the team out of training camp. Whether or not that translates into a more efficient power play moving forward is anyone's guess. But, they already have the tools to, as their even-strength production proves. And, if they succeed and the power play's success rate increases, even to merely mediocre levels, the Canadiens will most certainly have improved enough during the regular season, and, then, who knows?