In business, timing is everything.
Less than two weeks after acquiring Phil Kessel in a blockbuster deal with Toronto, the Pittsburgh Penguins are apparently moving quickly to find new ownership. According to the Pittsburgh Business Times, an unnamed group of investors could submit a bid to purchase the team as soon as next week.
Majority owners Mario Lemieux and Ron Burkle confirmed on June 3 they had engaged Morgan Stanley as part of a plan to review strategic options:
"We conduct periodic reviews of our business and, because we have received several inquiries about the franchise in recent years, we decided to engage Morgan Stanley for their insight and counsel," Lemieux and Burkle said in a joint statement. "After buying the team out of bankruptcy, ensuring its long-term future in Pittsburgh and creating a strong foundation for continued success, we believe it is time to explore our options."
In April, we looked at the potential for a Penguins sale and why Lemieux and Burkle would be interested in walking away from a franchise at its apparent peak.
[Read More: Mario Lemieux, Ron Burkle, and the Future of the Pittsburgh Penguins]
Below are answers to three of the most common questions I've received in response to that series and the latest reports referenced above.
(1) Will Both Mario Lemieux and Ron Burkle Sell?
An email from Stephen: "I read on the blog DKonPittsburghSports that only Mario wanted to sell, not Burkle. Is this true?"
Stephen also provided this excerpt from the subscription site referencing the report:

I'm in no position to confirm or deny what seems to be a credible report, but I'd be very surprised if Burkle isn't equally as interested in selling his 33% stake (by my estimates) in the franchise.
Making this perspective public wouldn't help Burkle's leverage in a potential sale though.
Very few investors are going to be interested in buying only Lemieux's minority stake. Billionaires want control in exchange for any big-money investment. They'll want Burkle's stake too (the pair combine to own over 50% of the franchise).
Unlike Lemieux, this is not Burkle's first business sale. He knows that keeping his cards close to the vest and maintaining leverage and options can become valuable at some point.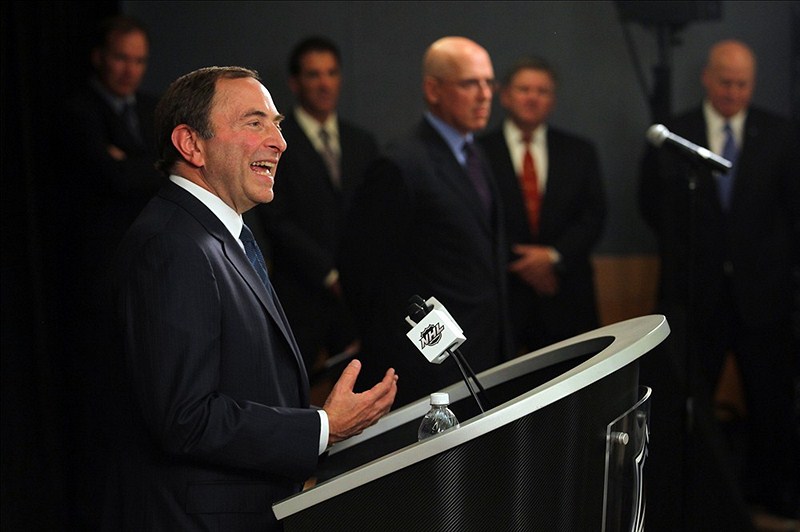 (2) How Long Will the Sale Process Take?
The NHL generally prefers ownership groups as opposed to solo individuals. The thinking is that risk can be spread out amongst multiple investors, limiting the potential for problems if one wealthy individual suddenly encounters financial trouble.
It can take months for a group to come together, review the financials, structure a purchase agreement and then close on a sale. That said, sports franchises aren't nearly as complex as multi-national corporations with dozens of entities and business lines.
If we assume the sale process got serious with the engagement of Morgan Stanley in late May or early June, a logical timeline would see the Penguins close on a sale just prior to the start of the 2015-16 season.
Here's a hypothetical process:
Early June: The advisory firm, Morgan Stanley, would review the components of the sale and prepare a 'teaser' document. This brief overview would paint the offering in a positive light in an attempt to entice investors to take interest in the team.
Late June: A firm like Morgan Stanley is also engaged to take advantage of their access to potential wealthy investors. Morgan would be looking for anyone with even a small interest in buying a hockey franchise, or a Pittsburgh sports team, or both.
Early July: Morgan would also produce a confidential 'sales book' that outlines detailed financials of the franchise. The sales book would only be available to potential bidders who sign a very restrictive non-disclosure agreement. In some cases, bidders who sign the NDA aren't even allowed to admit they're involved in the process in any way. This will eliminate some casual bidders.
Late July: The smaller group of serious bidders will have a chance to review the sales book, ask questions, and request further information or clarification. Investor groups will decide whether they want to proceed and, if so, begin to structure a formal bid.
August: Bids will be reviewed and the groups selected to advance will engage in more detailed discussions with the team. While the initial bidding process would likely be blind, the final stage will take on the feel of an open auction.
September: Final bids will be confirmed and one group will be chosen. The deal would be taken to the NHL Board of Governors for approval and then finalized.
The Pittsburgh Business Times report that a bid might be submitted as early as next week (mid July) obviously doesn't fit perfectly with this timeline.
One reason could be that the Penguins will seek to publicize an early initial bid in an effort to draw a line in the sand for any potential future bids.
Another reason could be that the imminent bid is made up of insiders. A group of current owners (there were dozens at one point beyond Lemieux and Burkle) would already have intimate knowledge of the financials and could skip through much of the due diligence process.
(3) Who Will Buy the Penguins?
This is the 600 million (or 700, or 800…) dollar question. As mentioned above, serious bidders may not even be allowed to express their interest publicly under the NDA, even if doing so would allow them to drum up local fanbase support.
This will be a fairly quiet process until the later stages.
I joined Chris Mueller on 93.7 the Fan in Pittsburgh on Tuesday to discuss the sale process. Chris asked if Chuck Greenberg — a major player in Lemieux and Burkle's initial purchase of the team out of bankruptcy — could be a potential future owner of the Penguins.
Greenberg certainly fits the mold of an insider that might have interest in getting involved in the post-Lemieux/Burkle era of the Penguins. He led a group that purchased baseball's Texas Rangers out of bankruptcy in 2010 but left the team less than a year later after a falling out with team President Nolan Ryan.
Greenberg later pursued a bid for the Dallas Stars before the franchise was ultimately sold to Tom Gaglardi. He's since moved on to minor league baseball and has been responsible for turning around franchises in places such as South Carolina and Texas.
Another name to keep in mind in this process is Don Cornwell.
Cornwell won't be purchasing the Penguins but instead has been hired to advise on the deal (along with his firm PJT Partners), according to a Bloomberg report. Cornwell is a top sports acquisitions adviser and spent 16 years at Morgan Stanley working on deals such as Terry Pegula's purchase of the Buffalo Bills in 2014 and the Ontario Teachers Pension Plan sale of the Toronto Maple Leafs to Rogers Communications and Bell Canada in 2011.
Cornwell left Morgan Stanley late last year after the Bills sale closed and joined PJT Partners, a boutique investment bank out of New York. So why would Cornwell be engaged to advise on the same deal as his former partners?
His background also includes helping the Rooney family to restructure their ownership of the Pittsburgh Steelers in 2008 and advising Greenberg and Ryan on their purchase of the Rangers in 2010.
With connections to hockey deals, local Pittsburgh sports, and the current Penguins ownership group, Cornwell was a no-brainer addition to any potential deal.
The question remains who will ultimately emerge from the shadows to buy the franchise from Lemieux and Burkle this summer. It'll take cash, connections, the patience to wait out Ron Burkle at the poker table, and the confidence to buy a franchise that has already peaked.
In business, timing is everything.