Note: If you missed the previous articles, you can read part one here and part two here.
If there is anything that Boston Bruins' General Manager Don Sweeney has shown us in the two months since being appointed to his post, he is not afraid to make bold (and sometimes questionable) moves to improve his hockey club.
Trading away a future star in defenseman Dougie Hamilton and fan favorite Milan Lucic rubbed many the wrong way on draft day. That soon followed with the Bruins occupying the draft stage for ten minutes making three straight first-round picks. The cherry on the sundae of second-guesses was re-signing Adam McQuaid to a four-year contract paying out $2.75 million per year.
If the offseason ended there for Sweeney, he would have been crucified. He rebounded well to change fan perception in a heartbeat with a laundry list of smart moves. The free agency period starting July 1 was the rookie GM's latest opportunity to improve his hockey club for next season. In the final act of this three-part play, here is an evaluation of his signings between then and now.
Matt Beleskey – Five years, $19.8 million
The big move of the day centered around one of the bigger names in free agency.
Matt Beleskey was coming off a career-year scoring 22 goals on a very talented Anaheim Ducks squad. He was one of the diamonds in a rough free agent class. Those around the league wondered what he would make after rejecting a four-year, $16 million contract offer from the Ducks days earlier.
In the end, Sweeney would get him for a more reasonable contract than most expected. Beleskey signed for five years and $19.8 million dollars with a no-movement clause in the first two seasons.
My Wife and I could not be Happier joining the @NHLBruins. We are thrilled to be part of such an amazing organization and hockey town!!

— Matt Beleskey (@Matt_Beleskey) July 1, 2015
The contract is not bad at all for a player that scored 30 total goals (22 regular season, 8 playoffs) in 81 games. Beleskey could easily find himself playing alongside one of Boston's top-two centers in David Krejci and Patrice Bergeron. With that, the 27-year-old has a decent chance of eclipsing the 20-goal mark more than once over the course of his contract.
The no-movement clause and five-year commitment are slight concerns but Sweeney was smart not to repeat the mistakes that cost Peter Chiarelli his job. The big question remains whether Beleskey can show he is a consistent 20-goal scorer for a team that desperately needs offense.
Grade: B+
Ryan Spooner – Two years, $1.9 million
Ryan Spooner had the opportunity to make an impact in Boston after Krejci went down with an injury back in February. The 23-year-old grabbed it by the horns and effectively earned himself a new two-year contract worth $1.9 million.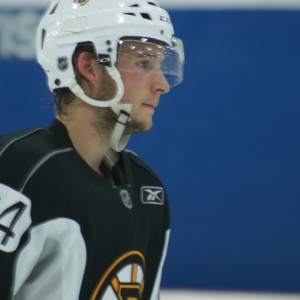 Since he was called up on February 22, he recorded eight goals and 18 points in 24 games to help keep the Bruins afloat for a wild card spot in the Eastern Conference. He was level on points with NHL superstars Pavel Datsyuk, Tyler Seguin, and Claude Giroux during that time frame. That is pretty good company for a second-year player to keep.
Spooner assumes the third-line center role formerly held by Carl Soderberg for much less than his predecessor. A $950,000 cap hit for the next two seasons for a player with tremendous offensive upside may go down as one of the early steals in the Sweeney regime.
Grade: A
Brett Connolly – One year, $1.025 million
The Bruins gave up two second-round picks at the trade deadline to acquire former sixth-overall pick Brett Connolly from Tampa Bay. A freak injury in his first practice with the Black and Gold caused him to miss a month with a broken finger.
Sweeney decided to re-sign the 23-year-old winger to a one-year contract worth just over $1 million. This is a "show me" type of contract for Connolly. The 6'2 forward has to show he can find the offensive ability that made him such a high draft pick in 2010.
Connolly will have a full 82-game slate to prove he is not a lost cause in the NHL and can make a notable contribution to the Bruins. The contract is an acceptable one for a player that will have much to prove this season.
Grade: B
Matt Irwin – One year, $800,000
The already crowded Bruins blue line added one more body in former San Jose Sharks defenseman Matt Irwin.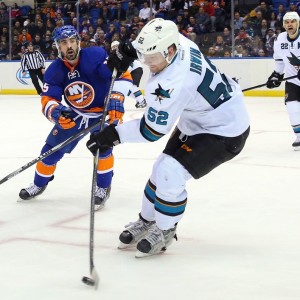 The 27-year-old signed a one-year contract worth $800,000 on July 10. Irwin recorded eight goals and 19 points in 53 games last season while averaging a tick over 17 minutes a night on the ice. He did most of his damage after the All-Star break scoring 13 points in 30 games with a plus-13 rating.
The Hockey Writers' own Andrew Bensch offered his insight on Irwin's game.
"Inconsistent two-way potential. Decent size, above average in both zones, booming slap shot. His skating is not ideal so he should be paired with a strong skater. [Irwin] could be a top-four guy, but more likely a solid bottom-pairing option."
Irwin is a positive possession player as well, demonstrated by his career Corsi-For percentage at 51.7. The 6'2 native of British Columbia could (and arguably should) find his way into the defensive rotation but will have to earn it during training camp.
This has the potential to be another smart signing for Sweeney. Irwin is a three-year pro in the League and, for cheap dollars, may find the tools to become a complete defenseman; something desperately needed in Boston.
Grade: B
Don Sweeney has made his mark on the Boston Bruins. It remains to be seen whether they can contend for a playoff spot as presently constituted.