With the development camp of the Montreal Canadiens underway, all eyes are on the team's prospects, especially those who'll eventually end up earning a spot at training camp in a few months… and potentially one on the opening-night roster.
While roster spots are a valuable commodity, there are generally a few young up-and-coming players who at the very least make it hard on coaches to cut them, who will likely be among the first chosen to be called up in case of injury or just them proving to be too good to keep down.
Leaving out prospects who have presumably made it already (Greg Pateryn, etc.), here are the top five Habs prospects likely to stick full-time once they get their call this season:
5. Daniel Carr
Twenty-three-year-old Daniel Carr has been compared to Brendan Gallagher in recent days for his scoring ability and play around the net. Considering Gallagher made the Habs at age 21, a promotion may not be entirely out of the question for the undrafted left-winger, who impressively scored 24 goals last season for the Hamilton Bulldogs.
While Gallagher proves it's not the size of the dog in the fight, but the fight in the dog that counts, Carr's relative size advantage (to Gallagher), standing six feet tall and weighing 195 lbs, is hardly a detriment.

4. Sven Andrighetto
Right-winger Sven Andrighetto played 12 games for Montreal last season, notably scoring three points (two goals) in his first three games, before going silent (no points in his last nine).
A decrease in ice time (14:41 in his second game, eventually down to 4:55 in his sixth) didn't exactly do him any favors, but neither will a suddenly crowded right side comprising Zack Kassian, Brendan Gallagher, Dale Weise, Devante Smith-Pelly, and Brian Flynn.
If Andrighetto were to make the team, it would likely only be because a top six spot opens up, based on his offensive skill set. Injuries will likely have to become a major issue for him to get his chance to prove himself. That's why he's as low on the list as No. 4.
3. Darren Dietz
Defenseman Darren Dietz was surpisingly among head coach Michel Therrien's last cuts last fall. He may have only scored 17 points last season with the Bulldogs, but that was good for second among defensemen, which is perhaps an indication of an impressive level of trust in him on the part of head coach Sylvain Lefebvre.
Granted, Davis Drewiske was first in scoring and no longer figures into Montreal's plans, having signed with the Philadelphia Flyers. But Dietz is only 22, with a likely bright future ahead of him. His training camp last season showed that and how that future might not be so far off.
2. Charles Hudon
While Montreal's right side is probably its weakest (despite being crowded), it's the left side with leading-scorer Max Pacioretty that might have an opening following the departure of Brandon Prust. That might be enough for Charles Hudon to get his foot in the door and keep it there.
His 57 points with Hamilton last season might also have something do with it, which in part make the 21-year-old the team's top-ranked prospect at left-wing, according to Hockey's Future.
1. Jarred Tinordi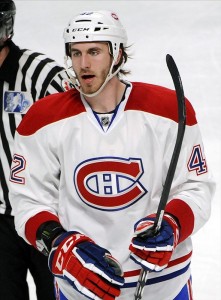 Jarred Tinordi made the Canadiens out of training camp last season, but unfortunately lasted just 13 total games, sliding down the depth chart behind Nathan Beaulieu and acquisitions like Sergei Gonchar. Now 23, Tinordi, as a former first-round pick (2010) is at a bit of a crossroads.
One gets the sense that the as-of-yet-unsigned blue-liner is on the verge of making the NHL for good this season, even if only as a depth defenseman… even if not in Montreal. At 6'6", 218 pounds, he's got a lot to offer (as maybe a bargaining chip) and perhaps just needs a change of scenery.
The good news is, excluding newly acquired Mark Barberio, who recently signed a two-way deal, the Habs would only have three left-handed defensemen on the roster. Tinordi could realistically have a great training camp and make the team out of training camp, this time to stay. It remains to be seen where Barberio places on the team's depth chart relative to him in the eyes of management and Therrien, though.