The Montreal Canadiens remain in the hunt for scoring, with their top-line right-wing position being the most logical area for improvement.
Left-winger Max Pacioretty led the team in scoring last year (37 goals, 30 assists), followed by (in no particular order) two centres (Tomas Plekanec and David Desharnais) and two defensemen (P.K. Subban and Andrei Markov). The team's highest scoring right-winger, Brendan Gallagher, was next on the list with 47 points on the season.
Forty-seven points aren't bad, especially when they're made up in part by 24 goals. However, there's no doubt Montreal could use an influx of skill on that right side, which now also comprises grinders Dale Weise, Devante Smith-Pelly, and Brian Flynn (who plays all forward positions).
Looking ahead to next season, here are the top five options to fill that No. 1 hole in the lineup:
5. A Player not yet Acquired by the Montreal Canadiens

With several relatively top-name right-wingers still available via free agency (Chris Stewart, Alexander Semin, etc.), there's potential, however minimal, that general manager Marc Bergevin reaches out to one of them. Or not, if you prefer, considering Stewart's career has been mired by inconsistency issues and Semin just seems to have issues.
In any case, while Bergevin seems open to inking someone else (in addition to recent additions Mark Barberio, George Holloway, and Joel Hanley) to the right deal, based on the GM's most recent comments, he seems more content to stay passive relative to the free-agency market and move forward without signing anyone of consequence.
Will Bergevin be active in the next few days? "I listen. We listen all the time." #GoHabsGo

— Canadiens Montréal (@CanadiensMTL) July 2, 2015
Of course, as he proved on July 1, acquiring Zack Kassian for Brandon Prust, he doesn't need to sign someone to make a move. TSN recently added fuel to the fire, reporting that the Canadiens could be interested in Chicago Blackhawks left-winger Patrick Sharp.
Sharp plays both sides. Hypothetically, though, assuming he would stay on the left were he to be acquired, that would likely eat up most remaining cap space and still a solution would be required for the right side. That in turn would mean looking within the organization for a fix.

4. Nikita Scherbak
While Alex Galchenyuk was drafted as a center and has since been largely spared from inevitably failing in such a capacity (scoring a hat trick against the Carolina Hurricanes, of course), the consensus seems to be 2014 first-round pick Nikita Scherbak will instead be spared from head coach Michel Therrien's knack for line shuffling and stay at right-wing.
They're obviously two different positions, with greater defensive awareness required when playing down the middle. Regardless of whether or not Scherbak is defensively responsible, he'll be relied upon to score goals. The question is really when instead of where in the lineup.
Interestingly, Bergevin seemed to hint at Scherbak potentially being able to win a roster spot at training camp.
Scherbak: "Training camp with the big club will be important for him". – Bergevin #GoHabsGo

— Canadiens Montréal (@CanadiensMTL) July 2, 2015
That's far from a guarantee and really only seems to indicate the onus is on Scherbak to prove he belongs. And, even if he does make the team next fall, it seems unlikely he would be thrown right into the fire by Therrien, who is renowned for handling skilled, young players with kid gloves (case in point: Galchenyuk).
3. Zack Kassian
Rather conveniently, right after buying out right-winger P.A. Parenteau, the Habs acquired another in Kassian. There's no denying his upside (a 6'3", 214-pound forward with skill), but it remains to be seen where he ends up in the lineup. While he fits the mold of a top-six forward, Therrien logically would start him off only as high in the lineup as the second line. After that, as Bergevin said via the Montreal Gazette, "everything's up to him."
2. Dale Weise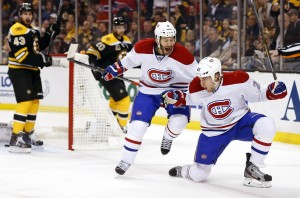 Last year's Jacques Beauchamp-Molson Trophy winner as the team's biggest unsung hero, Dale Weise, undeniably enjoyed some success playing with Max Pacioretty on the team's top line last year (189:46 with David Desharnais as center, 94:04 with Tomas Plekanec at center). He posted a career-high 29 points, including 10 goals, which is nothing to scoff at.
He's clearly a favourite of Therrien for his hard work and deceptive speed. As such, it's almost a given he's going to spend at least some time up there again. It's not that Weise is the solution (at least not long-term). He's just Therrien's go-to when the offense isn't clicking and the team is in need of a spark
That the team has finished in the bottom third in league scoring in the past two years hints at Weise not being the answer. That Bergevin has failed to significantly alter the core of those teams hints at fans getting to see more of him up there next season.
1. Brendan Gallagher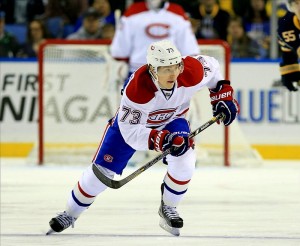 While Therrien does like to change his lines very often, he also has his players that he trusts and goes back to time and again. One of those is Weise. Another, to a larger extent, is Brendan Gallagher, who played right wing on that top line with Max Pacioretty the most of anyone else.
Last regular season he played 302:58 with Desharnais as center, 170:31 with Galchenyuk as center, and 114:55 with Plekanec as center. During the playoffs, he again led the way with 103:46 playing with Plekanec as center, according to data compiled by the University of New Brunswick's faculty of computer science.
That inevitably means Gallagher will get his chance at the position next season. It's also the safest best. While there are arguably better options out there, they aren't members of the Canadiens, at least not yet. So, the status quo will have to do.
It's not all bad, though. Gallagher is a great player who has technically improved upon his point totals in each of his three seasons in the league (he was on pace for what would have been a career-high 52 during the lockout-shortened 2013 season). He could theoretically take it to another level in 2015-16.
That's admittedly much less likely than his being Montreal's top right-winger next season, but you can't have one without the other. So wait and see. Bergevin might even have a surprise waiting over the next few days.