It is time for the review of the San Jose Sharks 2015-16 forwards, the second article in our season review. We already covered the main points in our last article.
Forwards
If roster turnover was a major theme of the 2014-15 season, roster stability was a big part of this season. The Sharks used 21 forwards, though only 16 played double-digit games. Of the 16, two spent most of their season in the AHL, Barclay Goodrow and designated puncher Micheal Haley. Two others were involved in trade deadline moves, Mike Brown departed and Nick Spaling arrived. By the end of the season, the Sharks had 13 forwards in their rotation.
The Top Guns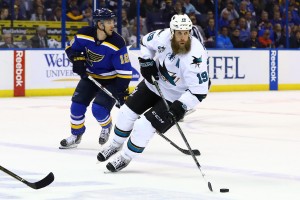 The forwards that led the way were predictable and excellent. Joe Thornton and Joe Pavelski both played all 82 games and had very strong seasons. Thornton in particular, made a credible case for the Hart Trophy as the league's top player. Logan Couture missed 30 games with a pair of serious injuries in the first half of the season, but rebounded for a solid second half before going really big in the playoffs.
In the playoffs, Thornton, Pavelski and Couture all had three great series before the Final. Only Couture continued to play effectively in the Final, finishing the postseason with 30 points in 24 games, the top scorer in the playoffs by a bunch. Pavelski, held to just one goal against Pittsburgh, still finished with 14 playoff goals, tops in the league. Thornton's 18 assists were second best, behind only Couture's 20.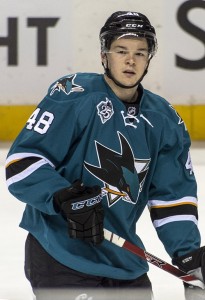 The one down note among the top forwards is Patrick Marleau. It is not a surprise. He did continue to hit milestones, including career point 1,000 and consecutive game played 500, but he contributed a modest 48 points, over half coming on the power play. He played both on the second line wing and as third line center, the latter coming after Couture's return. Marleau was a minus-22, worst on the team. Early in the season, trade rumors swirled around him. His postseason had some good moments; he was a force in series clinching wins against Nashville and St.Louis. Against Pittsburgh, Marleau was barely noticeable. Sharks coach Peter DeBoer seemed to recognize Marleau's struggles. Marleau's ice time dropped considerably over the course of the season and into the playoffs. Trade rumors bearing Marleau's name are already starting to crop up.
There is one addition to the top gun list, Tomas Hertl. He finally returned to form for the first time since a knee injury took him out in late 2013. Though he had ups and downs centering his own line, he looked stronger and more effective than in prior seasons. When he moved to Thornton's wing, he promptly took off. He played 81 games, finished with 46 points and was plus-16, behind only Thornton and Pavelski in that metric. His postseason play was also a positive. In the Stanley Cup Final against Pittsburgh, he was perhaps the Sharks best forward before a knee sprain ended his season after Game 2. In his final game of the year, an overtime loss, Hertl hit posts on three shot attempts. So close to making a potential series changing score.
The Next Tier
This tier includes two acquisitions. Veteran Joel Ward contributed well in the regular season and per his usual, came up big in the playoffs.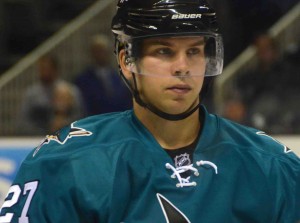 Rookie Joonas Donskoi proved perhaps the most pleasant skating surprise of the season. Donskoi debuted on the line with Thornton and Pavelski, but eventually was dropped to the third line as his game began to find its way. His creativity and ability to set up other players filled an important need. His overtime goal in Game 3 of the Stanley Cup Final is a high water mark in Sharks history, marking their first ever Stanley Cup Final victory. It is still their only Final win at home. By season's end Donskoi was solidly on the second line, even bumped to the top line when Tomas Hertl was injured.
The Lower Lines
Melker Karlsson, Chris Tierney, Matt Nieto, Nick Spaling, Tommy Wingels and Dainius Zubrus were the players who filled bottom six roles for most of the season.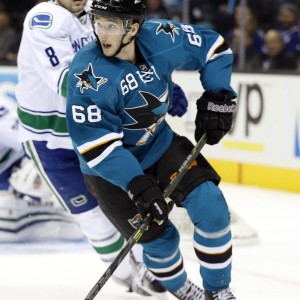 Karlsson, the Sharks top rookie last season, had a more difficult go of it this year. An injury kept him out the early part of the season and he seemed to have difficulty finding a role. His numbers were down from his rookie season. Karlsson was one of the few Sharks to have a good series in the Final against Pittsburgh, and it was very good. His board battle against Evgeni Malkin preceded Donskoi's overtime game winner. Another battle led to Brent Burns lone goal of the series. His four points and plus-2 made him among the more productive Sharks forwards, he spent much of it on the second line with Logan Couture.
Chris Tierney's promising rookie campaign hit bumps this season. As one of the few Sharks set-up men (along with Thornton and Donskoi), he had a major opportunity. His early struggles led to a brief midseason demotion to the AHL. It looked like he had turned things around with a strong month of January, but he faded again. In the playoffs, Tierney found his game again. He was a plus player every round, with four goals and four assist in the final three playoff rounds. When coach DeBoer shortened his bench, Tierney saw his ice time increase to his highest numbers of the season. His plus-8 in the playoffs tied him with Hertl, tops among the team's forwards.
At the start of the season, I thought Matt Nieto was a bubble player and little happened to change that this season. Nieto had only 17 points and finished minus-8, a small step back for a player needing to take a healthy step forward. Still, he found himself on Peter DeBoer's good side. Also on DeBoer's good side was Nick Spaling, a late season acquisition from Toronto. Spaling's pesky defensive play seemed to garner appreciation, but his limited offense was a downside. Perhaps Spaliing's most noticeable moment came when hit a crossbar in Game 4 of the Cup Final with San Jose trying to dig out of a 2-0 hole.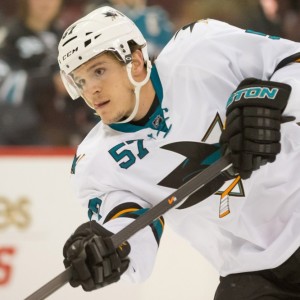 Not on DeBoer's good side by year-end were Tommy Wingels and Dainius Zubrus. Wingels continued to be a physical force, but the rest of his game was largely absent. Once pegged to be a 40 point guy, Wingels had only 18 points this season, less than half of his prior two seasons. His minus-10 rating was a career worst. When DeBoer shortened his bench in the Pittsburgh series, Wingels saw his ice time cut dramatically. Also getting his ice time cut dramatically was Zubrus, whose solid play impressed almost all season. His penalty kill was excellent, totaling nearly an hour of ice time without a goal against. In the Final against Pittsburgh, though, he found himself in the penalty box too often, taking three minor penalties, the last of which resulted in Pittsburgh's power play goal in Game 6. He had a good season, but a not so good last impression.
Elsewhere
San Jose parted company with several forwards in trades. Mike Brown, the fighter and pest, went to Montreal after being largely ineffective. Raffi Torres earned a lengthy suspension, but was never healthy. He was traded, but is unlikely to play in the NHL again. Ben Smith took a puck to the head early in the season, missed a good deal of time and was also traded.
Barclay Goodrow was demoted early in the season, though his AHL play earned him a spot in their All-Star game. Micheal Haley also spent most of the year in the AHL, but was called up occasionally to handle fighting duties, especially after Mike Brown's departure. Haley finished with one goal and eight fights in 16 games.
Added Notes
It is hard to overstate the value of Tierney and Donskoi. They gave San Jose creative set-up men for the lower lines, something sorely missing in years past.
The age distribution of the 13 Sharks forwards who were in the rotation for the playoffs is interesting. Only four reside between in the sweet spot between 26-34; Spaling, Wingels, Pavelski and Couture. Only Pavelski and Couture are safe bets to return next season. Five are 25 or younger, while four are over 35 or older.
The expansion draft, likely about one year from now, will allow teams to protect seven forwards. As of now, I think San Jose would protect Thornton, Pavelski, Couture, Donskoi, Tierney, Karlsson and Hertl.
DeBoer advocated rolling four lines, but until the trade of Brown and Spaling's acquisition, it did not happen often. After the trades and for most of the postseason, DeBoer rolled four lines, until the final games of the final series.
ZEKE is a native of the DC area where he witnessed the birth of the Capitals franchise. After graduating from Cornell University, which had seen hockey glory before he arrived, he moved west to San Jose. There he witnessed the birth of the Sharks franchise. His wait to witness a Championship from any of these teams finally ended in 2018.