Ron Francis, Executive VP and General Manager of the Carolina Hurricanes, is dealing and moving forward. Actually moving forwards. Francis has been very active in the days before the upcoming NHL Entry Draft, most recently adding two forwards from the Chicago Blackhawks to the 'Canes. On Wednesday, the team announced the acquisition of Teuvo Teravainen and Bryan Bickell in exchange for a second-round draft pick in this year's draft and a third-round pick in the 2017 draft. Francis said in a statement on the team's website,
This deal allowed us to use some of our collected draft picks to improve our group of forwards for the coming season by added two Stanley Cup champions. Teuvo is a young, highly-skilled player still on his entry-level contract who is coming off of a strong first full NHL season, and Bryan is a veteran who has experienced great success in his career. Both players give our organization more options and flexibility among the forward ranks.
Francis has the draft picks with which to do deals, and he is dealing. But is it enough to get the 'Canes into the playoffs next season?
Reality Check
Francis has made some good moves thus far, but I've marveled at how some of the sports media and fans have gone bonkers over Teravainen coming to Carolina. It is as if he is the magic missing piece that the team has needed for years. As Lee Corso says when making picks on the ESPN college football show, "Not so fast, my friend."
Granted Teravainen and Bickell have Stanley Cup Playoff experience, but I'm not seeing anything that makes me immediately think that they will propel the team into the playoffs. Here's what Jared Clinton wrote for The Hockey News website about the deal:
The acquisitions also help bring the Hurricanes two players with NHL experience who can fit into the lineup immediately next season. Teravainen is coming off of a 13-goal, 35-point season in Chicago and Bickell, though he spent much of the past season in the AHL, has scored 65 goals and 135 points over his 384 games with the Blackhawks.
[New Story] Teravainen Eager to Grow with #Canes → READ: https://t.co/UgqmlsWg9J #Redvolution pic.twitter.com/bT6GNsmvxj

— Carolina Hurricanes (@Canes) June 16, 2016
Again, I yield to the point about the positive of NHL experience for both players, but neither is screaming instant "playoffs!" Yes, Teravainen is an immense talent, but can he have an even better season coming up? Here's why I ask.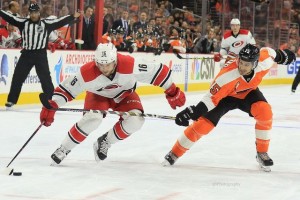 I wrote about Elias Lindholm recently in a piece entitled, 'Lindholm the Swedish Beast Tamed'. In it I describe the slump Lindholm had compared with his ability and expectations. I see Teravainen in much the same light. Lindholm had 11 goals and 28 assists last season, a drop from his previous totals.
Teravainen and Lindolm are both extremely talented, but if neither can find whatever is necessary to bring their totals up to their talent levels, then the 'Canes are still going to be searching for answers. Both are 21 and have huge upward potential. If they can produce anywhere near that potential next season, then lookout Metropolitan Division. The jury, however, is still out as to whether or not that will happen.
Francis Still Has More
The good news for Hurricanes fans is that Francis is nowhere near done. He has a slew of draft picks, plenty of cap room and is patient and strategic.
Teravainen trade a reminder that cap space is as big an asset right now as picks and prospects. Coyotes another team to watch on his front.

— Craig Custance (@CraigCustance) June 15, 2016
If Francis can pull off a couple of moves that bring some veteran forward with consistent scoring histories then I will gladly hop on the "playoffs" train, believing that this coming season will be the one.
I believe in Francis as a general manager and I am really excited about the coming season. I hope that Teravainen has a huge breakout season, and that Lindholm does, too. I hope Jeff Skinner scores 35 goals and that Noah Hanifin plays even better than he did last season.
I want more than I can articulate to be watching the 'Canes play in May and June. Teravainen and Bickell are pieces of that puzzle that fit very nicely. Francis is dealing. Let's hope he can continue to put it all together.
Mark lives in the Raleigh, NC area and covers the Carolina Hurricanes.