Elias Lindholm was glossed "The Swedish Beast" by former Carolina Hurricanes captain, Eric Staal in November 2014. Lindholm had just scored the game-winning goal in overtime to lift the Hurricanes over the Columbus Blue Jackets. The gloss seemed appropriate at the time, and Lindholm had a really good season for a really young player. He scored 17 goals and had 22 assists in 2014-15, leading many to believe he was going to be a top scorer for the 'Canes for years to come.
Lindholm was one of the "young guns" that were solidly proving their ability to play at the highest level. At times he was confident and aggressive, putting himself in the right place at the right time to score, as he did on this goal against the Edmonton Oilers in March of 2015:
Lindholm the Beast Tamed
Interestingly, the Swedish Beast had the same point total – 39 – this season as he did the season before. But, his drop in scoring – only 11 goals – was a huge disappointment for those who believed he was going to be the next young phenom on the Hurricanes' roster. Of course, at times he flashed the brilliance everyone knows is there, as in this display against the Calgary Flames last January:
But, night after night folks who follow the 'Canes were left scratching their heads, wondering if Lindholm would find his groove and goals galore would follow. It was not to happen.
Then Again
Lindholm's season was not really disappointing if put into perspective. CBSSports.com published this from the RotoWire Staff on May 14, 2016:
"Lindholm was one of just a handful of bright spots on a mediocre Canes team this year. He took a major step forward in ice time, averaging a career-high 18:07 per game, and cemented himself as a top-six player for the Hurricanes."
Alongside his peers it looks as if he had a pretty good season. But, I maintain that the 35 percent drop in goals scored is disappointing. Call it a sophomore slump of sorts, but Lindholm is capable of more, much more. Still very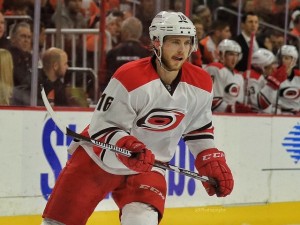 young by NHL standards at 21, the Swedish Beast will occupy a role of "young veteran" this upcoming season, much like Jeff Skinner and defenseman Justin Faulk, who are both only 24. With prospects like Sebastian Aho waiting in the wings to bring some much-needed scoring to the 'Canes, Lindholm will be in the position of needing to lead by example.
Lindholm had a surgical procedure done on his foot this offseason, and forward Joakim Nordstrom had a procedure on his wrist. Hurricanes GM Ron Francis told the Raleigh News & Observer that both of the procedures were minor and that both players responded well. They are both important parts of the future success of the 'Canes.
.@lindholmelias in Swedish beast mode off the opening faceoff tonight. #Redvolution #MTLvsCAR pic.twitter.com/d7FBhxzFWE

— Carolina Hurricanes (@Canes) April 7, 2016
For next season to become a playoff contender, the Swedish Beast will need to be unleashed and put up the kind of goals-scored numbers that his potential and talent demand. With a bucket full of draft picks and a boatload of cap space, no one on the 'Canes roster can sit back and expect anything to be given to them. Coach Bill Peters is fully in charge, and working hard is the Peters mantra. Lindholm will be no exception, but with his talent, surely that hard work will pay huge dividends.
Mark lives in the Raleigh, NC area and covers the Carolina Hurricanes.