With the 2016 NHL Draft coming up in a month, it will mark 10 years since the 2006 NHL Draft. Prospects drafted in that class are now 28 to 30 years old, in the prime of a player's hockey career.
The Toronto Maple Leafs drafted seven players in 2006, starting with the 13th overall pick. Usually, two or three draft picks turn into full-time NHL players, but 10 years later, six of their seven picks are still playing in the NHL.
Jiri Tlusty was the Leafs' top pick that day. He has gone on to have a fine NHL career, with a total of 446 games played. However, just 74 of those were with Toronto, certainly not what GM John Ferguson Jr. had envisioned when he selected the young Czech.
Overall, it was a successful draft year for Toronto, with only one prospect unable to blossom into an NHL player. Although they were unable to find a superstar, they did find a 2016 All-Star with a sixth round pick.
Here is a run down of each of the Leafs' seven draft picks from 2006, including where they came from all the way to where they are now, 10 years later.
2006 NHL Draft Review
Jiri Tlusty – 1st Round, 13th Overall
Leafs Career: 74GP, 10G, 20P
NHL Career: 446GP, 89G, 177P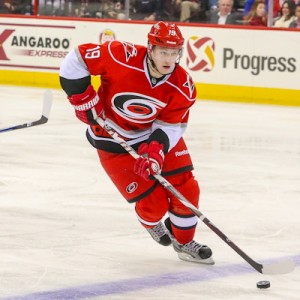 Jiri Tlusty was ranked as a potential top 10 pick heading into the draft, so the Leafs were very excited when he continued to slide down to 13th overall. Playing his draft eligible season in the Czech Republic, Tlusty was a little bit of a high-risk/high-reward selection.
After being drafted, Tlusty would decide to play in the CHL, where the Sault Ste. Marie Greyhounds held his rights via the CHL Import Draft. He transitioned well, scoring 22 goals and 51 points in 50 games while developing a more all-around game.
Over the following three seasons, Tlusty would split time between the Toronto Maple Leafs and Toronto Marlies. In all, he totalled 10 goals and 20 points in 74 NHL games as well as 40 goals and 99 points in 99 AHL games. However, his inability to stick in the Leafs' lineup led Brian Burke to trade him to the Carolina Hurricanes for Philippe Paradis, who never wore a Leafs sweater.
Now seven years after that trade, Tlusty has played for two additional NHL teams, the Winnipeg Jets in 2014-15 and this season, the New Jersey Devils where he tallied just four points over 30 games. He will become an unrestricted free agent on July 1st, and due to lack of production and injuries, he may not suit up in the NHL again. His best career year came in 2012-13, when he scored 23 goals and 38 points in 48 games with the Hurricanes during the lockout shortened season.
Nikolai Kulemin – 2nd Round, 44th Overall
Leafs Career: 421GP, 84G, 195P
NHL Career: 584GP, 108G, 248P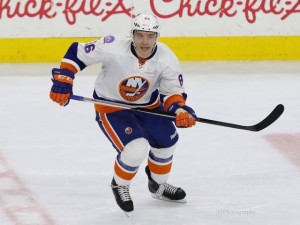 Like Tlusty, Kulemin played his draft eligible season in Europe, making his NHL potential relatively unknown. He success in Russia made him a solid second round pick with a high ceiling.
Kulemin would spend the following two seasons in Russia's top league competing against grown men with great success. He then made the transition to the NHL for the 2008-09 season, where he would score 15 goals and 31 points in a very respectable rookie campaign. He quickly found a permanent spot in the Leafs' lineup, becoming a key cog.
The following six seasons were spent playing on Toronto's second and third lines, where he did his job fairly well. He was given time on the penalty kill and ran with it, becoming one of their go-to-guys when shorthanded. However, during the 2014 offseason, Kulemin and the Leafs decided to part ways. As a free agent, he would sign a four-year contract with the New York Islanders.
In his first two seasons as an Islander, Kulemin scored 31 and 22 points respectively. He has accepted a lesser role, averaging just 14:03 a night this year. He is signed through the 2017-18 season with a $4.187 million cap hit.
James Reimer – 4th Round, 99th Overall
Leafs Career: 207 GP, 2.55 GAA, .905 SV%
NHL Career: 215 GP, 2.53 GAA, .906 SV%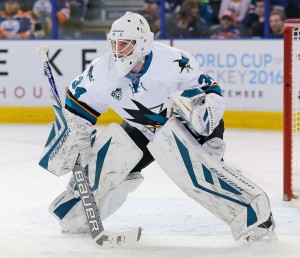 James Reimer spent his NHL draft eligible season in the WHL with the Red Deer Rebels, posting a 2.81 GAA and a .910 SV%. The Manitoba native had a strong second half to rise up the rankings, giving the Leafs good reason to take a chance on him in the fourth round.
Reimer would spend the following two seasons in the WHL, posting very solid numbers and boosting the Leafs' confidence in him. The 2008-09 season was spent in the ECHL, where Reimer began to transition his style to semi-professional hockey. It paid off the next year, when he posted a .925 SV% in his rookie AHL season.
As a result, Reimer was rewarded with 37 games in the NHL in 2010-11 where he played very well, stopping 92.1% of the shots he faced. He would stick in the NHL from then on, but was never able to gain full trust of his coaches. Over his six-year NHL career in Toronto, Reimer never saw more than 37 games in any given season.
During the 2015-16 season, Reimer was traded to the San Jose Sharks, where he would play backup to Martin Jones. He would suit up in eight regular season games sporting a .938 SV%. Reimer will be an unrestricted free agent on July 1st, likely signing to be a backup goalie for next year.
Korbinian Holzer – 4th Round, 11th Overall
Leafs Career: 58GP, 2G, 9P
NHL Career: 87GP, 2G, 12P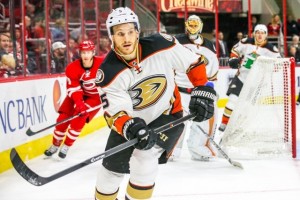 Holzer was yet another European based prospect that the Leafs drafted in 2006, playing in Germany's second highest league. At 6'3, 216 pounds, Holzer had the size to become a solid, stay at home defenceman.
Holzer remained in Germany for the next four years, three of them being in the DEL, the country's best league. In 2010-11, Holzer came over to the AHL to play with the Toronto Marlies. He would quickly become accustomed to the game and earned more minutes as the year went on. For four years, Holzer was juggled between the AHL and NHL, but was never able to stick around full-time with the Leafs.
Finally in 2015, Holzer was traded to the Anaheim Ducks. In his first season with the team, he was able to slot into 29 games due to multiple injuries on their blueline. Holzer is set to become an unrestricted free agent on July 1st, but should be able to find a team with interest in the NHL.
Viktor Stalberg – 6th Round, 161st Overall
Leafs Career: 40GP, 9G, 14P
NHL Career: 413GP, 71G, 152P
Stalberg was drafted out of the SuperElit league in Sweden, where he had a terrific season with Frolunda HC J20, scoring 27 goals and 53 points in 41 games. The Leafs selected him for his scoring touch and tremendous speed.
Stalberg would then commit to the University of Vermont, where he would spend three seasons, growing exponentially each year. After scoring 46 points in 39 games in 2008-09, he would turn pro and sign with the Leafs. The '09-10 campaign was split between the AHL and NHL, where he played fairly well for a rookie.
Unfortunately, the Leafs would then trade the speedy rookie to the Chicago Blackhawks after just one year. Since that trade, Stalberg has spent three years with the Blackhawks, then two with the Predators, and finally was with the Rangers in 2015-16.
He had a career-high 22 goals and 43 points in 2011-12, and has remained an effective player with reduced ice time. Stalberg will be an unrestricted free agent come July 1st, and it is questionable whether he will sign in the NHL, possibly returning to Sweden instead.
Tyler Ruegsegger – 6th Round, 166th Overall
NHL Career: 0GP
Tyler Ruegsegger was the only Leafs 2006 draft pick to never play an NHL game. He was drafted out of the prestigious Shattuck St. Mary's Prep School before accepting a commitment at the University of Denver. He had an excellent freshman season in the NCAA, notching 34 points in 40 games. In his sophomore year he represented USA at the World Junior's as well.
However, after four very solid years at Denver, the Leafs decided not to sign Ruegsegger. As a result, he would find time playing in the ECHL and AHL over the next four seasons, but was unable to find the offence that he produced in the NCAA. He would play a total of 114 ECHL games and 95 AHL games before calling it a career after 2013-14.
Ruegsegger remains in the game though, debuting as an assistant coach at Valor Christian High in 2015-16. The 28-year-old is hoping he can find an alternate career using his hockey skills and knowledge.
Leo Komarov – 6th Round, 180th Overall
Leafs Career: 171GP, 31G, 71P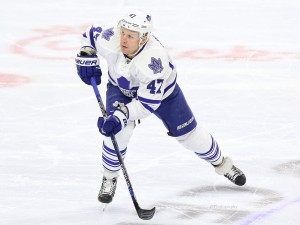 Leo Komarov was drafted out of Finland where he played for Assat of Liiga, Finland's top league. After his draft year, he would remain in Liiga for another three seasons. He found a little extra offensive edge, but nothing spectacular, remaining more of a grinder.
Finally in 2009-10, Komarov would transfer to the KHL where he played for Dynamo Moscow. After three years, he had become a strong, hard-hitting winger who could chip in offensively as well. He then decided to test out the NHL, seven years after being drafted by the Leafs. He would spend the lockout shortened 2012-13 campaign with the team, but then returned to the KHL for the following year.
In his short try-out with the Leafs, Komarov quickly became a fan favourite for his work ethic and hard-hitting style. Luckily for fans, he would return again in 2014-15 for good. He is currently signed through the 2017-18 season at a $2.95 million cap hit. This past season, Komarov had a career-high 19 goals and 36 points, even representing Toronto at the 2016 All-Star Game. Leafs fans hope he will stick around during, and after, the rebuild is complete.