For a lot of NHL fans, the entry draft is one of the more exciting events that transpire throughout the course of the year. In addition to the inevitable flurry of trade activity that occurs on the draft floor, seeing your favorite team select players who could one day be superstars is often a thrilling experience.
The only issue is that sometimes, those players don't end up being superstars at all and we all look back and say, "What on Earth were they thinking with that pick?" As fans, we sometimes forget that scouting is not an exact science and, no matter how good a player looks before being drafted, that success often doesn't carry over to the pro ranks.
Hindsight is always 20/20, of course, and it can be fun to look back and see how different things would have been if we had the knowledge back then that we have today. With that in mind, here is how the 2006 draft might look if we were to do it today.
1. St. Louis Blues: Jonathan Toews
Selected: 1st round, 3rd overall
In 2006, the Blues had solid depth up the middle with Doug Weight and Mike Sillinger as their top two centermen, and had T.J. Oshie in the pipeline from the previous year's draft. Obviously, Oshie turned out to be a winger, but his projection as a center, coupled with the Blues glaring defensive shortcomings likely led the Blues to select Erik Johnson.
At the time of his draft, Johnson had just come off a dominant 34-point season in the US Development Program and was one of, if not the best player on the ice at the World Juniors. With his smooth skating and booming shot, the Blues thought they were getting their next Al MacInnis.
Johnson would play just two and a half seasons for the Blues before being traded to the Colorado Avalanche along with Jay McClement and a first round pick (Duncan Siemens) for Kevin Shattenkirk, Chris Stewart and a second round pick (Ty Rattie).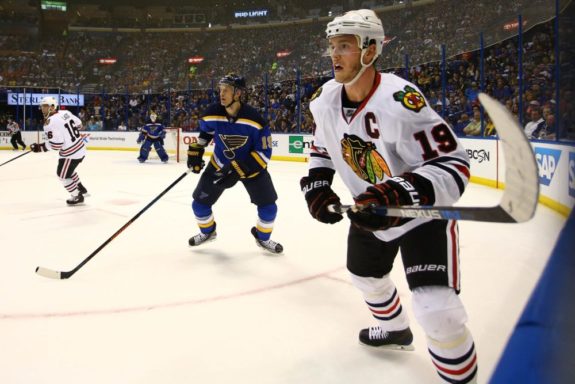 As for Toews, the Chicago Blackhawks captain has become one of the top centers in the NHL. Toews has the ability to do it all, and more. He is arguably the best two-way center in the game right now. With a 56.8% career faceoff percentage, a +194 rating, a Selke Trophy win in 2013 and a career 56.1% Corsi for rating, it is hard to argue a case for a better defensive center.
In addition to his defensive skills, Toews is elite on the offensive side of the puck. In 717 games, Captain Serious has accumulated 272 goals and 350 assists for a total of 622 points. His 0.868 points per game are good for 16th among all active NHL players.
To think that this past season was a down year for Toews speaks volumes about his importance to the Hawks. The former Conn Smythe winner (along with the rest of the Blackhawks) failed to show up in the first round of the playoffs and the team suffered one of the more humiliating first-round sweeps in recent history. During the regular season however, he matched his total point output of 58 from 2015-16 but his 21 goals were the lowest of his career.
2. Pittsburgh Penguins: Nicklas Backstrom
Selected: 1st round, 4th overall
With the second selection in the 2006 Draft, the Pittsburgh selected Jordan Staal, the younger brother of Carolina's Eric Staal. Jordan certainly has not turned out to be a bust like Johnson, and has developed into a solid two-way centerman. The Penguins selected him with hopes that he would complete a three-headed monster down the middle after freshly drafting legends Sidney Crosby and Evgeni Malkin.
While he was serviceable for the Penguins in a third line center role, Pittsburgh saw more value in a trade than they did with keeping him on their roster. They wound up dealing him to the Carolina Hurricanes for Brandon Sutter, Brian Dumoulin and a first round pick (Derrick Pouliot).
Now imagine, if you will, that instead of selecting Staal, Pittsburgh chose Nicklas Backstrom. Washington fans all just collectively threw up in their mouths a little bit.
Backstrom is one of the most underrated players in the National Hockey League, mostly because he rides shotgun with Alex Ovechkin. Be that as it may, he is one of the best passers in the game and should be given credit for a lot of Ovie's success.
Backstrom leads all players from his draft class in assists (540), points (728) and points per game (0.99). Imagining today's Penguins squad with him is a scary thought. A power play consisting of Backstrom, Crosby, Malkin and Kris Letang would be absolutely lethal and nearly unstoppable.
3. Chicago Blackhawks, Phil Kessel
Selected: 1st round, 5th overall
Kessel struggled in his first two years with the Boston Bruins before finally breaking out in 2008-09 to the tune of 36 goals and 60 points. This breakout campaign was, for some reason, an indication to Bruins management that he was no longer needed, so they sent him off to the Maple Leafs for a first and second round pick in 2010, and a first round pick in 2011.
Being the man in Toronto is not an easy task. Kessel can attest to that; he was thrown under the bus and blamed for almost all of Toronto's failures during his tenure there. Despite six seasons of 20 goals or more, including three 30-goal seasons, Kessel was shipped off to the Pittsburgh Penguins. As it turns out, that was probably the best thing that could have happened to him.
Since arriving in Steeltown, Kessel's has turned out to be a critical component to the Penguins success. They have won back-to-back championships since he came on board. While he may not have scored 30 goals with the Pens yet, he still put up 70 points last season, which is the third highest output of his career and highest since 2013-14 when he had 82 points.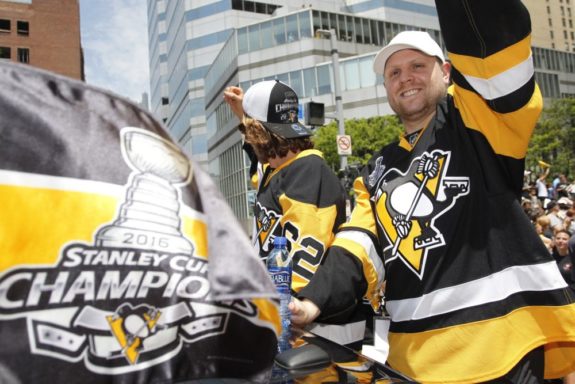 Kessel in Chicago would instantly put them right back at the top of the NHL's contenders. In this scenario, of course, the Blackhawks would be without Toews so their center depth would need to be addressed, but between Kessel, Patrick Kane, and Brandon Saad, boy would they score some goals.
It's difficult to have a winger listed so high, but Kessel's accolades are hard to ignore. Along with the two Stanley Cups, Kessel won an Olympic silver medal with Team USA in 2010, a Masterton Trophy in 2007 and is a three-time all-star (2011, 2012, 2015).
4. Washington Capitals: Claude Giroux
Selected: 1st round, 22nd overall
Given the caliber of player that Giroux has become, it is hard to believe that he slipped all the way to 22. Even in his draft year in junior, he scored 39 goals and 103 points in 69 games. The knock on Giroux was his size; when he was drafted, he was only listed at 5'10" and 170 lbs.
The Flyers took a chance on him and must have been patting themselves on the back after he would record another two consecutive 100-plus point seasons in the QMJHL before making the jump to the NHL. Four years later and he was named team captain.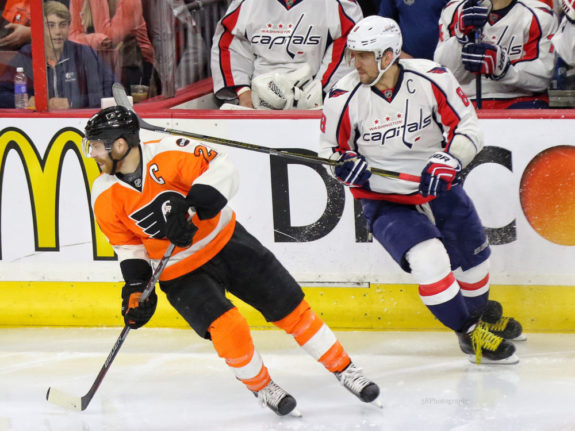 Since Washington lost Backstrom in this re-draft, the Capitals will need a center to feed Ovechkin the puck. Giroux may not have the point totals as Backstrom does, but that certainly doesn't make him any lesser of an elite center. While Backstrom is a bigger man who uses his frame and reach to protect the puck, Giroux is smaller, quicker and very agile.
He is also very good in the faceoff dot, at a career rate of 54.4% and can play in all situations; Giroux led all Flyers forwards in ice time last season with 19:07 per game.
5. Boston Bruins: Brad Marchand
Selected: 3rd round, 71st overall
Sometimes things come full circle. In the actual 2006 draft, the Bruins, and every other team passed over Marchand twice before Boston finally plucked him in the third round. Listed at 5'9", 183 pounds on draft day, Marchand is another player like Giroux who was a victim of his own size.
He may have taken some time to develop into the perennial Rocket Richard Trophy contender, but he has always been capable of putting the puck in the net. Besides his first season where he only had one point in 20 games and the 2012-13 lockout-shortened season, Marchand has scored at least 21 goals per year.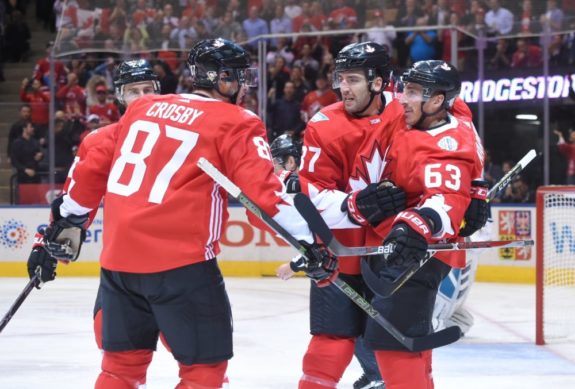 Even in the lockout-shortened season he managed 18 goals in 45 games, which works out to 33 goals over the course of an 82-game season.
Marchand proved he is an elite player at the World Cup of Hockey last September when he skated on the top line for Team Canada with Sidney Crosby and Bruins teammate Patrice Bergeron.
6. Columbus Blue Jackets: Milan Lucic
Selected: 2nd round, 50th overall
In 2006, Columbus was just coming off their fifth season in the NHL and were still trying to establish themselves as a legitimate franchise. Their top two centers at the time of the draft were 37-year old Sergei Fedorov and David Vyborny.
Of course, Fedorov is an NHL legend, but he was on the back nine of his career during his tenure with the Blue Jackets. Vyborny was a productive player for the better part of seven seasons before going back to Europe to play in the Czech league.
Because of the lack of organizational depth, Columbus decided to go with who they thought was the best player available: Derick Brassard. Brassard had just finished a tremendous 113-point season in the QMJHL where he scored 44 goals in 53 games.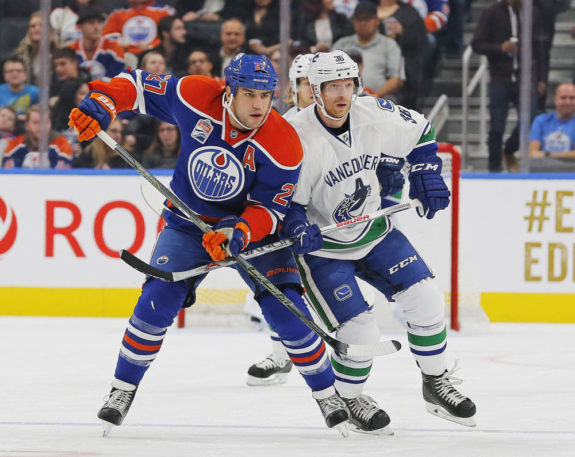 Unfortunately, he wasn't able to translate that type of output into the NHL. He topped out at 17 goals and 47 points in his best season with Columbus before ultimately being traded to the New York Rangers.
It is possible that Lucic slipped to the second round because he didn't display a whole lot of offensive ability and was projected more to be a third or fourth line checker. He obviously kicked that assessment and broke out for 30 goals and 62 points in his fourth year with Boston.
Nowadays the Jackets appear to be set down the middle with Alexander Wennberg and Brandon Dubinsky, so choosing a big, scoring winger makes sense.
n Columbus, Lucic would be a great fit on the second left wing slot with Brandon Dubinsky and Cam Atkinson in the Blue Jackets top six. He and Dubinsky are big, gritty power forwards while Atkinson broke out last year for 35 goals last year after three straight 20-goal seasons. That line would be very difficult to defend against.
Although he didn't have his most productive season, Lucic should be more comfortable this season and be able to get back to playing his game now that he has his first year with Edmonton under his belt.
7. New York Islanders: Jordan Staal
Selected: 1st round, 2nd overall
When the Penguins went with Staal at second overall, he was widely considered one of the best two-way centers in the draft. He isn't the most offensively dynamic player on this list, but he can still chip in 40-50 points while playing a tremendous defensive game.
Last season the Islanders struggled to keep pucks out of their net, allowing 238 goals against, which would end up being eighth highest in the NHL. While some of that can be blamed on shaky goaltending, having a defensive center like Staal would definitely help in that department.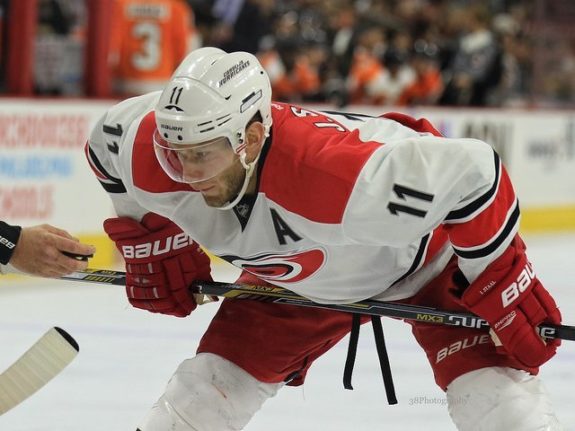 Staal started in the defensive zone 53.5% of the time last season, won 59.1% of his draws in his own end and had a corsi for rating of 53.4%. He is also a very effective penalty killer and while the Islanders penalty kill wasn't terrible, at 11th overall last season, there is some room for improvement.
It isn't exactly a secret that the Islanders could use some help down the middle to take some pressure off captain John Tavares. Staal would be able to slot into the second line center slot and allow Mathew Barzal to develop and learn the position a little better.
8. Phoenix Coyotes: Bryan Little
Selected: 1st round, 12th overall
One of only two remaining Atlanta Thrashers draft picks, along with Tobias Enstrom, Little has suffered from myriad injuries throughout his career. He has only played one full 82-game season and didn't miss a game during the 2012-13 lockout season.
Despite his injury history, Little still ranks seventh out of all players from the 2006 draft. Arizona addresses their lack of center depth this offseason by adding former New York Ranger Derek Stepan, and the addition of Little would help young centers Dylan Strome and Christian Dvorak develop into the top six forwards they were projected to be.
Little may not be Backstrom or Giroux, but he is still a very good center when healthy. He wins a bunch of faceoffs and is responsible at both ends of the ice.
9. Minnesota Wild: Kyle Okposo
Selected: 1st round, 7th overall
The Wild struck out with forward James Sheppard in the actual 2006 draft. He played parts of three seasons with the Wild scoring no more than 24 points in a season. After missing the entire 2010-11 season with a knee injury and was traded to San Jose that offseason.
This time around, Minnesota goes with Sabres forward Kyle Okposo. Before this season with the Sabres, Okposo played the first nine years of his career for the New York Islanders.
After flanking John Tavares for the better part of seven years, Okposo knows what it takes to play with elite level players and could use some of that experience to help younger centers like Mikael Granlund to continue developing.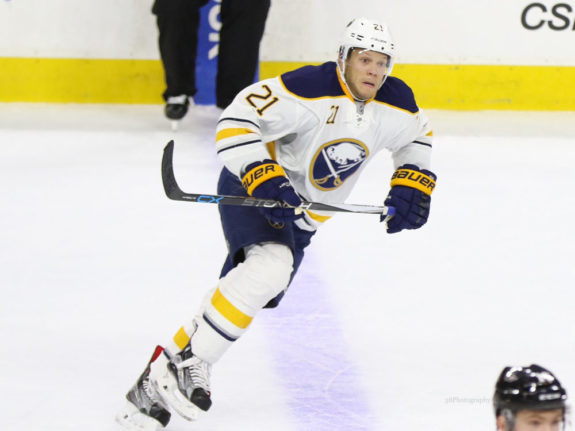 While Granlund spent the majority of last season on the wing, Wild brass have expressed their desire to have him play as a full-time center next season. the Wild employ Eric Staal, Mikko Koivu, Charlie Coyle and Joel Eriksson Ek, so selecting a center would not make much sense at this time.
Despite the Wild having extraordinary depth at all positions, the right side would be the area that could use a little improvement, if I had to choose. No disrespect to either Coyle or Jason Zucker, each are very good players, but Okposo would give them a bona fide, top-line scoring power winger that would complement Eric Staal and Zach Parise very nicely.
Okposo has topped either 20 goals or 50 points in every season in which he has played 70 or more games, but has struggled to stay healthy throughout his career. He only appeared in 65 games with the Sabres last season, missing all but two games after March 2. A rib injury kept him out of the lineup for 10 games while he missed the end of the season after being hospitalized with concussion-like symptoms.
In his own words — Thank you from Kyle Okposo: https://t.co/1XlhlAx7Ud pic.twitter.com/FjOGDYvDfW

— Buffalo Sabres (@BuffaloSabres) July 24, 2017
If he could manage to find his 2013-14 form, when he scored 27 goals and 69 points, he would provide a huge boost to an already lethal Minnesota offense.
10. Florida Panthers: Nick Foligno
Selected: 1st round, 28th overall
In the number 10 spot in 2006, the Panthers chose winger Michael Frolik. Frolik was a decent top six player for the Panthers during his time there, scoring 50 goals and 117 points over the course of 213 games. He has moved around a few times since being in Florida, making stops in Chicago and Winnipeg before signing a five-year deal with his current team, the Calgary Flames.
Frolik hasn't scored 20+ goals since his sophomore season, yet was one point away from matching his career-high of 45 last year. He isn't the go-to scoring forward in Calgary, and the complementary scoring role seems to suit him nicely.
With veteran leaders like Willie Mitchell, Brian Campbell, Jaromir Jagr and Jussi Jokinen no longer with the organization, the Panthers are left with a very young core group of players. Jonathan Huberdeau, Aleksander Barkov, Nick Bjugstad, Aaron Ekblad and Vincent Trocheck are all 25 years of age or younger.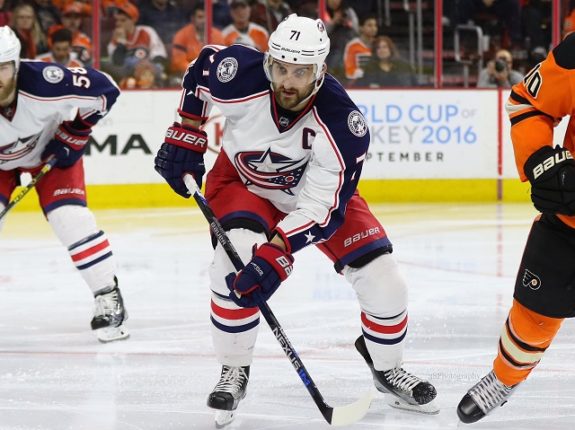 Enter Nick Foligno. Drafted by the Ottawa Senators with the 28th overall pick, Foligno played parts of five seasons in the Canadian capital before being shipped to the Blue Jackets for defenseman Marc Methot. He had difficulty finding his offense in his first two years in Columbus but exploded for 31 goals and 73 points in 2014-15.  
At 29 years old, Foligno still has a lot of good hockey left in him and would provide some much-needed secondary scoring and a young veteran presence in the locker room. The Blue Jackets current captain, Foligno was awarded both the King Clancy Memorial Trophy for leadership and humanitarian efforts and the Mark Messier leadership award at this year's awards ceremony.
Players who just missed the top ten
In no particular order:
Derick Brassard
Brassard has compiled 382 points over 644 games split between the Blue Jackets, Rangers and Senators. He has averaged just over 16 minutes of ice time per game over his career and can play in all situations. While he has improved in the faceoff dot in recent years, his 48% career win percentage isn't exactly a sexy stat. However, he provides a much-needed, veteran second line presence for the Senators.
Steve Mason
Mason tore into the NHL as a rookie in 2008-09, appearing in 61 games and winning 33 for the Blue Jackets. He basically carried the team to their first ever playoff appearance. Since then, though, Mason has been terribly inconsistent. He will go through stretches where he is virtually unbeatable and then, almost as if a switch had been flicked, he has a run that's equally terrible. He has posted a winning record in two straight seasons, which is a first in his career, so hopefully he can find some consistency in Winnipeg.
Artem Anisimov
Ironically enough, Anisimov finishes off an honorable mention section that consists of three former Blue Jackets. It wasn't on purpose, I swear. Anisimov played 244 games for the Blueshirts after being drafted 54th overall, scoring 46 goals and 108 points. He was acquired by Columbus in the trade that sent Rick Nash to New York. After three seasons where he didn't manage any more than 39 points, Anisimov was traded again, this time to the Blackhawks in the deal which brought Brandon Saad to Columbus. Now an integral part of the Blackhawks core, Anisimov centers a line with Patrick Kane and has notched over 40 points in both seasons in the Windy City.
When conducting re-drafts such as this one, ther are any number of possibilities that could make sense for any number of reasons, so let us know what you would do differently and why.
After dabbling in hockey writing here and there over the last few years, Kavan joined a blog on Fantrax Fantasy Sports. He has since joined The Hockey Writers exclusively writing for his favorite team, the Montreal Canadiens. You can find him on Facebook under Kavan Young or on Twitter @kavanyoungTHW. Feel free to send him questions, comments or general feedback.