Defining the impact of defensive play in the NHL is not an easy thing to do. Unlike the tracking of offensive statistics, plays that prevent goals are hard to define and measure. For this reason, often times players that have a defense-first mindset tend to have their contributions overlooked. With that in mind, let's take a look at Jordan Staal.
Jordan Staal stands at a hulking 6'4″, 220 pounds. An intimidating force that plays a very physical game and isn't afraid to go to the rough areas of the ice. Currently in his fifth year with the Carolina Hurricanes Staal has proven to be a highly capable two-way centerman. Currently, only two 'Canes players have more hits than Staal's 56 and only Jeff Skinner has more takeaways per game.
Face-Off Expertise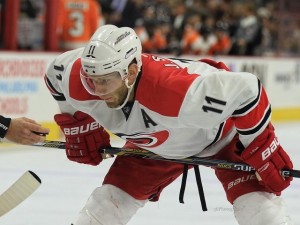 Over the past few seasons, Staal has quietly become one of the league's top defensive players. Since coming to Carolina in 2012 Staal has displayed incredible proficiency at helping his team gain puck possession. A major way in which he does this is through his complete mastery in the face-off circle. In all situations, Staal wins 60.1 percent of all of his draws. This incredibly high statistic ranks third in the league for anyone who has taken over 30 draws. Staal also accounts for the largest amount of face-offs taken by his team at 431, or 22.65 percent of Carolina's total face-offs.
With numbers like these, it is really no surprise that Staal and his linemates consistently outshoot opponents. By successfully winning a draw Staal effectively negates any chance of the opposing team gaining possession.
Dominating Possession
After obtaining the puck through the face-off it is critical that Staal and his linemates maintain that possession. This is another situation in which Staal excels in. When looking at his corsi-for percentage it becomes apparent that Staal plays a large role in both limiting shot attempts against while still generating shot attempts for. Staal ranks sixth in the league at even-strength corsi-for percentage, excluding those that have played less than 10 games. With a corsi-for percentage of 58.8, Staal ranks ahead of NHL superstars such as Anze Kopitar, Jonathan Toews, and Sidney Crosby.
[HIGHLIGHT] Jordan Staal converts on a shorthanded breakaway. #Redvolution #BOSvsCAR pic.twitter.com/yNtr8Z6yjB

— Carolina Hurricanes (@Canes) December 24, 2016
What makes this even more impressive is the fact that Staal's defensive contributions shine through no matter the quality of his teammates. According to stats.hockeyanalysis' with or without you statistic, Staal improves the corsi-for percentage of all of his teammates when they're on the ice together. Because of this Staal has seen a revolving door of wingers playing on his line. Elias Lindholm, Lee Stempniak, Sebastian Aho, Teuvo Teravinen, Joakim Nordstrom and Jeff Skinner have all seen time on Staal's wing this season. A player with this type of versatility is a blessing for coaches. Being able to rapidly change lines allows teams to optimize themselves when facing specific opponents.
Defensive Zone Hero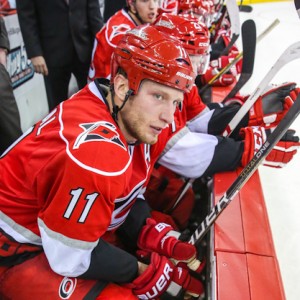 These numbers don't come easy, especially considering the assignments usually given to Jordan Staal. Staal starts 30.1% of all of his shifts in the defensive zone at even strength. In most cases, high defensive zone starts usually correlate in higher shot attempts against. For Staal, this doesn't seem to to be the case. Even with a high amount of defensive zone assignments his shot attempts against per 60 is still the lowest on the team at 43.56.
Compare that to Joakim Nordstrom, a player who gets similar assignments as Staal. Nordstrom when playing with Staal allows 44.63 shot attempts against per 60. However, when he plays away from Staal his shot attempts against per 60 skyrockets to 56.12. Given Staal's defensive talents, he provides an anchor that makes the lives of his teammates easier.
Jordan Staal's contributions to his team help cement Carolina as one of the top defensive teams in the league. The consistency and level of play that Staal is able to achieve takes the pressure off of others to perform. This experience is invaluable and will ensure Staal will hold a leadership role within the Hurricanes for a long time.
Josh Burns is from Ontario Canada and is an avid hockey lover, and covers the Carolina Hurricanes