While they cannot openly admit it, the New York Islanders are almost certainly not going to make the playoffs this season. Sure, there are 49 games left on the schedule, but the Islanders would have to earn 68 of a possible 98 points the rest of the season just to equal the 100 points they finished with a year ago. Remember, last year, the Isles were the final wild-card qualifier in the Eastern Conference — this year, the conference is better and deeper than it was a year ago so it will likely take more than 100 points to earn a playoff berth.
The Islanders schedule doesn't do them any favors. The Isles play only 20 more home games while they have 29 road contests left. The Isles road record thus far is 3-7-2.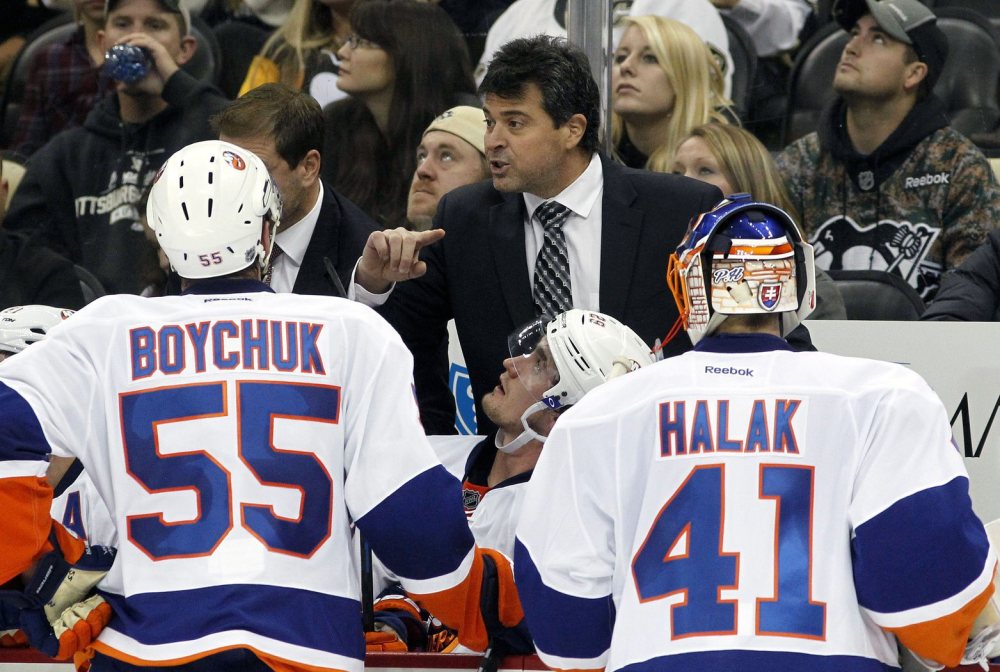 In addition to playing at a consistently high level the rest of the way, the Islanders have to pass eight teams to have a chance to reach the postseason. As of right now, that would include the New Jersey Devils, Carolina Hurricanes, Washington Capitals, Toronto Maple Leafs, Detroit Red Wings, Buffalo Sabres, Florida Panthers and Tampa Bay Lightning. It's not impossible, but so many things that the team is doing poorly right now would have to be done well that the turnaround required could only be described as miraculous.
So what can the Islanders do to make the rest of the 2016-17 meaningful? While this campaign will almost certainly be looked at as a step back after consecutive 100-point years, here are three things the Isles can do to this season to make sure the team can regroup and contend again next season rather than continue their backslide.
Trade a Goalie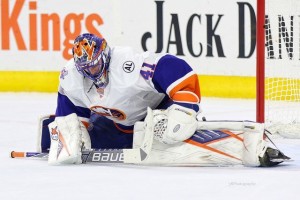 The Islanders have carried three goalies now for a season and a half. Last year, it paid off as Jaroslav Halak missed significant time due to an assortment of injuries and having J.F. Berube available to backup Thomas Greiss was helpful. Both Halak and Greiss had moments where they looked like the answer between the pipes.
This season, however, none of the three goalies has played exceptionally well. Over the long haul, having three netminders on the roster means none of them get the usual amount of playing time or even practice time.
The result: Halak's agent expressed unhappiness over the arrangement earlier this season while Berube has played in only 10 games since being claimed by the Islanders at the start of last season. The lack of playing time and practice time certainly can't be helping the 25-year-old rookie develop as an NHL player.
GM Garth Snow needs to deal one of the three goalies but it won't be easy. Trading Halak would free up the most cap space ($4.5 million per season), but his age (32 in May), injury history and the fact that he is signed through the end of the 2017-18 season may make him difficult to move as a rental player. The teams that need a goalie also don't have a lot of cap space and may have cheaper alternatives to Halak.
The ideal time to trade Halak would have been after the World Cup and just before this season got underway. The Isles starter played well in the tournament and proved he was healthy after missing the playoffs last season due to injury. But no trade took place and now it may be tough for Snow to get good value for his starting goalie.
Greiss has a much smaller cap hit ($1.5 million) and he will be a UFA this summer, so dealing him may be easier for Snow. His strong play in the opening round of the playoffs last season against Florida will help increase his value, but it's still not clear if Greiss has established himself as the caliber of goalie that can take a team on a long playoff run. Dealing Greiss will not free up much cap space and will likely get less back in return.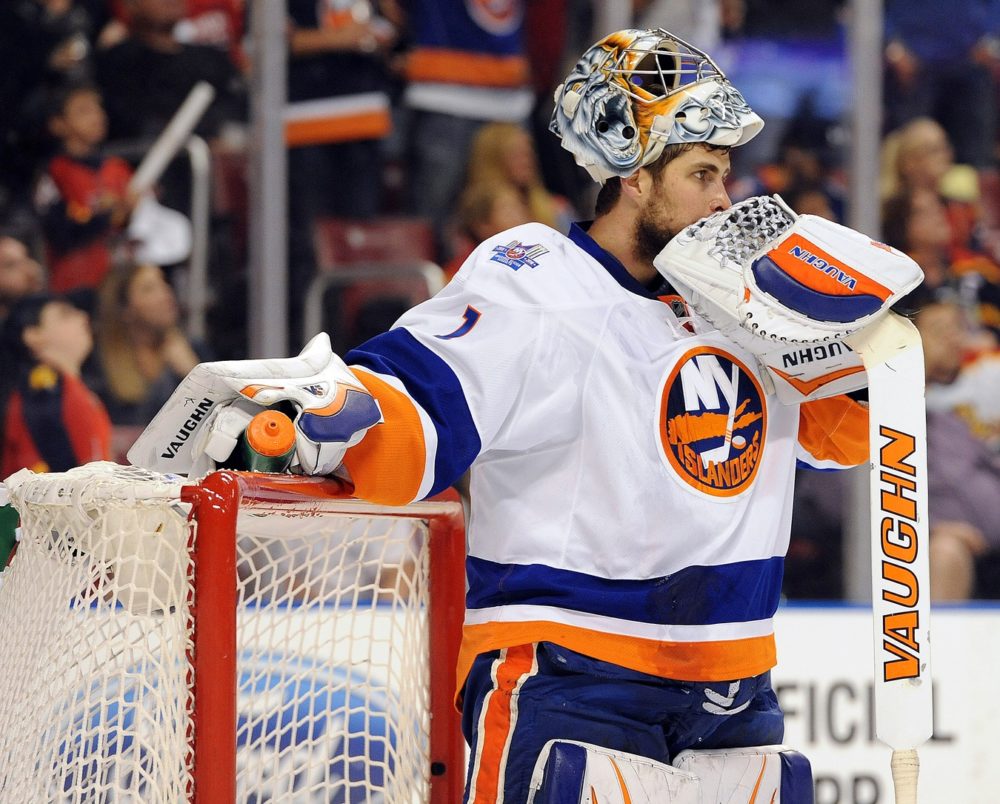 Berube is also likely to be a UFA this summer unless he appears in 30 or more games this season. That is very unlikely in any case but especially if the team retains three goalies for any length of time. His value has been reduced because he hasn't played much over the past two seasons. Berube doesn't take up much cap space and the Isles would be more likely to want to keep him around this season as the primary backup.
There is one undeniable fact: trading one goalie will benefit all three of them and the team.
Unload Some Salary
When the Islanders were struggling on the ice a few years ago, they at least had the luxury of having plenty of available cap space. It even got to the point where Snow acquired goalie Tim Thomas in a trade with Boston in 2013 knowing he wouldn't play for the team, but he would help the organization get above the cap floor.
Now, the Isles have only limited cap space after signing several players to questionable contracts. The most important thing in the salary cap era is to get good value on your contracts. If a team pays a player as a top pairing defenseman or a top-six forward, they need to get at least that level of production from those players. They also should not overpay role players.
Unfortunately for the Islanders, they have too many players earning big bucks but providing precious little production.
Some of these players must be traded away or bought out, even if the Islanders get very little immediate help in return. The Islanders don't have any forwards coming off the books after this season with the exception of the recently signed Stephen Gionta.
The key to the team's future is re-signing captain John Tavares to a new deal after the 2017-18 season. In addition, the team still needs to acquire a winger capable of providing Tavares with a linemate who can help him bring his production to another level. That costs money.
The Islanders need to trade some of these underachievers even if cap space and/or mid-level draft picks is all they get in return. This season is more or less lost. Eliminating some poor value contracts will give the franchise the chance to reload around Tavares rather than rebuild from scratch. Making a few deals with long-term goals rather than a win-now attitude is essential for the team's future success.
Give the Kids a Chance
In addition to clearing out some struggling veterans, the Islanders need to use the rest of this season to evaluate the ability of some of their younger players. Thus far this season, neither Josh Ho-Sang nor Michael Dal Colle have earned a shot at the big club based on their play with Bridgeport, but giving each of them a brief look before the season is over cannot hurt.  Defenseman Devon Toews is playing well in the AHL and may also warrant a promotion at some point during the season.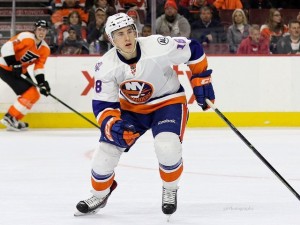 In addition, giving younger players like Ryan Strome, Adam Pelech, Scott Mayfield and Anthony Beauvillier more ice time will also benefit the team in the long run. These players can prove they belong or be showcased as assets for future trades if they don't fit in with the team's future plans. At this point, the Isles have nothing to lose the rest of the season by giving their younger players more ice time overall and more opportunities in key situations.
It is unlikely the Islanders will be able to earn a playoff berth this season. But if they follow these three suggestions, they could look back at the 2016-17 campaign as one which the team took necessary steps forward towards long-term success.
Long time hockey writer and author of the new book, "Ice Wars: The Complete History of New York's Greatest Modern Sports Rivalry." It tells the story behind every game between the Rangers and Islanders dating back to 1972 and features profiles of more than 80 players from both teams and quotes from more than 50 exclusive interviews from players, coaches and broadcasters from both teams.