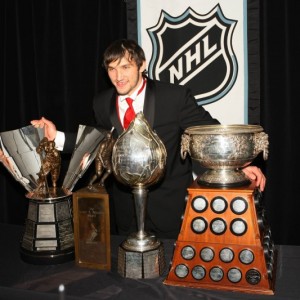 The Hart Memorial Trophy, awarded to the player judged to be most valuable to his team, is a truly prestigious distinction. In recent years, the likes of Sidney Crosby, Alex Ovechkin, Evgeni Malkin, Patrick Kane, and Carey Price have been amongst those to hoist the award, which has now been in circulation for 92 years and was first handed out to Frank Nighbor of the Ottawa Senators following the 1923-24 NHL season.
In case you were wondering, yes, Wayne Gretzky has won the most Hart Trophies in NHL history, taking home the award on nine separate occasions, with eight of which coming in consecutive seasons between 1979-87. Following Gretzky, Gordie Howe captured the Hart six times, and Eddie Shore nabbed the Trophy on four occasions, while five others have received the award three times each.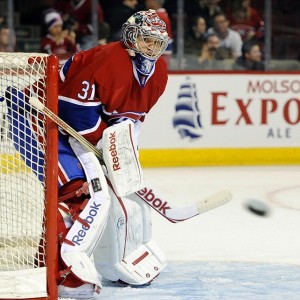 Further, when we take a team-based approach, it is, not surprisingly, the Montreal Canadiens whose players have captured the greatest number of Hart Trophies with 17. Guy Lafleur, and Jean Beliveau, two fantastically skilled Canadiens forwards, each took home the award twice, while Howie Morenz, a forward with the team in the early 1900's, grabbed the award three times in its first ten nominations. Interestingly enough, and seemingly never far from the Canadiens, it is the Boston Bruins whose players have received the second most Hart Trophies with 12, the most notable of which being Shore, Bobby Orr, and Phil Esposito.
In fact, in the NHL today, there is perhaps no rivalry more heated or contested than that of the one between Montreal and Boston. And, while the Canadiens have had the upper hand in recent years, largely due to the play of Price, a former Hart Trophy recipient, the Bruins appear on track to deliver their share of retribution, led largely by their own dark-horse Hart Trophy candidate.
Yet, it isn't who you might think.
Agitator, Sniper, and MVP?
At first glance, who, annually, is the Bruins' top candidate for the Hart Trophy?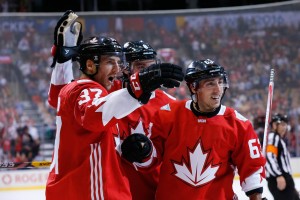 Of course, long-time center Patrice Bergeron instantly comes to mind, as his consistent playmaking abilities and vast international experience have molded him into one of the NHL's premier offensive players, and leaders. Further, he already has an impressive trophy cabinet having earned two major league awards, having been awarded the King Clancy Memorial Trophy once and the Frank J. Selke Trophy three times.
However, despite the presence of Bergeron, it is, in fact another who, in recent years, has quietly developed into a legitimate threat for the Hart Trophy, and he is none other than Brad Marchand.
A solid offensive player in his days in the Quebec Major Junior Hockey League, as well as in his short time in the American Hockey League, the Bruins likely weren't expecting Marchand to develop into a dangerous scoring threat at the NHL level. Yet, after grinding and agitating his way through the first few seasons of his NHL career, Marchand has become just that: a devastatingly accurate shooter and a persistent offensive threat whenever he touches the ice. What's more is that, with every passing season, Marchand seems to become a greater all-around player.
But, can he actually capture the Hart Trophy?
Patience Pays
Looking back, Marchand has actually always been known as a fast, elusive skater with great hands, finish and some sand paper to boot, even at the young age of 17. In fact, Marchand netted 66 points in 68 games in his draft year of 2005-06, and as such was made a third round selection by the Boston Bruins, 70th overall. However, Marchand's height, or lack thereof, was undoubtedly a major reason why he was selected in later rounds of his Draft, as based on skill alone he surely could have been picked much higher.
Kris Letang and Brad Marchand of Val-d'Or Foreurs pic.twitter.com/CNtq6h6R0g

— Jen (@NHLhistorygirl) November 19, 2015

However, opportunity, as we have seen throughout his career, is all Marchand would need, as, after scoring 80 points in just 57 games the following season, which included a spot on the 2007 Canadian World Junior Team, the budding winger inked a three-year entry-level deal with the Bruins, who had clearly taken a keen interest in his rapid development. As such, following an additional year of seasoning in the 'Q' and a second appearance on the Canadian World Junior Team, Marchand headed to the AHL and got right to work in Providence.
As an AHL rookie, Marchand immediately illustrated his ability to be an offensive threat, even at the professional level, as he scored 18 goals and 59 points in his first 79 games. His fantastic campaign awarded Marchand an opportunity with the Bruins early in the 2009-10 season, however, he was eventually returned to Providence.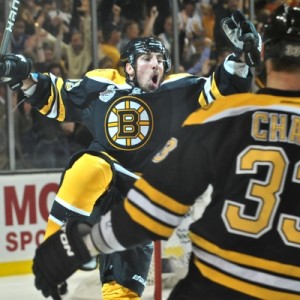 Perhaps Marchand's demotion was exactly what he needed, as he scored 32 points in his next 34 games in Providence, the last of his AHL career. Come the 2010-11 season, Marchand stuck with the Bruins, recorded his first 20 goal season, and aided the Bruins en route to a Stanley Cup Championship in which his presence was critical.
Since, Marchand's game has continued to progress at a consistent pace. His points per game have improved drastically in each season, while he has set a new career-high in goals on three occasions, the most notable and recent of which coming in 2015-16 when he netted 37 pucks, a total which placed him sixth overall in the entire NHL.
So, given his rapid and consistent development into one of the NHL's premier offensive threats, can Marchand truly challenge for the Hart Trophy in 2016-17, or will he simply have yet another stellar campaign?
MVP Material?
Sure, Marchand is far from the first name that comes to mind when discussing potential MVP candidates, but so too was Jose Theodore in 2001-02, when, after an average campaign the year prior, the goaltender broke out and led the NHL in saves and save percentage before ultimately claiming the Hart.
However, in Marchand's case, the surging winger has a few major factors in his favor.
Firstly, Marchand is coming off of a sensational season in 2015-16, one that shattered the perception of him as, primarily, an agitator and energy player. The 2015-16 campaign saw Marchand light up the scoreboard at an incredible pace, recording, as previously mentioned, 37 goals and 61 points, two totals which shattered his previous career highs of 28 goals and 55 points.
Yet, not only did Marchand set new records, but it was the manner in which he did so that was arguably more spectacular. Known for his willingness to go to the net and score rebound goals, the vast majority of Marchand's goals were instead downright snipes, as he made opposing netminders look silly on a nightly basis.
Given his incredible season in 2015-16, Marchand was, somewhat surprisingly, selected to the Canadian World Cup of Hockey Team. Despite many believing Marchand did not deserve a role with such a prestigious team based on skill alone, he quickly quieted his critics, and in doing so, made many hockey fans, those in Canada in particular, forget for a moment that he was not a member of the Bruins.
In six games, played largely alongside Sidney Crosby and Bruins teammate Patric Bergeron, Marchand was stellar. In all, he notched five goals, the most in the entire tournament, and eight points, a total good for second best overall. However, once again, it was the goals he scored, and the manner in which he did so, which set Marchand apart from the rest of the pack, ultimately portraying him once again as an elite offensive threat.
Arguably the MVP of the WCH, although losing that distinction to the tournament point leader in Crosby, Marchand proved that he could be a reliable, consistent, and potent offense threat.
Since the WCH, in fact, Marchand hasn't missed a beat and has played to the same, spectacular level at which he did throughout the entire tournament. Opening the 2016-17 NHL season with a two goal, five point night was a great start, and he followed up his opening night spectacle with another four points in his next three games, once again displaying his consistency and ability to produce offensively alongside league leaders.
In all, yes, Marchand hoisting the Hart Memorial Trophy come the conclusion of the 2016-17 campaign could be a stretch. Yet, based on the consistent offensive production he has enjoyed throughout his career, his ability to excel alongside the best, his start to the current campaign, and, his exceptional, raw skill set, Marchand appears poised to be one of the NHL's most polarizing and electrifying stars for years to come, if not its MVP.