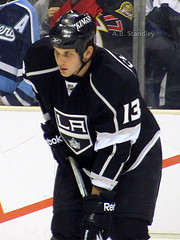 Chaos is the score upon which reality is written — Henry Miller
In southern California, a land periodically stricken with earthquakes, mudslides and other natural disasters, chaos can at times be considered the natural order — witness the struggles to balance the budget or "Black Friday" at the Glendale Galleria for confirmation of this fact. Indeed, the principle extends beyond politics and seismology and into the realm of sports, particularly one which requires 200+ pound men to balance on 3 mm skate blades while crashing into one another at high rates of speed. This isn't ice dancing: chaos is good.
The Los Angeles Kings are one season removed from a solid run to the Western Conference Finals, and just two from capturing their first Stanley Cup. General Manager Dean Lombardi has meticulously crafted a roster featuring size, speed, skill and (for the most part) good hockey sense, with key pieces carefully locked up long term. It's also young enough (average age: 26.9 years) to be in a position to compete for years to come.
When it comes to the most physical of actions — major penalties, including fighting — the Kings did not measure up in 2012-13. They were 21st in fighting majors, 25th in PIMs, 27th in misconducts and tied for 22nd in game misconducts. There are those that believes a tough, battle-scarred team with designated enforcers to lower the boom and protect its star players is necessary in every era, including today's NHL. There is a debate on the other side of that argument, a school of thought that feels the enforcer is no longer needed, if in fact one ever was.
Regardless of your individual opinion on the matter, the fact remains that even the most finesse of NHL teams need someone to drop the gloves upon occasion. The most fighting-averse team in 2012 — the Edmonton Oilers — still managed 13 in 48 games last season. The Kings, as stated above, were on the low end as well with 19. The Toronto Maple Leafs, by contrast, led the NHL with 44 fighting majors in 2012-13.
With all that said, the question is this: who will step up and assume the role of 'enforcer' for the Kings this season?
The candidates:
Jordan Nolan
At 6'3″ and rock-solid 227 pounds, Nolan was the team-leader in fights last season with six (the NHL leaders, incidentally, were Colton Orr and B.J. Crombeen with 13 apiece), carding a 4-1-1 record according to Hockeyfights.com. Nolan logged 8:28 of ice time in 2012-13 and contributed little offense with just two goals and four assists, but is the quintessential fourth-liner, and home grown to boot, having been selected in the 7th round of the 2009 draft.
The following is a decisive victory Nolan had over Ducks' defenseman Sheldon Souray last season. Nolan laid the boom down on Souray, and quickly. Guys named Sheldon probably shouldn't get into too many scraps.
Kyle Clifford
Clifford is slightly smaller at 6'2″, 208 pounds, plays a little more (10:36) and is more accomplished offensively, potting seven goals and seven assists last season. Whereas Nolan is the prototypical fourth-liner, Clifford can and has played on the third line.
Clifford got into five fights in 2012-13, winning two, losing two and earning a draw in the other. The following is Clifford's biggest beat-down of the year, a decisive victory over the Blues' Roman Polak. Boom!
Colin Fraser
Much like Nolan, Fraser knows exactly what his role is on the Kings. He's an agitator and an instigator who can occasionally generate a little offense, notching seven points in 34 games. He registered 9:22 per game last year, and if he ever ascends to the third line, look for frogs raining outside because the apocalypse is upon us.
Fraser didn't win any of his three fights last year, but this draw was at least stylish:
Matt Greene
No, he didn't fight last year, but he barely played, having been injured for all but five games. He's not known to be a fervid drop-the-gloves kind of guy, but he's a sturdy 6'3″ and 232 pounds, with 38 total fights in his NHL career. Sure, he's lost the majority of them, but Kevin Westgarth seemingly lost all of the fights he got into when with the Kings and he still emerged clapping and celebrating after each one, blood streaming down his face. The effect with respect to energizing the team was arguably still achieved, even if he didn't technically lower the boom.
Greene displays the DNA of an enforcer here, coming to the aid of Patrick O'Sullivan in this 2009 fight against Mike Commodore:
Of course, none of these candidates can hold a candle to the king of Kings' enforcers. I won't tell you his name, but I'll give you a hint: it rhymes with "Smiger":
It was a different era, but the fighting in those days could be a hell of a lot of fun to watch. They seemed to genuinely detest one another. Boom!
Walter McLaughlin is a Los Angeles Kings correspondent for The Hockey Writers. He is an avid sports fan, having followed the Kings since living in L.A. in the mid-1970's, as well as suffering through Seattle sports teams' general futility. He has a Bachelor's degree in Finance and has worked in community banking for over 25 years, specializing in SBA loans. He is married and has two daughters.