Every good team needs them: set-up men. These are the players who create the play that allow the finishers to score goals.
Set-up men come in a variety of shapes and sizes. The best share common characteristics. They have strong puck handling skills, great vision, great anticipation and they are good passers. They are able to draw in defenders, opening up ice for their teammates. It helps if they can score goals themselves.
A good set-up play can result in the puck returning to the set-up man. The video below shows the Sharks best set-up man, Joe Thornton, initiating a play that comes back to him and he scores the goal. Thornton's initial pass comes with three Bruins surrounding him. His pass opens up the play and the defenders leave space in the mid-slot area from where Thornton buries his shot. The play looks easy, the quick initial pass by Thornton set up everything that followed.
At the start of last season, the San Jose Sharks had two set-up men on their roster. The first is Thornton. He is among the NHL's all-time assist leaders. Thornton is a puck possession monster. His strength and reach make it very difficult to get the puck away from him, and he's darn good at getting the puck from others. Because he is so strong on his skates, he creates more time to find the open man. Thornton is also a capable goal scorer, most wish he would use his shot more often.
The other capable Sharks set-up man from the start of last season is Joe Pavelski. Pavelski is now Thornton's linemate and instead of acting as a set-up man, Pavelski is the finisher. On that front, he has been elite. Pavelski, however, is a multi-dimensional player. My colleague Andrew Bensch recently highlighted Pavelski's abilities as a set-up man.
The Sharks New Set-Up Men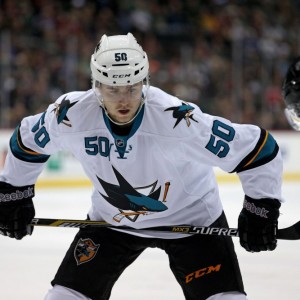 This season, the Sharks have discovered two new set-up players and have, at long last, deployed them effectively. The first is center Chris Tierney. Tierney showed promise in this role during the latter part of last season. But early this season, he struggled badly. In January, he was sent down to the AHL for a brief stint. He returned with his game revitalized.
Tierney now leads a fourth line that includes wingers Melker Karlsson and Dainius Zubrus. The line does not have great scorers, but it does score. Since the loss to Winnipeg on January 2nd, these three players have combined to score six even-strength (ES) goals and are a combined +10 in 17 games.
Rookie Joonas Donskoi is the other new set-up man. Donskoi began the season on the line with Pavelski and Thornton. Moving him off the top line and putting Tomas Hertl on it has profoundly changed the team. Hertl, a very good finisher, is a strong fit for a line with Pavelski and Thornton. Meanwhile, Donskoi's puck handling skills and open ice vision are helping his current linemates, Logan Couture and Tommy Wingels, to put the puck into the net. Wingels is in the midst of down season, but he has picked up his offense since joining the new line. Couture, a talented offensive player, is perhaps the Sharks best sniper. Having a player who can draw attention away from Couture is important, It allows Couture to find soft spots in the opponents defense. Not surprisingly, Couture's scoring touch has returned. A winger is perhaps an odd choice for a set-up role, but Donskoi's abilities translate well.
With so many high-profile rookies, Donskoi's rookie season has come in under the radar. He has put together a strong first season. Donskoi has 22 ES points thus far, placing him in a tie for fifth among rookies. That is just one point fewer than feted rookies Jack Eichel and Max Domi. Due to fewer games played, Donskoi's ES points per game is actually higher than Eichel or Domi.
Donskoi, Couture and Wingels have combined for nine ES goals and are also a combined +10 since the Winnipeg game.
The only forward line without a set-up player is the line with Patrick Marleau, Joel Ward and Matt Nieto. This line has had difficulty scoring, the three have combined for a modest seven ES goals in the past 17 games and are a combined -15. One of those seven goals came from Nieto, while he was on the ice with Tierney (50) and Donskoi (27).
The characteristics described earlier in the article for a good set-up player are on display on the video above. Tierney's entry into the offensive zone attracts two Ottawa defenders. His crisp backhand pass allows Donskoi a chance to split two more defenders, which he does with slick puck-handling. The fifth Ottawa defender has gone off on a line change. With two defenders drawn to Tierney and two others drawn to Donskoi, Nieto is left with open ice and lots of room to operate to score the goal. With good vision and a quick pass, Donskoi gets the puck to the streaking Nieto. The Sharks attack is outnumbered entering the zone. The good set-up efforts by Tierney and Donskoi result in a 1-on-1 with the goalie for Nieto and a go-ahead goal.
Set-up players provide great value for the Sharks. The Sharks now have four of these forwards. They are well-deployed by coach Peter DeBoer across three different lines. Their ability to create plays has been a key part of the Sharks recent rise up the standings.
ZEKE is a native of the DC area where he witnessed the birth of the Capitals franchise. After graduating from Cornell University, which had seen hockey glory before he arrived, he moved west to San Jose. There he witnessed the birth of the Sharks franchise. His wait to witness a Championship from any of these teams finally ended in 2018.