Today we hit the halfway point in our San Jose Sharks season review, and this subject happens to be very straightforward, the goalies. If you wish to catch up on our prior review articles, just click on the hyperlink.
Goalies
For San Jose, the goalie story is Martin Jones. Sharks general manager Doug Wilson coveted Jones, the former backup to Los Angeles Kings goalie Jonathan Quick. Wilson knew it would be difficult to pry Jones directly from the Sharks arch-rival.
When the Kings traded Jones to Boston for Milan Lucic, Wilson had his opening. A first round pick went to Boston and Jones came to San Jose as the presumptive starter. Jones quickly signed a three-year deal with San Jose.
Slightly less than a year later, this looks to be among the best trades ever made by Doug Wilson. And yeah, Wilson's the guy who has acquired Joe Thornton, Dan Boyle and Brent Burns via trade. Making Wilson's 'best trade list' is saying something.
Jones put up a solid regular season, his first as a full-time NHL starter. He posted a respectable .918 save percentage, improving as the season went on. He was a workhorse, playing in 65 games and winning 37. He also saved the best for last.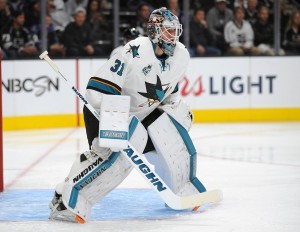 In San Jose's 24 playoff games, Jones played every minute of 23 games and about half of the 24th game. In the Stanley Cup Final against Pittsburgh, Jones was magnificent, stealing one game and nearly stealing two others.
The degree of difficulty was often off the charts, and yet he found ways to keep the puck out of the net. Many have suggested the series, which San Jose lost in six games, would have been a sweep for Pittsburgh if the goalies had swapped.
Overall, Jones playoff save percentage was .923 and the Sharks won 14 games. Had the Sharks somehow mounted a comeback and defeated Pittsburgh, Jones would have been the playoff MVP.
For Sharks fans accustomed to postseason goaltending dropping off from the regular season, Jones was a revelation. The bottom line is simple, the Sharks appear to have found a very good, long-term solution in Martin Jones.
The Backups
There were two other goalies who played for San Jose in 2015-16. Alex Stalock began the season as the backup. Stalock never found his game. A bizarre or adventurous goal seemed to happen almost every game he played. He was at or near the statistical bottom of the heap as the trade deadline approached. So the Sharks traded Stalock and acquired James Reimer from Toronto.
Reimer was so terrific in San Jose, he even stirred up controversy over who might be the playoff starter. He played so well there was even the potential to take Jones' job. In just eight starts, Reimer pitched three shutouts, posted a 6-2 record and recorded an eye-popping save percentage of .938. Jones squelched any potential controversy by playing stellar hockey himself. After Reimer's acquisition, the Sharks goaltending duo was perhaps the best in hockey.
The Reimer acquisition had little obvious benefit if one only looks at the standings. San Jose finished third in the Pacific Division, something which happens with or without Reimer. Had San Jose gone 0-8 in the games Reimer started, they still finish in exactly the same spot. He was a non-factor in the playoffs, with just one appearance in a mop up role.
In practice, though, Reimer made a difference, albeit an indirect one. His regular season play seemed to give the players a confidence boost by enabling a good finish to the season. More practically, it gave the coaches confidence to sit Martin Jones during games down the stretch. Giving Jones more recovery time between games probably helped him stay sharp for the postseason, and that paid huge dividends.
Reimer's Future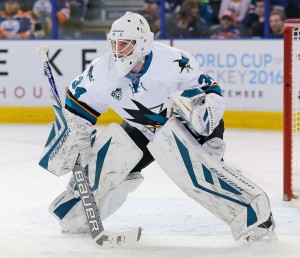 I've had some questions about Reimer's future in San Jose and I'll address those here. Reimer is unlikely to be the solution as San Jose's backup goaltender next season. He will look for a starting job and starting money in the offseason. He is deserving.
However, with an expansion draft looming a year from now plus at least one high-end goalie (Marc-Andre Fleury) on the market now, I can see a scenario where Reimer may not be thrilled with his destination choices.
Goalie movement in the offseason often has a musical chairs quality to it and the music has already begun. Frederik Andersen was just moved from Anaheim to Toronto. There are only so many starter openings and unless you get the one you want quickly, the remaining choices might not look so good.
If musical goalies does not go his way, there is some chance he re-signs in San Jose. Reimer would take up a bunch more cap space than San Jose would want to allocate to a backup goalie. But considering how critical backup goalies often are in the playoffs (including the backups for the Stanley Cup winners and the other Eastern Conference finalist Tamp Bay), it could be money well spent.
Under this scenario, Reimer's best move might be another season in San Jose. His numbers were outstanding and there is every reason to think he can continue to generate the sorts of numbers that will get him a very good deal one year later. After all, San Jose has a good defense and it plays in a division with not so good offenses. It is where a goalie looking to put up some good numbers prior to free agency wants to play.
If Reimer does stay, I expect he and general manager Doug Wilson would have some sort of gentleman's agreement about any potential trade. Certainly if a good team in the east had a goalie go down, Reimer would fetch a healthy return for San Jose while getting the starting role he wants. It could be a win for all.
Lastly
Though it will not happen, one can have fun speculating on a trade scenario involving Martin Jones. The Sharks are in a window, albeit a very brief one, where they could choose to make Reimer their goalie of the future and trade Jones.
Jones has shown he can take a team to the Stanley Cup Final and play lights out under great pressure. He's proven and he comes with a bargain contract for a couple more seasons. He could be worth a lot to any team wanting a long-term goalie solution. Or a very good team right now with a goalie problem. Would Dallas part with Jamie Benn? Goaltending is a huge missing piece there. Might as well think big because unless someone elite is coming back to San Jose, there is no point in even considering a trade.
A decade ago, Wilson traded to get future Hall-of-Famer Joe Thornton. If you're trading Jones, it is to get the next Thornton. If another team's general manager thinks Martin Jones is the next Martin Brodeur, he probably considers offering a Hall-of-Fame level player for Jones. Shouldn't the Sharks at least listen?
Come the expected expansion draft a year from now, San Jose can protect one goalie. Since he will not be traded, the Sharks  will protect Martin Jones.