It's a pretty safe bet that the Penguins will trade Marc-Andre Fleury during this offseason. That much we already know. Frankly, we've had a pretty good idea for a few months now.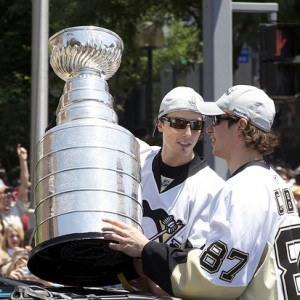 In March I wrote that Penguins' fans should appreciate Fleury while he was still in Pittsburgh. It will be a difficult transition from the "Fleury era", simply because he has been one of the most beloved athletes to come through the city. But there are a multitude of reasons that a move needs to happen, including financial concerns, an expansion draft, and basic division of playing minutes. As painful as seeing Fleury in another jersey will be, it is a necessary evil. Given the potential implications, General Manager Jim Rutherford needs to think very carefully about the return that he must get.
Letang Could Use Some Help
Kris Letang could have easily won the team MVP award, simply because the drop off to the next defenseman on the depth chart was so dramatic. The team would have been devastated if he was lost to injury. This alone should warrant a strong look at acquiring a capable defender in a potential Fleury deal.
The not big enough, not strong enough, not physical enough Penguins defense just held SJ to 2 shots in the third with the Cup on the line.

— Adam Gretz (@AGretz) June 13, 2016
Clearly the Penguins defense was capable of winning a Stanley Cup as constructed, but Trevor Daley is 32, Ben Lovejoy is a free agent, and Justin Schultz likely wont be back. Add to that the ongoing saga that is Derrick Pouliot, and the wildcard of post-injury Olli Maatta.
Pittsburgh's bread and butter was their breakout being driven by fast, puck moving defensemen. They cannot afford to neglect such an important piece of their identity.
One player that was suggested to me on Twitter was T.J. Brodie. I must admit that I am intrigued by the idea. The above HERO chart (which may only be visible on the desktop version of our theme) shows a top-rate playmaker, and a player that drives possession.
Brodie is only 26, and has a cap hit of $4.6 million. That is about $1 million less than Fleury. I think Brodie, a prospect, and a second-round pick for Fleury, Beau Bennett, and a fourth-round pick gets it done. That being said, I've played way too much Madden in my time, so take that for what it's worth.
Win Now…and Later
Former General Manager Ray Shero sacrificed prospects and draft picks to win during the perceived window of opportunity that is the prime of Sidney Crosby and Evgeni Malkin. Clearly that method did not work, and has left the organization with some significant concerns within their farm system. So what approach will Rutherford take with the most significant trade chip that the team has had in more than a decade?
What do the #Pens need the most in a potential Marc-Andre Fleury trade?

— THW Greg Thornberry (@Greg_Thornberry) June 18, 2016
The great thing about this team is that there is no pressure to make a "win now" trade. With few possible exceptions, this team is set for the next couple of years to play essentially the same roster that just won a championship. The big names are not going anywhere, and the young guys are just going to get better.
There is no need to continue the seemingly endless search for a winger to play with Crosby. It is always nice to acquire shiny new toys, but it is not necessary. This roster is in a good place, and Crosby and Malkin have two Cups. History does not need to repeat itself.
Flames tried hard on Andersen but now got to look at other options: Fleury, Elliott, Howard, Reimer… or Bishop if TB decides to move him?

— Pierre LeBrun (@Real_ESPNLeBrun) June 20, 2016
A defenseman, picks, and prospects would be nice. Maybe even a winger for Geno (gasp). The important thing is that the right move is made for the long-term, and the short-term well-being of the franchise. If the right opportunity does not present itself, then keep Fleury. The goalie market is a strange place at any time, especially after Toronto acquired Frederik Anderson from Anaheim.
Yes, the draft is fast approaching, and with it a gaggle of general managers in the same place. But Rutherford needs to take his time, and get it right. Just remember, long after Fleury is traded, Murray will have a bad game. Then all of the people leading the "trade Fleury" charge will be calling out Rutherford for not keeping their beloved Flower.
Until next time.