Since the 1995-96 season, Ken Kal has been the remarkable play-by-play voice of the Detroit Red Wings' radio broadcasts. Along with color commentator and former Red Wing Paul Woods, the Detroit native has called four Stanley Cups and 20 playoff appearances since taking over for the legendary Bruce Martyn.
Throughout his tenure, Kal has carried on the legacy of Martyn and Budd Lynch before him. In 2007, Kal received the Ty Tyson Award, which is presented by the Detroit Sports Broadcasters Association for broadcast excellence. He's also a member of the Polish-American Sports Hall of Fame.
Honored again to be selected by @Hour_Detroit along with Ken Daniels & @Dan_Dickerson as best sports play-by-play. pic.twitter.com/PIOX674Lng

— Ken Kal (@KenKalDRW) June 1, 2016
This past week, I had the opportunity to interview Kal about his career, the Red Wings, and his personal life.
And now, It's time to drop the puck with the Red Wings' Ken Kal.
Tony Wolak (The Hockey Writers): What made you want to get into play-by-play?
Ken Kal: Well, I actually went to college to get into radio and it dropped in my lap by accident. My original plan was to major in mortuary science. But as a freshman, I got involved in the student radio station WAYN Radio and when it came time to declare a major I chose broadcasting.
I was in Ann Arbor at a radio station when the station got the rights to broadcast University of Michigan hockey. Nobody at the station at the time knew anything about hockey, so they gave me the opportunity to do it and that's how I got started. That was back in 1984.
THW: Were you happy hockey fell into your lap, or did you want to do sports or general radio?
Ken Kal: I think I always had a soft spot for hockey and play-by-play, and growing up as a kid I always liked the sport. I always loved radio as a kid. When I was 10-years old, my dad bought me a tape recorder and I would tape the hockey games off the radio. I looked at it as a great opportunity. Now, at the beginning, it took a while for me to get familiar with how to do it. That took a little bit of time, but once I started doing games, everything fell into place.
So in 1984, my first year was when Red Berenson came in as head coach and we both kind of started up together. It was a great experience. I spent a lot of years broadcasting Michigan hockey and from there went on to the Red Wings. I told my dad as a kid that one day I want to be the Red Wings announcer. It came true.
The ice is ready the towels are on the seats. We are ready for the big game! #LGRW #2016stanleycupplayoffs pic.twitter.com/IwP5yeZ9uj

— Ken Kal (@KenKalDRW) April 17, 2016
THW: The NHL has changed a lot since you started the 1995-96 season with the Red Wings. What's one innovation that you think has really improved the game?
Ken Kal: Back when I started, there was a lot of clutching and grabbing in the game and it slowed the game down. I remember when the Red Wings were in the Stanley Cup Final against the Devils in 1995 — the Devils were the masters of clutching, grabbing and trapping, and it really slowed down the game.
I think one of the biggest innovations over the years is the fact that you can't do that anymore. It's a skating game now and you have to be skilled. You can't use your stick to slow people down. I think all the different changes regarding players giving them an opportunity to showcase their talents really changed the game. It's now more of a skilled game, as opposed to players with less skill slowing the game down. To me, the game's much faster and it's more fun to watch.
THW: Fast-forwarding to another great Red Wings team—the 2008 Stanley Cup team—I saw the interview that you did about coming down with laryngitis just before Game 6. The Red Wings flew in Ken Daniels to do the radio broadcast and in the final minute, he said 'you're ending this!' Take me through your mindset when he passed you the mic.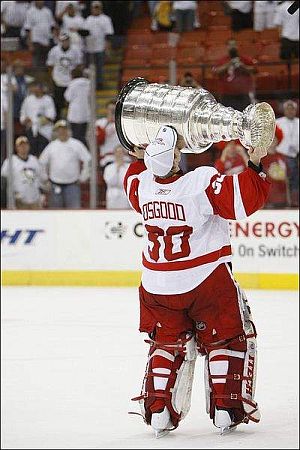 Ken Kal: Well, it came as a surprise and I hadn't talked all day, just because I couldn't talk. I could talk a little bit, but I didn't know how long it would last. But when he told me with a minute to go, 'put your headset on, you're doing the final minute,' we got into a little bit of an argument while Paul Woods was talking. Something like 'I'm not doing this, you're taking it,' he responded back 'yes, you are!' We went back and forth and finally he threw it to me and I had to do it. I had just enough voice left. That was nice of him to do that.
I was a little bit nervous because I didn't know if I could talk and when you think about it, this is a call that people are going to remember. It's the Stanley Cup end-of-game call and I was calling it and couldn't talk. I thought people will remember it and say it was pretty bad, and that's why I wanted Daniels to do it because he had a voice and was calling the game, so why not let him do it. Luckily for me, I had enough voice left just to get the call in and everything turned out good.
THW: That was quite an exciting last few seconds to end the game.
Ken Kal: It sure was. They almost tied it up. With 10 seconds left — they were all over Osgood. He had to make a great save and the rebound went right through the goal mouth. The time ran down and the game was over. It was quite a flurry there to end the game.
What's amazing is the following year, 2009, it was the other way around. Lidstrom had a glorious chance to tie the game with a few seconds left in the game to send it into overtime. But with two seconds to go, Fleury made a remarkable save. It's funny how both teams played each other in back-to-back years and Osgood made a great save one year and Fleury made a great save the following year.
THW: Last question about you and your career. I was driving back from one of my games and turned on the Tigers game on my MLB app, and was surprised to hear you were the person calling the game instead of Dan Dickerson. How'd that come about?
Tigers vs Blue Jays tonight @971theticketxyt
Fulmer vs Happ Tune in for all the action. pic.twitter.com/9AHb80IZW6

— Ken Kal (@KenKalDRW) June 6, 2016
Ken Kal: I was filling in for Dan Dickerson and it was the second time I filled in for him. I filled in for him in 2013. Then, they made the call to the bullpen and I went back in and did the game. It's fun to do just because it's different from hockey. It's a challenge and a different way of broadcasting a game.
Hockey is so much different than baseball. In baseball, you're filling a lot of space and let the game breathe a little bit. You're not talking as much and in hockey, you're always calling the action. That's what I like about hockey on radio—you have to stretch the canvas and paint the picture for the listeners. You have to tell them who's got the puck and where it is at all times. There's a lot of action on the ice and as far as baseball goes, it a change of pace. It's not bad really, it's great.
I grew up in Detroit and have always been a Tigers fan and played baseball all my life. I listened to Ernie Harwell, and years later to broadcast the game, it's an honor for me. Ernie Harwell and Ray Lane—all those great guys that have called the game before. Ty Tyson going way back in the years.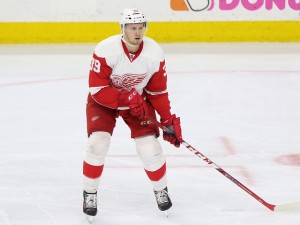 THW: Back to hockey. This is going to be the youngest Red Wings team in some time. This is certainly a change of pace, isn't it?
Ken Kal: It is. I think that the Red Wings had a down year last year, even though they made the playoffs. I really thought that they thought they would be better. I think going into the season they'll be looking to get better. One of the things that I think they're looking at doing possibly at the draft is getting a little bit bigger and stronger up front. With that said, maybe during free agency they'll go out and look at somebody who can fill that void. Perhaps at the draft, they might make a change. Make a trade or two. In order to do that in the salary cap world, they'll need to clear some cap space. That can be in more than one spot. It could be a trade—moving players around and more younger players coming in from Grand Rapids.
I think you'll see some of the guys in the organization like (Anthony) Mantha and Dylan Larkin of course really getting some big roles on this team and maybe see more of (Alexey) Marchenko back there on the blue line, along with (Xavier) Ouellet and (Ryan) Sproul.
THW: Whether it's Mantha, another younger player, or even a veteran having a better year, who, in your opinion, is poised for a breakout year with the Red Wings?
Ken Kal: I just think it was a down year offensively for the Red Wings. Their power play wasn't very good. I think (Gustav) Nyquist and (Tomas) Tatar still have the ability to put the puck in the net. I think with the power play not being as effective as it was the year before, the numbers are down for some of those players. I still believe in guys like Tatar and Nyquist and think the power play should get a little better, depending on how they're going to change things around this year. It can't be any worse—at least I don't think so.
They've made some new additions to the coaching staff and I just think it's going to get a lot better. I think you can still get more offense from guys like Riley Sheahan, Tatar and Nyquist, just to name a few. If you can and are able to score some more goals, then that results in more victories for your team and more points in the standings.
THW: Last question about the Red Wings. Being with the Red Wings for as long as you have, what's your favorite memory—either being around him as a professional or seeing him as a kid—of Gordie Howe?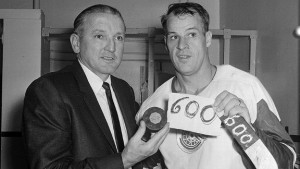 Ken Kal: He was always my favorite Red Wing growing up. Whether we had a pond in the backyard or playing on the road, you always wanted to be Gordie Howe. I was no different. I had a pond and ice rink in my backyard. I remember I had a red sweater and I cut out a No. 9 and taped in on the back. He was my favorite player, and my first ever game I went to was at the Olympia. It was Jan. 25, 1969. It was an afternoon game and Gordie Howe scored. They won—the Red Wings came back and scored three goals in the third period and won 5-3. It was amazing for me to be able to watch Gordie Howe play and to actually have him score a goal. At the time, he was the greatest goal scorer of all-time. That's like being a Babe Ruth fan and watching him hit a home run. A lot of great memories of Gordie—he was great with the fans, always kind, signed autographs and was a terrific player on the ice.
THW: During the season, what's your favorite pregame meal?
Ken Kal: Mexican. Anything from Mexican Village close to the Joe.
THW: What's on the summer playlist while you're on the boat?
Beautiful day on Lake St Clair! pic.twitter.com/yY5RCffo2v

— Ken Kal (@KenKalDRW) June 18, 2016
Ken Kal: I like to call it 'all-over-the-road' music. It depends on what mood I'm in. Sometimes 70s and 80s music. Other times jazz. And sometimes country music.
THW: What's your go-to summer grilling food?
Ken Kal: Chicken. I love grilling chicken. Barbecued grilled chicken.
THW: What's your favorite Polish dish?
Ken Kal: Gołumkies (stuffed cabbage), mashed potatoes with mushroom gravy, and rye bread. Definitely gołumkies with the red tomato sauce on top.
Enjoy the summer, Ken. We'll see (hear) you in just a few months when the Red Wings return to action.