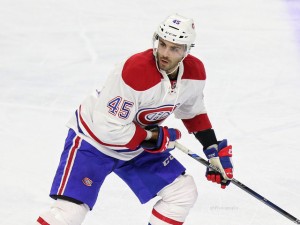 When Mark Barberio recently signed his new two-year contract with the Montreal Canadiens, it brought about some highly sought-after stability, both for the defenseman and team.
It was the first-multi-year deal for Barberio since his entry-level one, and it was one-way, meaning, if he ever were to get sent down, he would still collect his average $750,000 NHL salary.
Essentially, that $750,000 salary-cap hit benefits both parties, giving the team both some flexibility on the back-end and the incentive to keep Barberio up with the big club. And why wouldn't they? If Barberio plays like he did last season, putting up 10 points in 30 games and driving possession in a largely depth role, the deal stands to become one of the team's top bargains in 2016-17.
Barberio places cleanly in the top five Canadiens contracts as a result, with an honorable mention to P.A. Parenteau who put up 41 points last year despite the Habs devoting just $1.33 million in cap space to the top-six forward.
And people say the Habs lack depth on the right side.
4) Nathan Beaulieu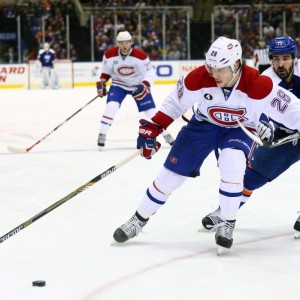 At 23 years old, defenseman Nathan Beaulieu may have yet to live up to his massive potential as a former first-round pick (17th overall in 2011). However, that doesn't mean he's been a disappointment, especially considering his $1 million price tag both last season and this upcoming one.
In his first full season with Montreal, Beaulieu put up 19 points and even enjoyed some ice time with P.K. Subban on the top pairing, which ended up one of the top duos, time-wise, head coach Michel Therrien had in his back pocket.
Granted, "top" here means the sixth-most utilized pairing and that's double what most teams use on a game-to-game basis. However, in Therrien terms, that's incredibly impressive. He did after all end up using over 25 overall. That, in turn, is kind of mind-boggling, but we're not here to judge (much).
The point is, Beaulieu on the top pairing is most likely a sign of things to come. With Subban's usual partner, Andrei Markov, on his last legs (or at least his most recent set after who knows how many bionic upgrades), his time spent with Beaulieu is likely only going to rise from here on out.
So, $1 million for a potential top-pairing puck-moving defenseman? More, please.
3) Brendan Gallagher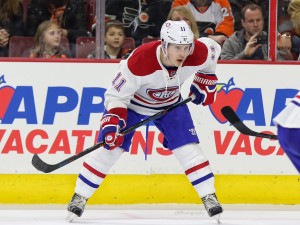 While Brendan Gallagher isn't your stereotypical first-line forward, before he got injured in late November, he did have 19 points in 22 games, including nine goals.
Understandably, once he returned to the lineup, his production stagnated, but he did finish strong with 14 points in his last 18 contests, and ended up on pace for almost 30 goals over a full season.
Because he just turned 24, there's every reason to believe he can produce at a similar or even higher pace next season, all at an incredible cap hit of $3.75 million. Consider how Boston Bruin Brad Marchand, who admittedly hit an uncharacteristic career-high of 37 last year but is usually good for 25, has one of $4.5 million (a difference of one Barberio).
Admittedly, it's hard to believe Gallagher will still be a steal by the end of his six-year contract in 2021. His crash-the-net style of play just doesn't lend itself to a long, productive career, but it's not like he'll be an absolute burden on the team either, thanks to the cost-effective pact. For now, it's definitely among the team's best, if not the league's.

2) Alex Galchenyuk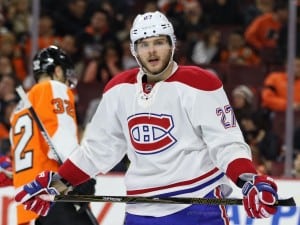 In his first 30-goal season of hopefully many, Alex Galchenyuk cost the team just $2.5 million. His cap hit was just $2.8 million, with a modest $600,000 raise to $3.1 million due his way in 2016-17.
Don't feel too bad for him. Like Subban did before him with his bridge contract a few years ago, Galchenyuk is likely to strike it rich with his next deal.
There's an argument to be made general manager Marc Bergevin didn't learn his lesson with Subban, who now has an eight-year $72 million contract. However, the simple fact is the Habs have a player who scored 30 goals with a cap hit of just a bit less than a third of that of New York Rangers forward Rick Nash ($7.8 million), who just scored only 15.
It's contracts like Galchenyuk's that make the team's fervent fan base optimistic about the team's ability to bounce back in the short term and ice a legitimate contender again as soon as next season. Granted, once 2016-17 comes and goes and Galchenyuk is due for a massive raise, how the team will fare is anyone's guess.
1) Max Pacioretty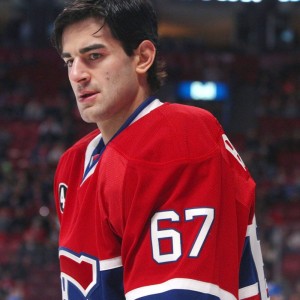 Captain Max Pacioretty is quite the polarizing figure, due in part to the popular misconception he isn't fit to lead as he doesn't show up when it matters most. Of course, as he just led the team in points for the fifth consecutive season and led the team in goals their last playoff run, he might actually show up more often than everyone else.
However, that just doesn't fit the narrative many have decided is much more interesting.
While his cap hit is higher than Galchenyuk's at $4.5 million and he scored the same amount of goals last year (dropping from being on the verge of scoring 40 to hitting just 30 in the process), Pacioretty still takes the top spot. That's for the simple reason that he is in his prime and will be under contract with the same hit for the next three seasons.
Whereas Galchenyuk will likely earn a massive raise after next season, Pacioretty will remain one of the entire league's most cost-effective forwards for the foreseeable future, regardless of what people in the background have to say. That's why the notion that the Canadiens "will never win with players like" him, according to Guy Lafleur once upon a time, makes no sense. It takes bargain deals like his to build a championship team around.
Pacioretty may never reach 40 goals, but who says you need to in order to be effective? Pittsburgh Penguins forward Phil Kessel never did and the Toronto media said essentially the same thing about him, that he can't contribute to a winner. Look at where he is now, a recent loser of just the Conn Smythe Trophy, reportedly by the slimmest of margins.
Sure, Kessel had the benefit of Sidney Crosby and Evgeni Malkin. He also had nearly double the cap hit relative to Pacioretty last season. So, ask yourself this, presumably as a Canadiens fan, who would you rather have: Pacioretty or Kessel?