We have reached the sixth section of our San Jose Sharks season review, covering the coaching. For prior articles in the series, just click on the hyperlink.
Coach
The San Jose Sharks hired Peter DeBoer to replace Todd McLellan, a respected and successful coach. McLellan, for a variety of reasons, had a miserable final season in San Jose. The team was a train wreck.
It was up to the new coach to pull the team together for the 2015-16 season. DeBoer was fortunate in one regard — not many train wrecks had San Jose's talent.
At the time of DeBoer's hiring, I was agnostic. He had a not so great coaching record leading teams with not so great personnel. Lots of very good coaches had less than stellar records in their first jobs when handed very modest talent. DeBoer brought in his own staff, adding Steve Spott (they had worked together extensively), Victor Hedman (his former goalie), and defensive specialist Bob Boughner (longtime friend and former OHL opponent).
A Familiar Start
Early in the season, I described DeBoer's approach as "what would Todd McLellan do?" As the season went on, though, it became apparent DeBoer was his own man in the job, with a preferred style for how to introduce changes. DeBoer started with the baseline of what the prior team had done, then began a process of periodic, incremental adjustments. DeBoer seems averse to disruptive change while embracing patient change. By season's end, he had put his own definitive stamp on the team.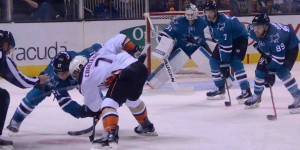 DeBoer did have advantages over the 2014-15 edition of the Sharks. Joe Thornton was over his prior season injury. Paul Martin had come to town to bolster a thin blue line. Joel Ward had arrived to provide added forward depth. And Martin Jones was the new starting goalie.
DeBoer stated his desire to roll four lines and three defense pairs. At the start of the season, it did not happen. DeBoer played fourth liner Mike Brown with great frequency, meaning the fourth line saw limited minutes. DeBoer piled minutes onto 36 year-old Patrick Marleau. Marleau exceeded 20 minutes of ice time in nine of the Sharks first 20 games. DeBoer didn't much trust Matt Tennyson, the sixth defensman, so he often played only five defenseman for large chunks of a game. McLellan had also played Mike Brown in games while limiting fourth line minutes, piled minutes onto Marleau and put Matt Tennyson into his doghouse.
Change Happens, Slowly
But DeBoer also started to make changes. He experimented with the sixth defenseman spot and eventually settled on Dylan DeMelo as Brenden Dillon's full time partner. With Logan Couture's injury-related absence, DeBoer kept Marleau on the second line. But not long after Couture returned, he split the two up. He had Marleau center the third line, also cutting back on his minutes.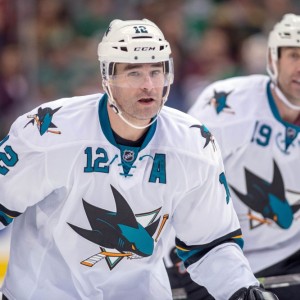 When DeBoer shifted Marleau to the third line, it allowed Tomas Hertl to play wing on the Thornton line.
As the Sharks health improved and a comfort level developed with DeMelo, San Jose started rolling four lines and three defense pairs. It really kicked into gear with the acquisition of defenseman Roman Polak in late February.
DeBoer pushed two major adjustments. One was the forecheck. San Jose improved in this area, DeBoer pushed this harder when he had four trusted lines. Later in the season and into the playoffs, the Sharks forecheck was very effective.
Second, and perhaps more critically, he made a big deal over forwards rotating back so defensemen could take the puck deeper into the offensive zone. It took half a season for this discipline to take hold but once it did, it was transformative. One beneficiary was Marc-Edouard Vlasic, who blew away his career scoring totals. By far the biggest beneficiary was Brent Burns. It fit his game perfectly. Ironically, Burns was perhaps less aggressive but more effective.
Reaching the Players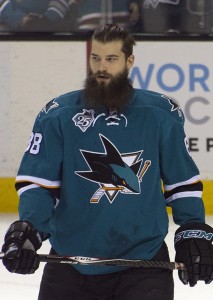 Everyone learns things in different ways. DeBoer and his staff reached Burns in ways prior coaches hadn't. They coaxed Burns out of portions of his high-risk style without hindering his overall play. When Burns went down low, a Sharks forward peeled back for defensive coverage. Burns, a superb shooter, found himself making more shot passes which teammates could use to redirect the puck on net. He made slightly earlier departures from his point area to cover his defensive transition responsibilities. One thing which virtually disappeared — the times one would see Burns turning 180 degrees to try and catch up on a play.
With the forwards rotating back, there was a huge drop in odd man rushes against the Sharks, especially the high percentage 2-on-1 and breakaways. Teams are usually trading off between aggressive offensive zone pressure and staying defensively responsible. San Jose did both effectively.
It all came together for the team in early January. With four lines rolling, comfort in all three defensive pairs, an improved system, improved play from Burns and the return of a healthy Couture, San Jose was on its way.
DeBoer did a nice job of bringing along Joonas Donskoi. Donskoi was an experienced rookie, having played several years at a high level in Finland. DeBoer skillfully managed Donskoi's development, not trying to have him do too much, yet giving him important roles from the start and increasing his opportunities as he merited them.
http://gty.im/512180902
With early injuries, DeBoer suggested the Sharks look at his former player, Dainius Zubrus. Zubrus, at age 37, had come up short in a player tryout with St. Louis. San Jose looked to be his last shot to continue in the NHL. Zubrus proved a great fit, playing effectively in several roles and excelling on the penalty kill.
DeBoer rode goalie Martin Jones hard, as backup Alex Stalock's game declined rapidly. By the time the trade deadline rolled around, DeBoer and general manger Doug Wilson were on the same page about the needs for San Jose. They acquired physical defenseman Roman Polak. They added a useful, defensive-oriented forward in Nick Spaling and a very good back-up goaltender in James Reimer. Spaling became a regular on the teams lower lines. Polak was paired with Dillon as the third defense pair and Reimer provided effective relief for Martin Jones.
Pulling It All Together
DeBoer process of patient change allowed the team time to incorporate each change effectively. Cumulatively, there was a lot of change, but it all occurred in small increments. This helped the team chemistry, not a small accomplishment after the bumpy prior season.
Still, if there was a weakness, it was embedded in DeBoer's strength. In a season, adjustments get to play out over a long period of time. The playoffs are a different story, lose four and its over. DeBoer was reluctant to make changes, even as needs became apparent in the Stanley Cup Final. With a hot goalie but a team struggling to skate with Pittsburgh, DeBoer stayed true to his approach. He made only modest adjustments, juggling players mostly between the second and third forward lines and shortening his bench. More radical adjustments were required.
Making the Room Work
All in all, there is much to be respected in DeBoer's work. He is comfortable making adjustments, seems to have a good working relationship with the GM and a very good feel for the room. I'll cite one example where he made a move for the players, even if most pundits dismissed it.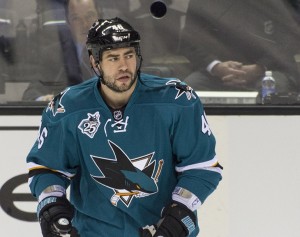 In his first game for San Jose, Roman Polak was called for a penalty when Edmonton's Matt Hendricks went hard into the wall. The replay showed Polak was innocent, but on his way back to the bench, he was jumped by Edmonton's Darnell Nurse. Polak was hit before he knew he was in a fight. He was bloodied and suffered a broken nose. When San Jose played Edmonton shortly thereafter, DeBoer promoted Micheal Haley from the AHL and inserted him into the lineup to fight Nurse. If every point in the standings matter, DeBoer ignores what Nurse did to Polak and fields the line-up with the best chance to win. But DeBoer understood the room. The players wanted a coach who would fight back. He gave the room what it needed. Haley fought Nurse. The Sharks lost the game. But DeBoer did what mattered most that night, he united the team.
Back in April, as the regular season was coming to a close, we did a piece which included the best new addition to San Jose. In a season where several newcomers impressed, I had DeBoer at the head of the pack. In ways big and small, DeBoer pulled together this team, playing a major role in the best result in franchise history.
ZEKE is a native of the DC area where he witnessed the birth of the Capitals franchise. After graduating from Cornell University, which had seen hockey glory before he arrived, he moved west to San Jose. There he witnessed the birth of the Sharks franchise. His wait to witness a Championship from any of these teams finally ended in 2018.