At this time last year, most Sharks fans were upset. At least those who still cared were. The prime target for their anger was general manager Doug Wilson. Calls for his firing were rampant. Fans chanted for his firing on fan appreciation night, the Sharks home season finale in April 2015.
In May of 2016, the fans are again screaming loudly inside the Shark Tank. There were no chants of 'give Doug Wilson a pay raise' during the Sharks dominant Game 7 victory over the Nashville Predators last Thursday night. But there was no doubt the raucous crowd fully approved of the team Wilson put together, as it advanced to the Western Conference Final.
In the preseason, I indicated Wilson had chosen a challenging path. I likened the odds of Wilson pulling off a turnaround that would take the Sharks to the Western Conference Final to that of drawing to an inside straight in poker. Roughly 10%. And yet, here are the Sharks, in the Western Conference Final.
In recent days, articles have come out that describe Wilson's work. Some have praised him, others have suggested he has been more lucky than good. I am among the former, while acknowledging there are elements of luck embedded in this success.
What Needed To Go Right …
A lot of things had to go right, even beyond players playing effectively. Three things in particular needed to go right.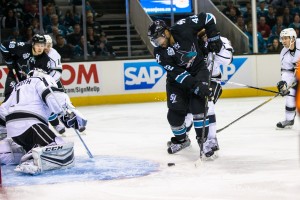 Health is the first major issue. Players get hurt often and aside from those with injury histories and older players who are more susceptible, there is a lot of luck in who stays healthy. Wilson went into this season with four key players who are over age 35, then added fifth during the season who is 37.
Second, players who were unproven in some important aspect would need to over-achieve. The Sharks needed a rookie to find a place among the top six forwards, a goalie new to a starting role to play at a high level and two struggling defensemen to turn their games around.
Third, a new coach and coaching staff would need to reclaim the room, bury the craziness of the prior season, and garner the respect needed to advance the team. Further, the coach would need to get buy-in to a new system and integrate several new players into the lineup.
… Went Right
In this postseason, the Sharks key players are all healthy. Only forward Matt Nieto, the team's 15th leading scorer during the regular season, has missed games due to injury. He was replaced in the lineup by Tommy Wingels, the team's 14th leading scorer. When the Sharks last visited the playoffs, Dan Boyle was compromised from his concussion while Raffi Torres and Tomas Hertl were essentially skating on one leg. The Sharks player most difficult to replace, Marc-Edouard Vlasic, was injured early in Game 5 of the playoffs. He missed the remaining games, all losses.
As for the five players who are at least 35, they are all currently healthy and they are all in the lineup. They played nearly 30% of the team's total ice time in the series opener against St. Louis.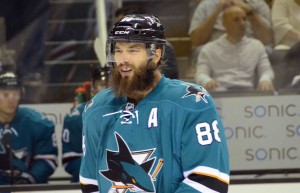 On defense, it look a long time, but Brent Burns found his defensive game. It was never a given that he would ever find it. Burns still finished the season as a minus player due to a problematic first half of the year that resembled his problematic prior season. But the turnaround happened and it was breathtaking in its scope. Burns became better on defense and offense. Less noticed but also important is the considerable improvement in defenseman Brenden Dillon's game, who went from a minus-11 last season to a plus-8 this season, despite working mostly with inexperienced partners.
In goal, Wilson identified the player he wanted and got him. 'Stole him' might be a better description than 'got him', given the price Wilson paid, the contract Martin Jones signed and the performance of the player. Jones has been very good while taking home a bargain salary.
Joonas Donskoi was an unlikely rookie success, plucked out of the top Finnish league and making his NHL debut at age 23. Donskoi's skill set made him an ideal addition to the roster, he has found his way to the second line.
Wilson rarely dipped more than a toe into the free agent waters, but this year he made two major free agent acquisitions and they have both paid off. Paul Martin has been effective in his own right while playing a key role in Burns' improvement. Forward Joel Ward has also been effective and there has been a ripple effect. Combined with Donskoi, the Sharks added 2/3 of a forward line with second line talent. This pushed more marginal depth players out of the daily lineup, allowing the Sharks to roll four lines, an underappreciated element of the team's success.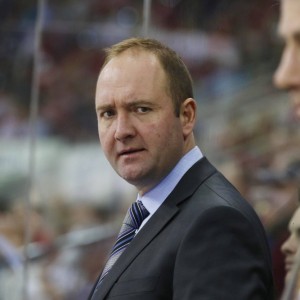 Wilson hired Peter DeBoer as head coach, who in turn, brought in a new staff. This has worked. DeBoer helped turn the page from the problems of 2014-15. His stamp on the team became more evident as the season progressed. It is hard to give DeBoer and his staff credit for individual improvements. But when a significant number of players beat expectations, it probably means the coaches are getting things right.
Wilson made trade deadline moves for Roman Polak, Nick Spaling and James Reimer. These moves have been good, perhaps not great. Polak has brought a ton of physical to his spot on the blue line, but he has not been a great compliment to Brenden Dillon. Spaling has been a fourth line player, marginally effective. Reimer was terrific in goal during the regular season for the Sharks and it helped the team gain more points. The team didn't need the points as much as it needed the confidence boost Reimer provided. In the playoffs, he has been a spectator.
Pretty much everything Wilson needed to go right, has gone right. With all the moves, some coming with substantial risk, it is worth noting that none have gone badly.
Wilson's Vindication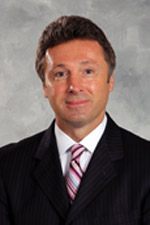 Doug Wilson built this team. Among the coaching staff and roster, only one person (Patrick Marleau) was part of the Sharks organization prior to Wilson's arrival. Wilson's meltdown season in 2014-15 was the aberration. He took tons of criticism for last year, he earned much of it. This season, he dealt himself a new hand and it has worked. The Sharks have made the playoffs during all but two seasons in Wilson's tenure, which began back in 2003. The Sharks have a dozen playoff series wins in that time. These are reasons that when people were clamoring for Wilson's dismissal, I was not on board, even as I was dismayed by the 2014-15 season. When times are tough, the track record explains what is the norm and what is the aberration.
As Sharks general manager, Doug Wilson has been good for most of his tenure. This season, he has also been a bit lucky. A bit lucky is par for the course when making a deep run in the Stanley Cup playoffs. Playoff success was Wilson's sole path to vindication and his team has accomplished it.
Vindication for Wilson is complete. Still, this is an individual accomplishment. It is not the ultimate reward; the Stanley Cup is. From where the Sharks are now, the odds are better than they've been in a long time.
Zeke's Notes
With Tampa Bay backup goalie Andrei Vasilevskiy starting opposite the Penguin's Matt Murray, the total cap hit for the four currently starting goalies in the conference finals totals $7.05 million. Four NHL goalies have an individual cap hit of at least $7 million. The biggest cap it in the group belongs to the Sharks' Martin Jones ($3 million). Jones is 29th in cap hit among the league's goaltenders this season. The Blues Brian Elliott, Jones' opponent in their playoff series, is 30th. Only counting goalies who played in the NHL this season, Vasilevskiy's cap hit is 50th and Murray's is 75th.
The Los Angeles Kings recently extended coach Darryl Sutter for another three seasons. Sutter's track record, including two Stanley Cups, speaks for itself. But Sutter is also known for wearing out his welcome after a handful of seasons. I expect this is his last deal with LA, and would not be surprised if he doesn't finish all three years of it.
ZEKE is a native of the DC area where he witnessed the birth of the Capitals franchise. After graduating from Cornell University, which had seen hockey glory before he arrived, he moved west to San Jose. There he witnessed the birth of the Sharks franchise. His wait to witness a Championship from any of these teams finally ended in 2018.