The past week has seen the Sharks begin to overhaul last season's not so competitive roster. These moves carry hope, but also significant risk.
Exit The Scotts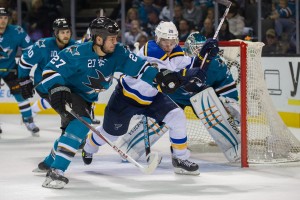 It seems that Sharks general manager Doug Wilson must have decided he didn't want any more players named Scott around. Forward John Scott and defenseman Scott Hannan departed the Sharks organization when Wilson decided against offering either a contract. It is not difficult to see why. John Scott was mostly there to protect younger players, an enforcer-type role. And while many criticized Wilson's move, it seemed to work. The Sharks avoided major cheap shot injuries, something that they had been hit hard with the prior season. Scott Hannan, the old veteran, had a pretty good year for the Sharks. While playing third pair minutes, Hannan was the Sharks most fundamentally sound defenseman. He rarely contributed significantly once the puck exited the Sharks zone and crossed center ice, but he was rarely out of position when the puck came back in the other direction. His GF and GA (goals for and goals against per 60 minutes at even strength) were both among the lowest on the team. He was a 'do no harm' player. Which, given his very modest contract, was a very good return.
Enter The Martins
In the past few days, the Sharks added a pair of Martins, goalie Martin Jones and defenseman Paul Martin.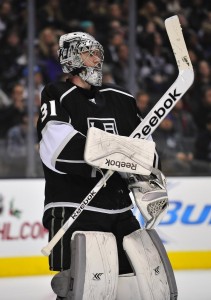 In the case of Martin Jones, the Sharks gave up plenty to acquire him, a first-round draft pick next year along with a prospect that appears to be a long shot. A first-round pick is valuable under any circumstance; it could be extremely valuable if the Sharks fail to make the playoffs. I have seen comments that say this pick is not 'lottery protected' though nothing I consider definitive. While this Sharks team looks improved, it is hardly a given that they will make the playoffs. The division is plenty tough. It wouldn't take a much to derail a team that is not very deep, that is adjusting to a new coach, whose top stars are aging and that has no identity after last year's struggles.
A first-round pick is a reasonable price to pay for a top-10 quality goalie. Cory Schneider, Tukka Rask, Marc-Andre Fleury and Carey Price are among the goalies that have been selected in the first round. In Schneider's case, not only was he drafted in round one by Vancouver, he was also traded to the New Jersey Devils for a first-round pick.
The issue with the trade for Martin Jones is that Jones is unproven, and the Sharks paid for Jones as if his success was highly probable. The Sharks management immediately doubled down on Jones and gave him a three-year deal valued at $9 million.
I agree with the thinking of my colleague Andrew Bensch that the draft pick which was sent to Boston was a bit much. Still, the thought process behind this acquisition makes sense. If it works, Jones is a long-term solution for a team in need of a long-term solution. Even if Jones fails, or someone else shines and takes the job from him, the downside scenario (setting aside the draft pick for the moment) is not that bad. Jones winds up being an overpaid back-up for a few years or an asset that can be traded. Given the upside, the downside risk is quite reasonable.
Paul Martin is 34 years old and has been a stalwart on the Penguins blue line in recent years. I do not see a lot of the Penguins games, but the impression I get from those I've seen is that Martin is a very good all-round blueliner, though more headlines have gone to players like Kris Letang and last year's departures from Pittsburgh, Matt Niskanen (who I also like a lot) and Brooks Orpik.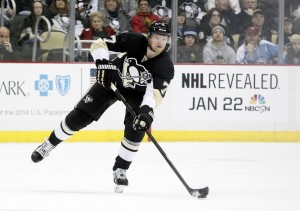 Paul Martin's deal is just under $5 million per year for four years. A year ago, Doug Wilson was on a rebuilding kick. Clearly bringing in a 34-year-old defenseman is not rebuilding. In this case, resurrecting would be a better term. In the 'pride cometh before a fall category', Doug Wilson stuck his neck out and declared Brent Burns would return to playing defense after a year of being an absolute beast in a forward role. Well, he wasn't all that good as a defenseman this past season. More importantly, it seemed nobody the Sharks paired with Burns had much chemistry with him.
In a prior article, I broke down the sort of frustrating play that made Burns such a liability. It was a play where Burns did not trust his partner, Scott Hannan, to do his job. First mistake. Then Hannan trusted Burns to do his job. Second mistake. Result: a goal for the other team. While my preferred solution is to return Burns to where he was a beast, Sharks management decided it would be best to find Burns a partner that mitigates his defensive issues.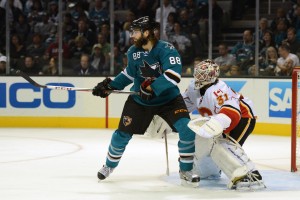 It seems Paul Martin is being brought here specifically to address the 'Brent Burns on defense problem'. In that regard, I think Sharks management has probably gotten one of the best available people qualified for that role. Resurrecting the blue line career of Burns seems more like a face-saving move than a solid hockey move. The problem of course, is that using a $4.8 million defenseman to make sure a $5.8 million defenseman isn't a constant liability is a pretty inefficient use of resources. While this move may reduce the criticism associated with Burns as a defenseman, other options might have made more sense. Andrej Sekera, a good free agent defenseman in the prime of his career, cost only a bit more per year than Martin. My preference would have been to acquire Dougie Hamilton, who is already a good player and still a few years away from hitting the prime years of his career. Hamilton was also was less than $1 million per year more than Martin. Alas, Calgary got the deal done for Hamilton, not the Sharks.
Knowns and Unknowns
In the case of goalie Martin Jones, he is an unknown, trying to become a known. With less than 30 NHL starts, he is on the verge of getting the opportunity he needs to make a name for himself. The risk is that Jones never becomes the player the Sharks hope he'll be. The upside is that he does.
In the case of Paul Martin, he is a known, with over a decade of good hockey behind him. For him, the future is the unknown. He is 34 now and has a contract that will go through his 38th birthday. The question is: will his game start to falter at some point during this deal? The Sharks have recent experience with aging defensemen. Brad Stuart played well at age 33, then struggled at age 34, with injuries playing a role. Dan Boyle was playing well at age 37 until a sickening hit changed the course of his season. Scott Hannan played effectively in a third pair role through age 36, before the team decided not to keep him. With Paul Martin, the risk is that he stops being the player he has been, leaving the Sharks with a substantial gap between contract and performance. The upside is that he keeps on being what he has been for a very long time and in the process, advances Brent Burns' game as well.
The Window
In summary, both deals pass the logic test. Both deals address specific issues from last year. Both carry notable risk. If both deals work as Sharks management hopes, there should be a real improvement over last year's team. Just in the division, the Sharks will need to contend with a newly tough team in Calgary, a Vancouver team that was much improved last season plus the Southern California foes that have provided plenty of heartache.
Getting better is different from being a serious Cup competitor and these moves would have to work out superbly for them to move the needle that far. My sense is that these moves get the Sharks closer, with a reasonable chance of returning to the playoffs. Serious contender, though, seems a stretch. At this point, what is clear is that the Sharks expect to finish next season with 1/4 of their payroll spent on 3 players, ages 35, 36 and 36 and without a first-round pick in the next draft. Whatever window might be open to the Sharks with the help of these deals, the odds are it will not be open for long. The concern is that these moves, if they do not meet expectations quickly, could result in a significant step backwards.
ZEKE is a native of the DC area where he witnessed the birth of the Capitals franchise. After graduating from Cornell University, which had seen hockey glory before he arrived, he moved west to San Jose. There he witnessed the birth of the Sharks franchise. His wait to witness a Championship from any of these teams finally ended in 2018.