No Fountain of Youth
Father Time is unbeaten. Athletes leave the big stage when age combines with wear and tear to eat away at the athleticism required to play a sport at its highest level. I would cite examples, but those could include pretty much everyone who has ever finished playing a professional sport. Few players retire because they want to move on, most move on because the phone stops ringing for their services. The mind rarely retires ahead of the body.
For San Jose Sharks defenseman Scott Hannan, the phone may or may not ring again for next season. At age 36, it was not certain that Hannan would be invited back for this season. The other Sharks defensemen who were over 30 last year were traded over the summer.
In coming back, many expected Hannan to be a 7th defenseman in the Sharks line-up, while concurrently acting as a mentor for the team's youth. That isn't the way the season has played out. Hannan is 5th on the team in ice time among the 9 defensemen the Sharks have used this season. Even more to the point, he's been good.
Generally in the bottom pair, and nominally given the weakest partner, Hannan is one of just 3 Sharks defensemen to have a positive +/-. His goals against per 60 minutes at 5 on 5 happens to be 3rd best on the team, behind only occasionally used rookie defenseman Matt Tennyson (often paired with Hannan) and Joe Pavelski. If Hannan has been a mentor to younger players such as Tennyson, Mirco Mueller, and Brenden Dillon, it's more than his words that they are learning from. Hannan's play on the ice is a clinic in efficiency.
Hannan's teammate and occasional defensive partner, Brent Burns, is aggressive on offense, struggles to find the right position on defense, is extremely physical and gives the puck up with great frequency. Burns is often featured in game highlights, sometimes for good reasons, sometimes not.  Hannan is the polar opposite.  He relies heavily on being in the right place, recognizes the smart play when being physical, and rarely gives the puck up to the other team — an absurdly low 15 giveaways is testament to that. Hannan is rarely in any highlights, for good or bad.
In the heart of Hannan's career, he was a reliable, top pair, workhorse. At one point in his career, over a span of 7 seasons, he missed just 7 games while averaging 23 minutes of ice time per game and 20 points per season. He now sees fewer minutes, plays fewer games and scores fewer points.
While some may have wished Hannan an early retirement, he remained in the line-up for much of the season because he has been quietly effective. At this point, with the Sharks all but eliminated from postseason contention, we may see little of him the rest of the way. Instead, we will see future players like Dillon, -8 and Mueller, -14. Neither are as good as Hannan is now, and both are more than a decade younger.
Old Age
Hannan's meager total of 6 points won't surprise anyone. His best offensive skills are seen exiting the defensive zone and passing the puck in the neutral zone. When he handles the puck, his head is always up, always on a swivel. His distinct crouch gives him the ability to make quick, purposeful movements. You'll rarely see Hannan hold the puck for long, instead opting for quick decisions on where the puck needs to go next, helping to accelerate play. He rarely tries to be fancy when fundamental hockey will accomplish the same thing.
On defense, you can see Hannan clearly communicating with teammates. You can see him pointing to make sure his teammates are in the right spot, rapidly doling out responsibilities to others in the middle of intense action, while competently handling his own responsibilities. Hannan remains intense on the ice and focused on the play. The passion is very much there.
Most teams hope their bottom forward lines and d-pairs hold the fort. 'Do no harm' is the primary directive, doing good is secondary. Hannan has been -2 or worse just 3 times this year in 54 games. Marc-Edouard Vlasic, one of the best defensemen in hockey, has been -2 or worse 8 times this season; Justin Braun 5 times. To be fair, Vlasic and Braun log more minutes, play more games, play against more top lines, and are more likely to have empty net goals against. It is not an "apples to apples" (pickles to pickles?) comparison, but it does suggest that Hannan's game has adapted effectively to the primary directive of 'do no harm'.
And Treachery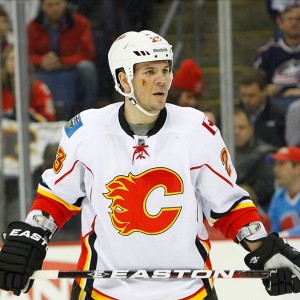 Coming to the end of his 16th NHL season, Scott Hannan has spent the lion's share of his career in teal.  His initial run in San Jose began in 1998 and lasted over 500 games. Since his return in the spring of 2013, he has added over 100 more. Still, my favorite "recollection" is relatively recent — and may happen again. It happens during the warm-ups, prior to a game.
With just 3 more home games for the Sharks, perhaps it is worth heading down to ice level about 30-40 minutes before game time. Fans congregate against the glass to watch players warm up. Some fans will pay close attention, others will not. It is the 'others' that Hannan seeks out. He will take a puck, weave around a bit, head up, looking for an inattentive mark on the other side of the glass. He'll take aim and wrist it, not all that hard, with accurate aim in the direction of a fan on the other side of the glass who is ignoring the players on the ice.
The sound of a puck smacking the glass a few inches from an inattentive fan's ear inevitably draws a very startled reaction. The nearby fans that realize what happened will laugh. Others standing further away won't even notice. Hannan will find two or three 'victims' in these warm-ups.
Hannan's reaction to his prank also caught my attention. Once the puck is gone, it is over for him. He stops paying attention and merely skates on, not registering any visible reaction to his handy work. He doesn't laugh or smile at what he just pulled off, he just continues to skate. I'd look for a metaphor in all this, but I'm not sure one belongs. In reality, he's being himself.
For well over 1,000 games, it has worked.  A understanding of the game and a disciplined playing style has replaced the athleticism of Hannan's youth. It won't last forever. Whether the phone rings for Hannan in the offseason is unknown. Father Time will remain undefeated, and Hannan's time is soon. Still, come next season, it would not surprise me to see him back on defense, being quietly effective, yet again.